What's new with Facilio: Popular upgrades from the last year and what's ahead in 2021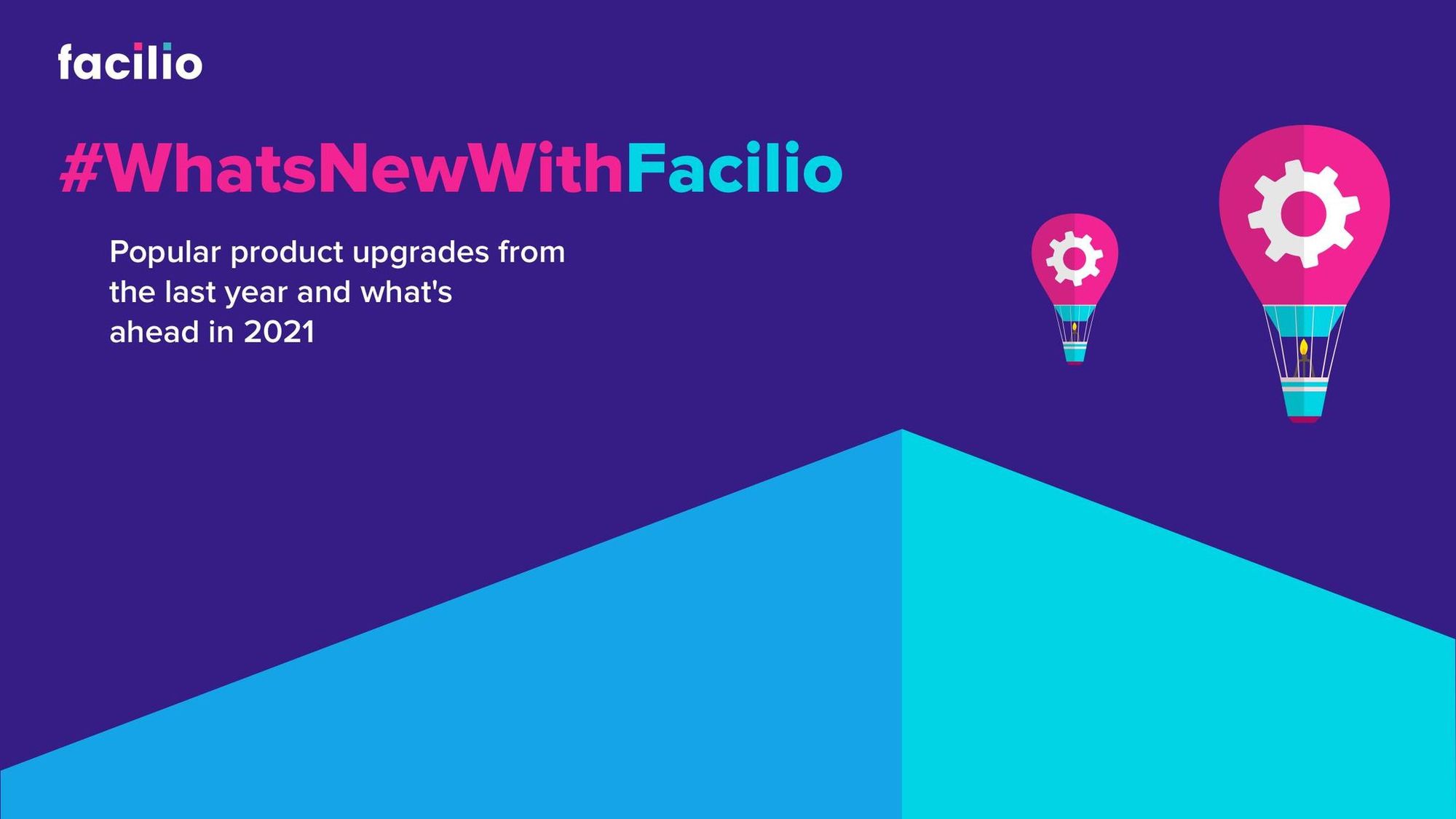 2020 pushed the 'Change Now' button in the real estate operations landscape.
The pandemic forced all of us to reimagine the commercial real estate industry. Numerous factors catalyzed the software-driven transformation.
The fierce market drivers of tenant satisfaction, occupant comfort, and cost savings came into focus.
The value of a flexible property operating model grew throughout the industry.
New models like workflow automation, remote system controls, and proactive operational response became must-haves instead of wishful thinking.
Reinforcing your customers' trust in you became more crucial than ever before.
These industry shifts led us, and you, to rethink innovation. Starting with the launch of REbuild, an operational toolkit to help properties reopen confidently, we shipped features and workflows to subdue the effects of COVID on your operations and made it easier for you to adapt.
And now, to give you a clear vantage point going forward into 2021, we'd like to highlight the key product updates we rolled out in 2020 to help you operate your properties with agility.
Facilio updates in 2020
1. Remote BAS operations and improved overlay approach
When people started being confined to their homes, the controlled shutdown and restart of BAS for unoccupied building spaces emerged as a major concern.
"Establishing remote services like proactive analytics strategies on failure prediction and remotely controlling buildings makes way for predictable revenue," says Phil Zito of Smart Buildings Academy. And a direct correlation with reduced OpEx meant there was a need for effective remote BAS operations.
To tackle this, we strengthened our overlay approach to help operators go beyond site-level implementation and unlock portfolio-scale potential. This new potential makes it easy for operators to enforce social distancing guidelines and service buildings with a limited workforce, while also adding the benefits of efficient energy usage. The new approach also opens the door to opportunities to enhance operational efficiency with integrated predictive and condition-based maintenance workflows.
The solution offers:
Cloud-based command and control of BAS/BMS systems
Remote visibility into operational performance across a portfolio, with custom KPIs, smart dashboards, drilled-down impact reporting, and alarms on historical data
Portfolio-level automation and control with automated, trigger-based BAS operations, bulk setpoint overrides, and after-hour scheduling.
Predictive monitoring of critical assets to avert breakdown disruptions
2. An elevated occupant experience
Almost overnight, operations evolved to have a high priority on occupant safety and comfort. Before the update, occupants were usually in the dark about hygiene routines—even when facilities and servicing teams doubled down on cleaning and disinfection. Like you, we believe occupants must have a front-row view of your wellness and safety initiatives. Not just visibility, our new update goes steps further by allowing occupants to personalize their interactions with the building.
With Facilio's occupant experience module, you can boost the tenant and occupant experience by offering optimal comfort and personalized services. You can also lure back tenants by restoring their confidence in your property's safety. This update enables just that with:
Health and wellness features, such as personalized apps for comfort control including IAQ monitoring; you can also push updates on sanitization and IAQ to the occupant engagement app
Improved internal transparency and communication, including visibility on work orders, a building health score, and TV mode dashboards
Tenant engagement features, such as a feedback app, a flexible occupant service catalog and portal, intuitive modules to manage space booking, and other admin services such as social distancing enforcement
Digitized visitor management including QR-based check-in/check-out, a complete digital record of visitor information, phone invites, and real-time notifications to tenants and property managers
Touchless occupant access and elevator control, and touchless lighting and ambient control
3. Enhanced O&M functionalities through integrations
An open platform means you can open up new channels to augment your operations. By expanding our collaboration with digital systems, you can now deploy soft services and other use cases, such as utility management, vendor performance benchmarking, tailored ventilation control for occupants with very little integration or deployment cost.
We continue to build meaningful integrations with common digital twin solutions, third-party software applications, and multi-segment players, including automation players.
Our most notable enhancements include:
Integration with leading BIM providers to give you 3D views of your spaces and assets and a real-time view of equipment health status
Support for real-time utility consumption benchmarking through integration with Energy Star; Facilio is also an NYSERDA certified real-time energy management vendor
Interoperability with existing property management software like Zendesk to help you easily derive and channel operational intelligence for centralized monitoring and control
The ability to pull utility data from multiple sources for utility bill management, which allows you to validate utility bills for consumption and cost accuracy, and generate and resolve alerts with integrated workflows.
Capabilities like ESG and benchmark reporting so you can level up your sustainability management
4. Orchestration of custom workflows
Custom workflows have always been a core component of our offering. Now, with our latest update, you have even more agility and autonomy with easy-to-use UI workflows that are both customizable and cut across functions.
Want to configure scenario-specific processes without coding dependencies? You can. You can also automate processes based on any condition you want to specify, for instance, pushing an IAQ-optimized control sequence to the HVAC system with workflows that connect FDD and maintenance.
With our latest update, you can:
Customize processes for a host of functions including maintenance, vendor management, tenant interaction, and FM teams
Resolve SLAs through automated notifications
Track incidents in real-time and generate reports for compliance/insurance
Standardize critical processes and implement new workflows as the need arises
5. Visibility hub for C-level and senior operations executives
Because an easily accessible, high-level overview of portfolio operations underpins responsive operations, we continue to add features that help you derive actionable insights and KPIs from one place.
Our solution makes it easy for Cx and senior executives to quickly understand and make informed decisions around portfolio performance, discover opportunities to improve efficiency and establish transparency with service providers and tenants. Whether you want to find services with the most escalations or to better plan expenses using asset reliability scores, our solution makes it possible.
Facilio for CSuite also sets forward-thinking leaders apart through:
Compliance tracking and assurance via dynamic SLAs with multi-stakeholder engagement, vendor SLA monitoring, digital quotes, work permits, building hygiene, and IAQ adherence
Spend summaries and cost-tracking visibility for utilities, asset maintenance (planned and unplanned), and inventory and equipment purchases
Equipment health monitoring with asset reliability scores/ranks based on maintenance, downtime, repairs, and asset lifecycle costs
Performance benchmarking by comparing energy consumption across sites, or against peers using EnergyStar or LEED standards to improve sustainability
Preview 2021: Product features you can look forward to
The benefits of digital transformation have clearly struck a responsive chord with the real estate community. And we at Facilio aim to keep the momentum going by delivering enhanced, data-powered, integrated operational solutions.
Our product design team is on the ball. They're conducting research and maintaining close ties within the industry to shape future offerings designed to help you simplify your overall portfolio O&M, deliver frictionless customer experiences, and adapt to the future of smart buildings.
With that in mind, here's a preview of Facilio's 2021 roadmap:
Foster community communication with amenities platforms, work communication apps, and support deeper integration with access control.
Climate goals and sustainability
Access enhanced sustainability performance monitoring, including support for advanced reporting and benchmarking standards like GRESB.
Enable customers to meet operational needs from a single place by continuing to expand third-party integration capabilities with automation vendors and business applications, such as accounting, asset capital planning, and visual AI.
Got suggestions and comments? Leave them below. We look forward to improving your current processes and adding value to your property operations in 2021.