How to drive quick action during uncertain times: KPIs on disinfection, air quality, distancing, and more
Property operations has changed dramatically over the past few months—and it's harder than ever to keep tabs on what's happening where. With a lean onsite workforce and ongoing adoption of digital workflows, you're increasingly dependent on remote monitoring.
But does your remote dashboard give you the insights you need to take informed action? Or does it just hand you the task of data interpretation?
True visibility into your operations will help you answer the hard questions of the day and make fast, confident decisions—especially during turbulent times. With the right metrics and insights, your pandemic-mode dashboard can help you to:
Quickly adapt to comply with the latest regulations.
Protect critical systems by improving reliability.
Discover opportunities to reduce costs.
Gauge new tenant preferences and behavioral changes.
Here's how.
1. Quickly adapt to comply with the latest regulations.
Surface disinfection. Physical distancing. Air quality. There are mounting compliance requirements for ensuring the safety of your building occupants. But without relevant insights, you can't control violations—and your compliance score may nosedive.
What you need to know:
How do I quickly identify lapses in surface disinfection?
How do I limit visitor inflow according to space density in real-time?
Is it possible to control inadvertent crowding in common areas of a building (say, waiting for an elevator)?
How can I immediately respond to deteriorating air quality?
Insights you need in a contextual dashboard: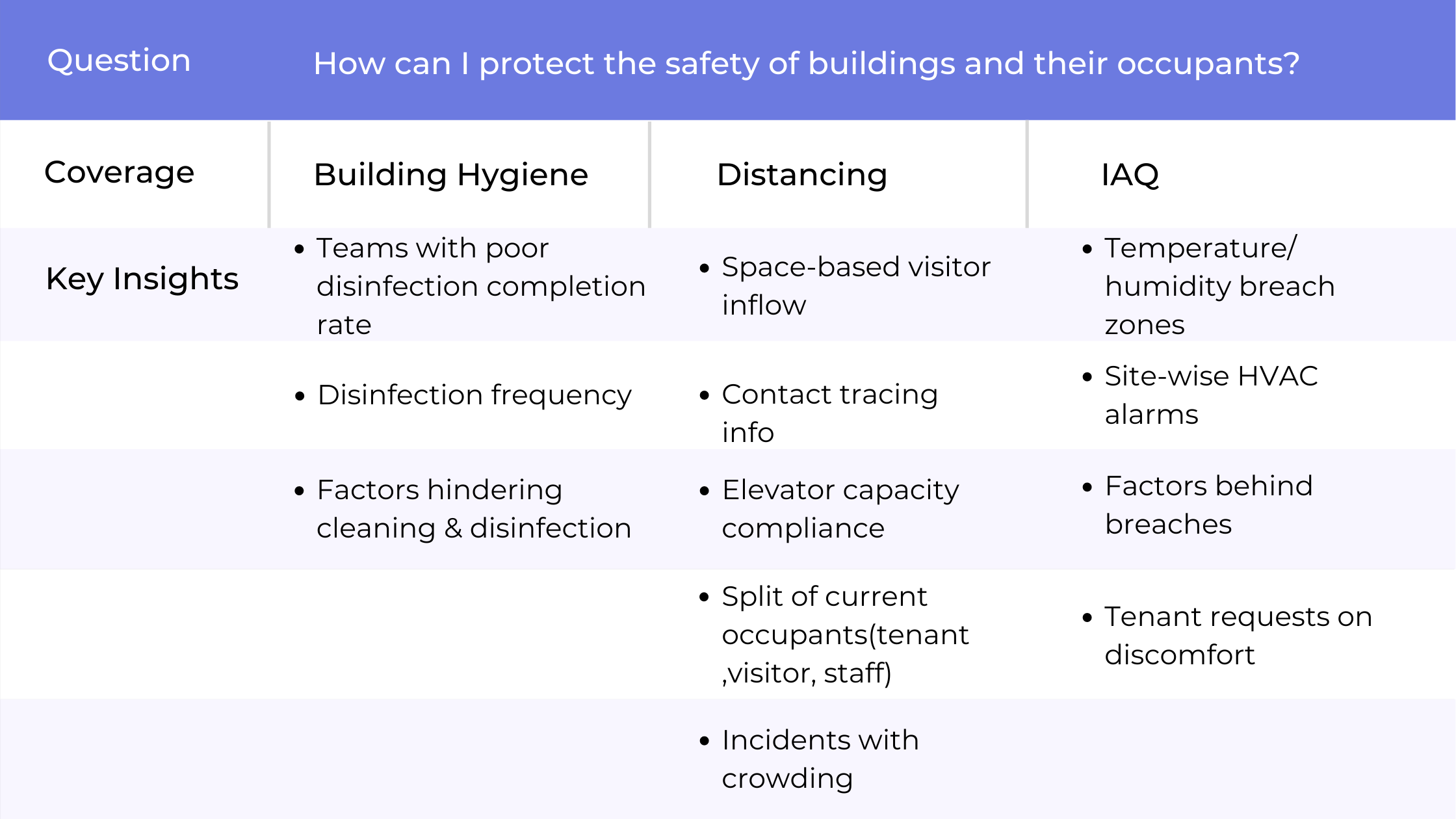 With real-time data on safety metrics, you can quickly resolve the underlying conditions of non-compliance. Be it staff, inventory, assets, or workflows, you can visualize how your portfolio is keeping up with new regulations—or if you need to make some adjustments.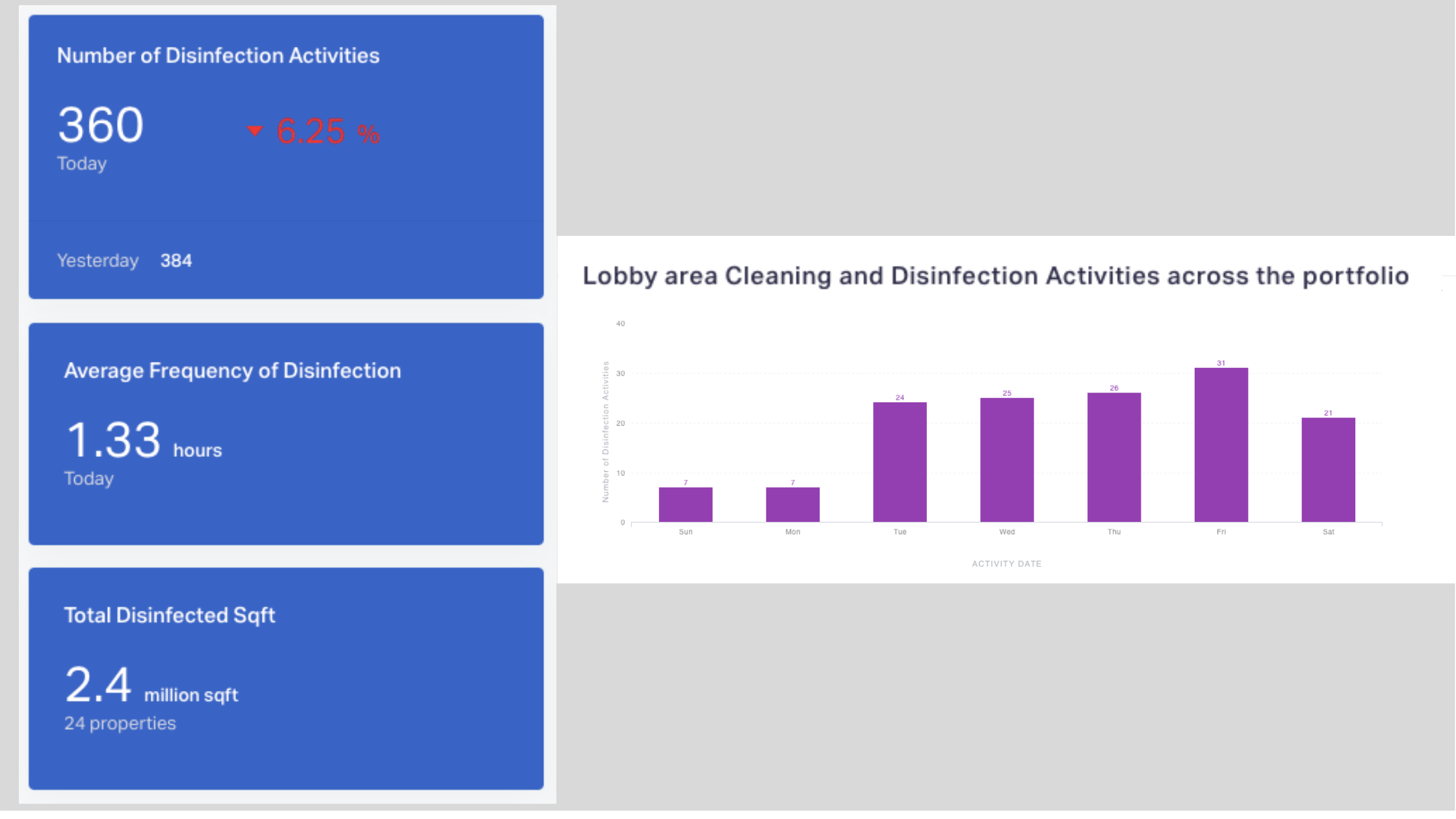 2. Protect critical systems by improving reliability.
As your building systems face dynamic operational protocols, it's essential to take extreme care to protect their wear and tear.
For example, you must ensure your  HVAC systems operate within the recommended temperature and humidity ranges. As a building operator, you must be prepared for a possible increase in run time and a proportionate spike in energy use.
Now is the time to check how prepared your property is to make agile changes going forward.
What you need to know:
Which critical assets are prone to frequent failures?
How do I know whether my assets are being serviced regularly?
How can I see potential issues with assets before they break down?
What changes can I make to improve asset reliability with new operational requirements?
Insights you need in a contextual dashboard:
By knowing not just the faulty assets, but also the causal factors and their relation with maintenance workflows or sustainability impact, you can prioritize changes. This helps you better plan your budgets and improve asset reliability in new circumstances.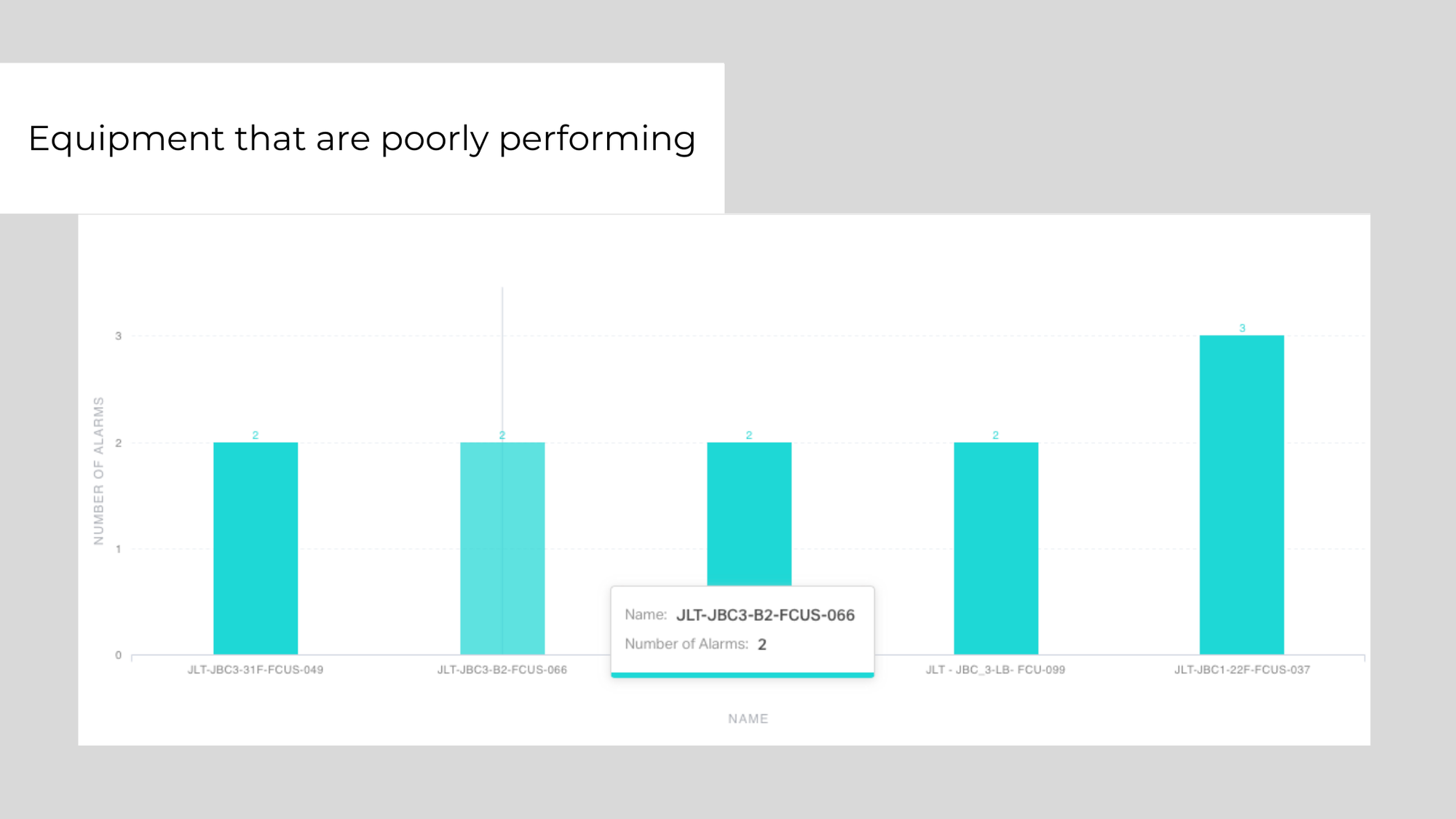 3. Discover opportunities to reduce costs.
Now that change in revenue is likely, you're probably revving up cost-saving measures. Finding avenues for cost reduction will not only help to keep you afloat—but it will also help you find potential opportunities to attract and retain tenants.
What you need to know:
Where are my properties experiencing cost overruns?
What changes are we seeing in utility consumption post-reopening?
What is the scope to act proactively and preempt expenses?
Insights you need in a contextual dashboard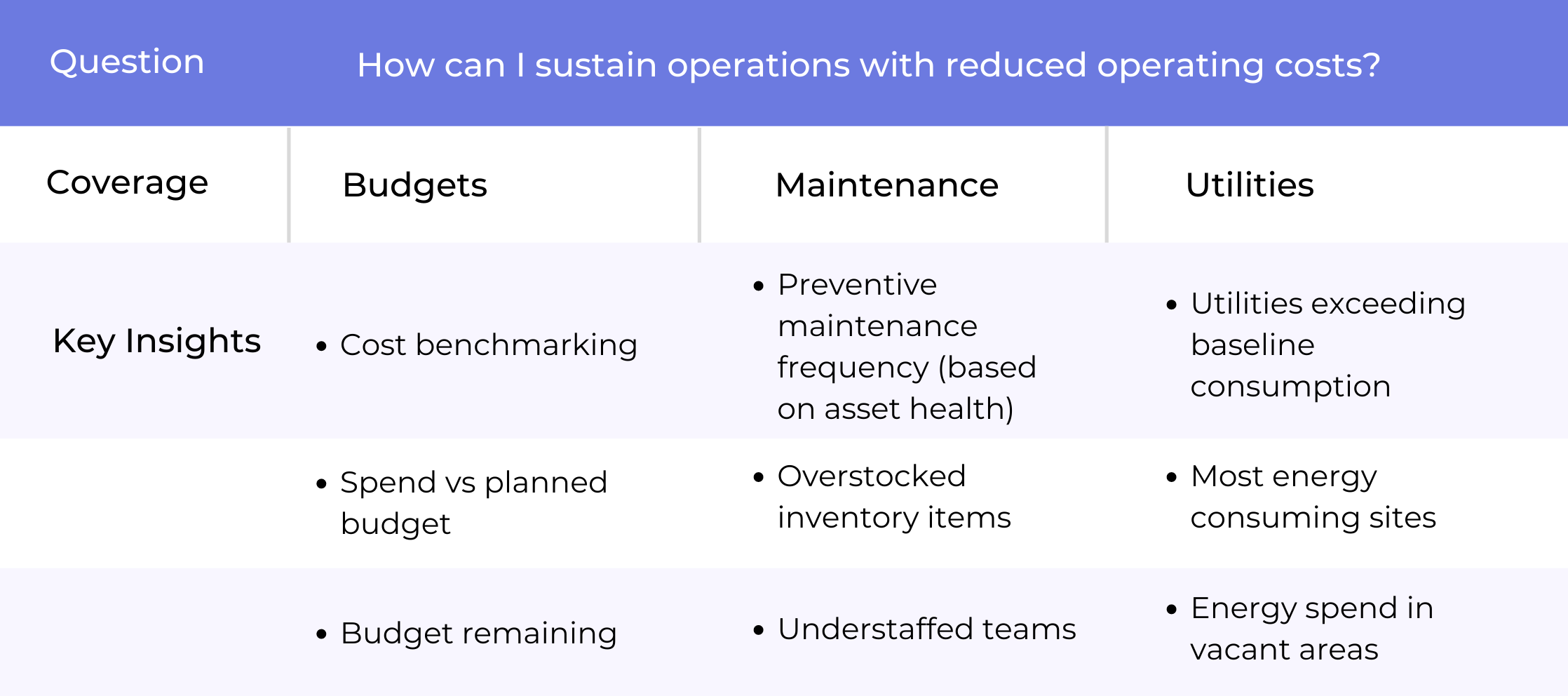 With complete spend visibility, you can make effective short-term decisions to protect cash reserves and improve operational efficiency. Based on reliable, data-backed insights on the OpEx structure of your property, you can channel budgets on improving tenant experience with confidence.
4. Gauge new tenant preferences and behavioral changes.
Thanks to COVID-19, your tenants will have higher expectations for maintenance and your property's responsiveness to safety issues. Overlooked maintenance, poor resource allocation, or gaps in communication—whatever the ground reality—you must be on your toes to normalize tenant disruptions.
What you need to know:
What resources are in high demand?
What are the major friction points for tenant discomfort?
How equipped are my properties for addressing tenant concerns?
Which vendors contribute to better tenant satisfaction?
How can I reduce tenant complaints by adding scheduled activities specific to the tenant buildings?
Insights you need in a contextual dashboard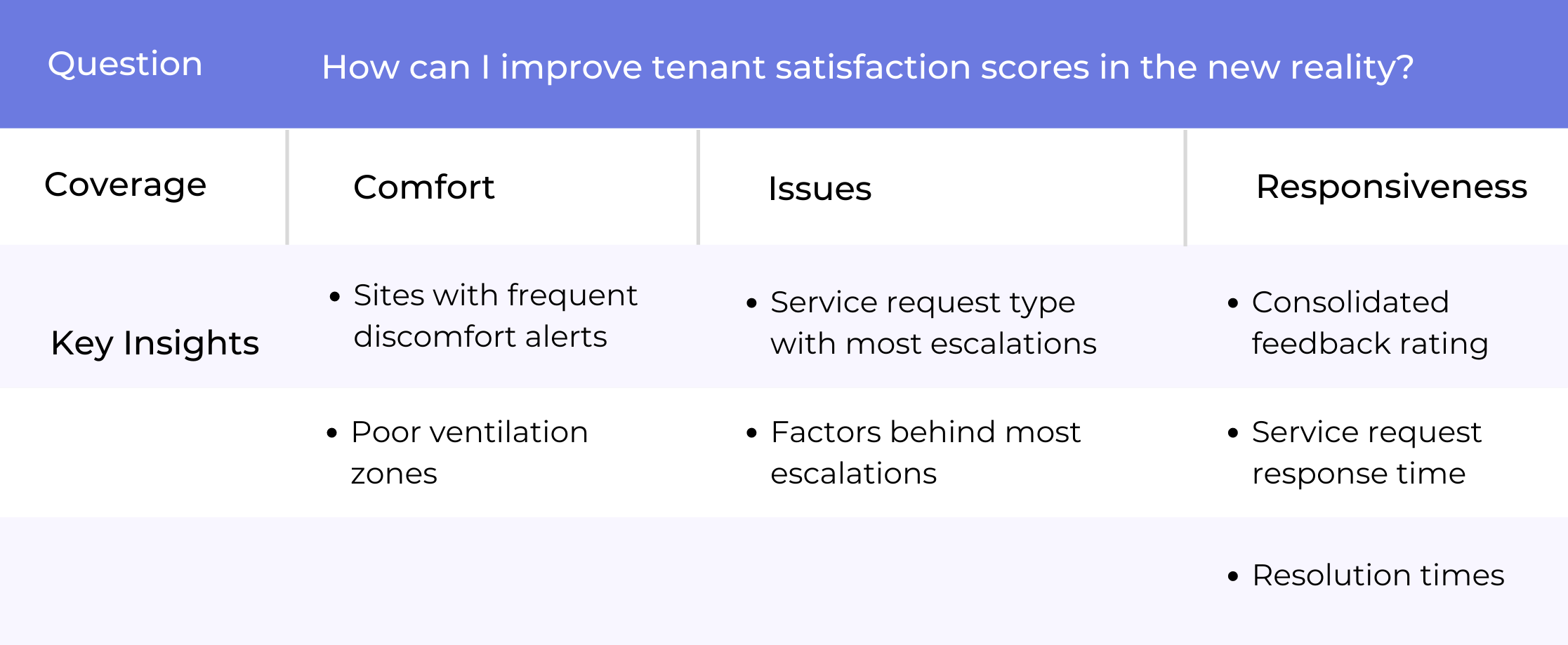 With the right data, you can take the guesswork out of assessing changing tenant preferences. With full context on gaps in tenant experience, it's easy to quickly optimize and scale initiatives and respond to safety concerns. You can also offer your tenants visibility into your safety efforts to provide additional peace of mind.
It's time for clear answers.
There's no doubt that operators are facing new and daunting challenges. But if you're already on the digital bandwagon, you're also facing a great opportunity to drive performance across your portfolio.
Contextual dashboards powered by advanced analytics derive action-oriented insights from your existing data. They offer you an instant nudge when you need to make adjustments, so you can continuously realign your efforts and make informed decisions towards economic recovery. They allow you to instantly spot issues with your tenant experience and improve property viability.
Forget the tedious and time-consuming data interpretation you're used to—now is the time for complete visibility and clear answers in an uncertain world.
Reopening? Looking to keep your buildings safe – and your tenants happy – with the right dashboard?
Click here to learn how real-time operational visibility across the portfolio can help you reduce OpEx without compromising on efficiency.
P.S. We offer an enterprise platform for data-driven property operations & maintenance (O&M). With over 60m sq. ft. managed globally, Facilio is a property operations cloud platform and a suite of SaaS applications that allows real estate owners to aggregate building data, optimize performance, and control portfolio operations – all from one place.