Improve maintenance operations with workflows based on issues and notification to relevant stakeholders. Unify visibility into contractors, site assets, inventory, etc.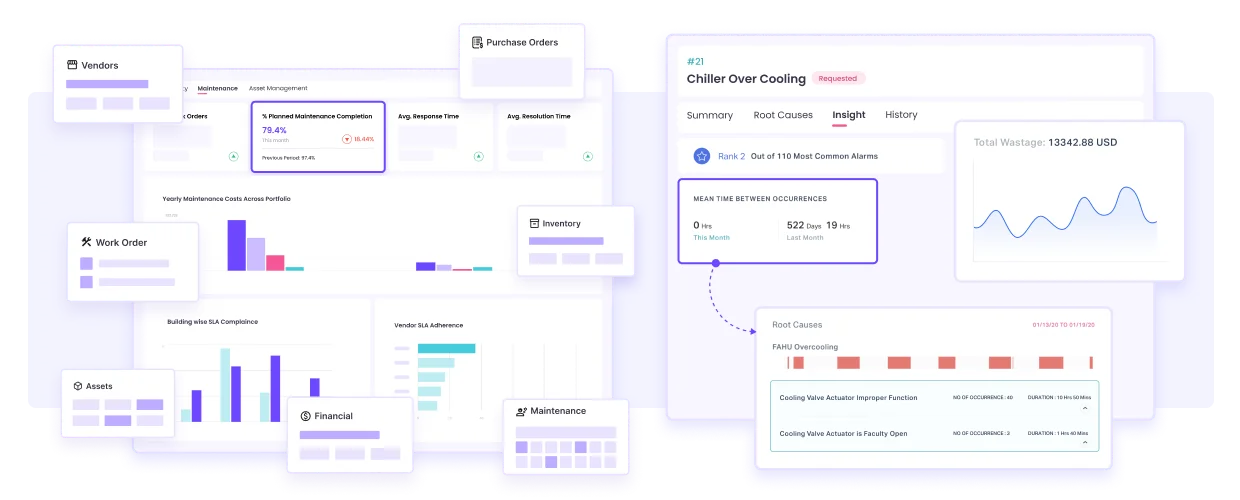 Reactive and Planned maintenance
• Intelligent PPMs • Manual work order • Compliance work order • Alarm/Flagged Condition Work Order
Assets, Parts and Inventory
• Asset Lifecycle, Health, History, Financials, Warranty and Performance • Parts List, Requests, Location, Inventory and Cost.
Vendor Management
• Vendor Tracking, Site-level Mapping, Policy, Induction, Document Management, Permits, Check-in/Check-out, Compliance, Service Contracts & Invoicing
Service Portal/ Call Center
• Centralized Help desk • Multi-store support • Catalog • Contextual Notifications • Phone, Email, Direct Request • Quote Automation
Keep retail operational costs in check. Amp up customer satisfaction.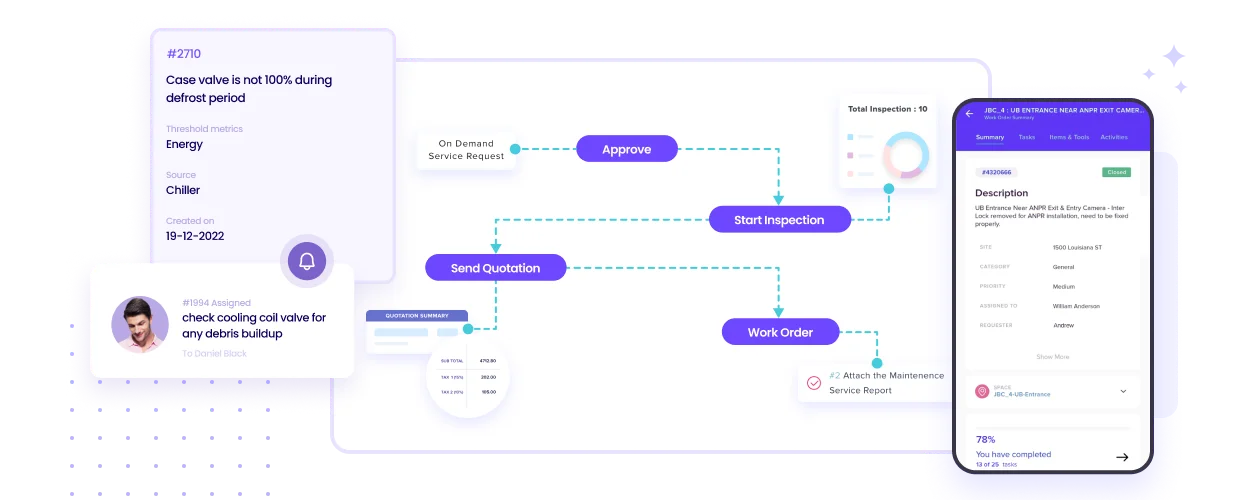 Workflow Automation
• Drag and drop builder • Intelligent routing • Custom maintenance schedules • Digitize unique processes • Approvals • Work to Quote
Inspections
• Digital Questionnaire • Templates for Inspection Types • Trigger Configuration • Schedules • Inspection Scores • Recurring Failure
Reporting and Dashboards
• Portfolio-wide KPIs • Vendor SLAs • Planned vs Reactive • Response Time Benchmarking • Executive Visibility Dashboard • Stakeholder Specific Dashboard
Mobile Apps
• Out-of-the-box native apps for all Facilio modules with role-based views & access (iOS and Android)
Track asset usage and identify energy-saving opportunities. Prevent energy wastage.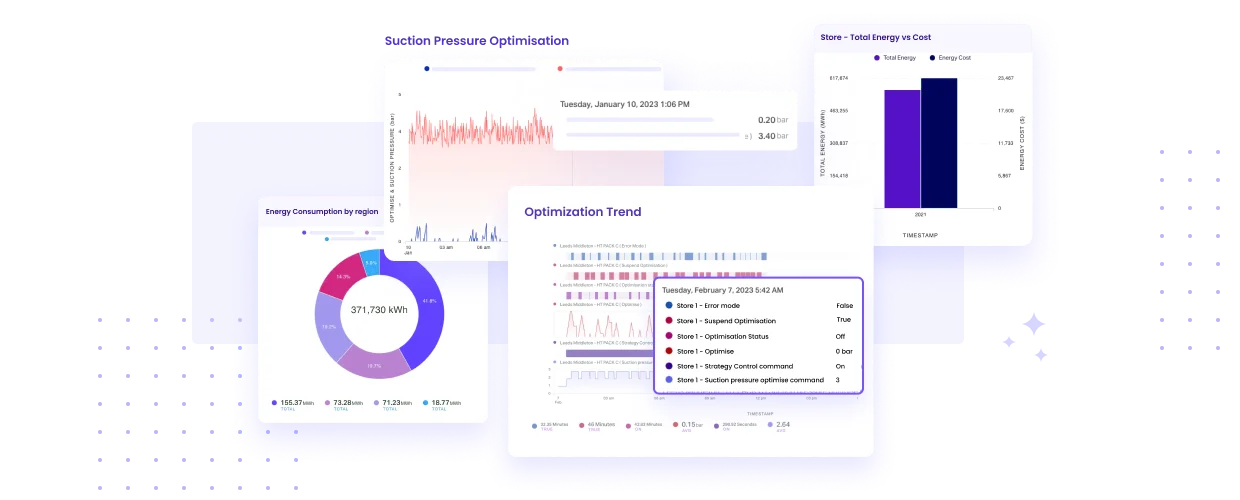 Utility Tracking and consumption
• Historical Bill Analysis • Utility / Interval Data • Bill Validation • Energy Budgeting • Best/Worst Performing Stores
Portfolio Benchmarking
• EUI (Energy Usage Index) • Consumption Analysis (Portfolio-level, Site-level, Asset-level) • Store Score • Measurement & Verification
Real-time Monitoring and Analytics
• Indoor Air Quality / CO2 Emissions • Demand vs Consumption • Regression Analysis • Load curves • Heatmaps • Operating/non-operating hours
Cloud-based Multi-store Energy Optimization
• Verified savings-focused cloud optimization strategies
Increase asset uptime. Say no to food wastage.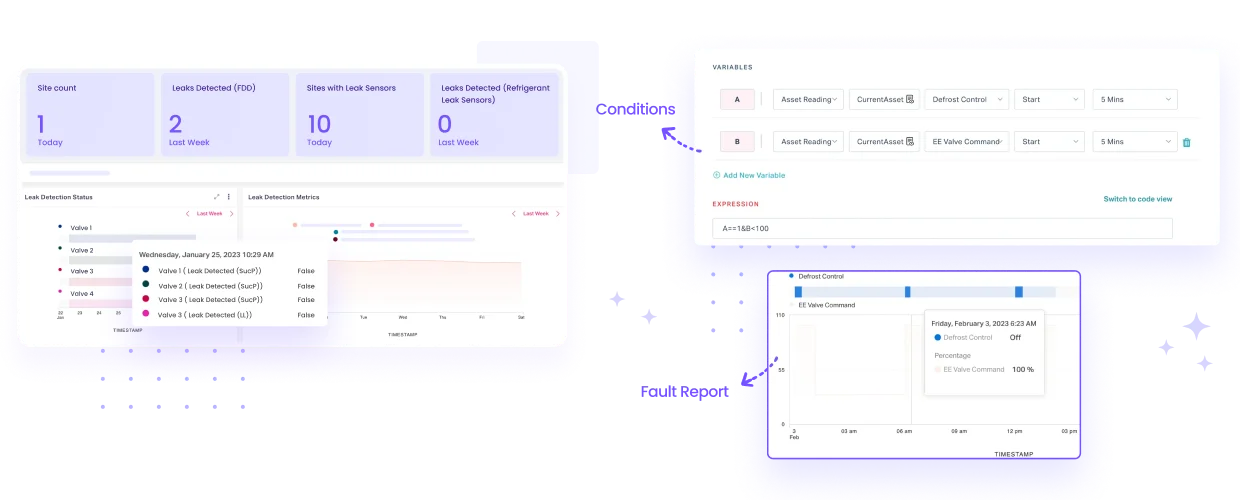 Unified Telemetry data and alarms
• Centralized Alarms (Emails, Phone, System/BMS Alarms) • IoT Edge
FDD & Rule Engine
• Faults & Alarms • Cost impact • Root Cause Analysis • Alarm to Automated Work Order • Corrective Workflow
Normalization and Alarm Triaging
• Alarm Filtering Rules • Filtering basis severity & equipment-category • Smart correlation • Delay Rules • Flagged Events
Automated Alarm Action
• Automated action based on store managed or bureau managed • Case Alarm
Master compliance standards for refrigerant and fuel systems. Skip Penalties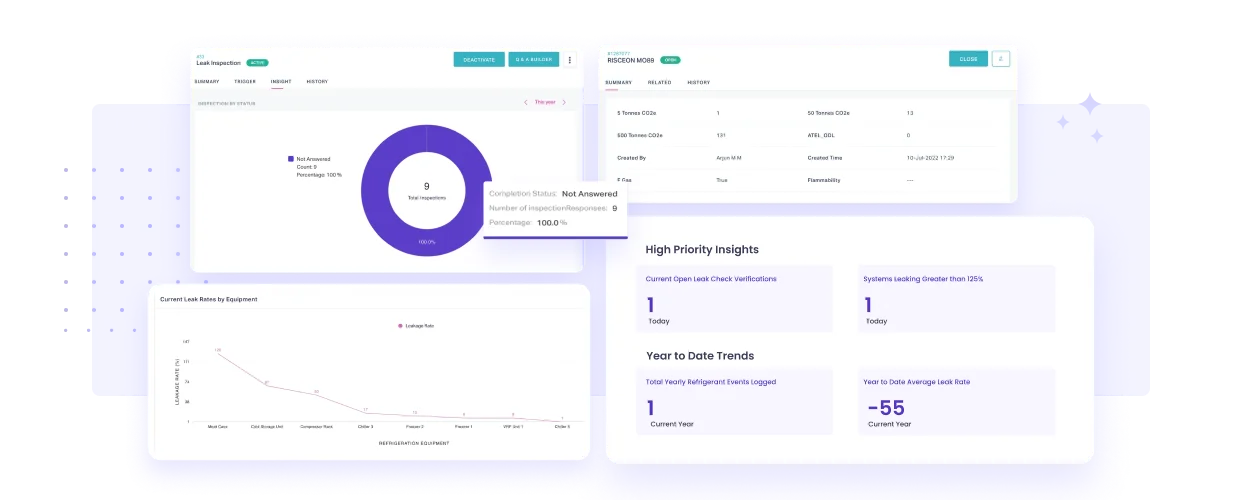 Digitized Compliance Tracking
• Manual (Planned Inspections, Rounds) • Mobile App • Refrigerant Inventory • Usage over time • 608 Fuel Compliance • Refrigerant compliance: CARB, ASHRAE etc.
Condition-based and Proactive Detection
• Automated (Based on sensor, monitoring process parameter) • Estimate Liquid loss • Risk (Time/Cost) • Automated Corrective Action (refill, skip or follow through)
Audit-ready reports
• Auto-streamline Refrigerant Records & Compliance Data • Digitized Custom reports • Automated Reports to Stakeholders
Sensor-less Leak detection
• Automated Cloud Strategies to Understand Health and Status of Refrigeration Cases • Sensorless Slow Leaks Forecasting
Efficient technician dispatch. Prioritized services. Real-time schedules.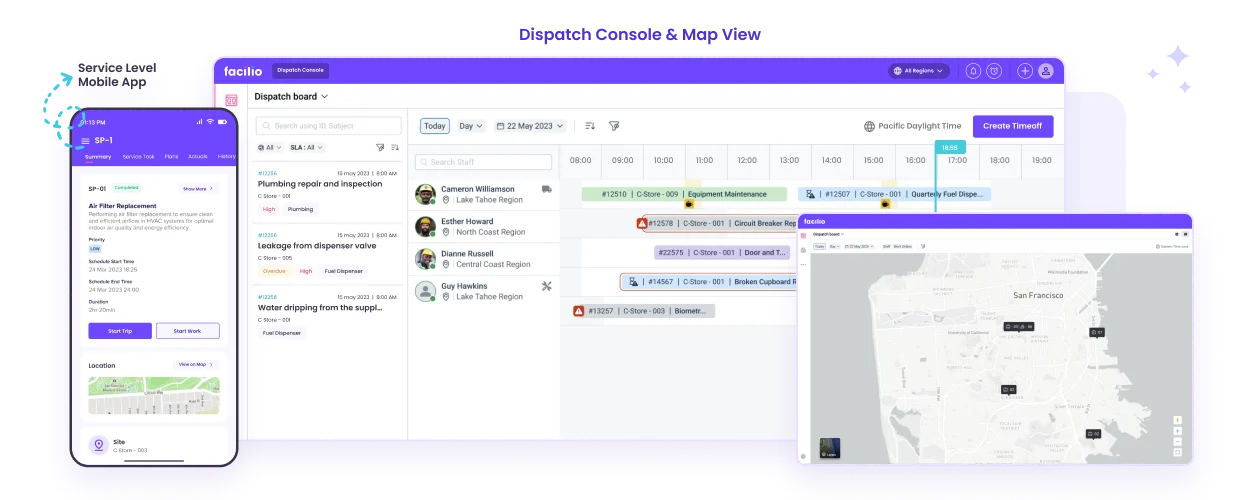 Dipatcher
• Work Order Glimpse • Region Filter • SLA Filter • Priority Based Work Order Sorting • Staff Insights • Gantt Charts • Map View •Skill set Based Technician dispatch
Service Reps (Mobile App)
• Appointment management • Navigation to the job site • Travel Time Monitoring • Timesheets • Get notes and photos during work
Admin
• Comprehensive overview of work orders, resources and time offs • Create & edit access of resources, time offs and work orders