Adapt property operations for the new SOP – a 3-phased approach to compliance (with practical examples)
As your property prepares for reopening, one thing that will steer the functioning of businesses is – reshaped compliance.
A plethora of SOPs is finding its way into building operations. Commercial tenants are naturally anxious about how safe their post-pandemic workspaces will be.
To navigate unfamiliar situations with continuous assurance, how can you possess the visibility into compliance across your portfolio? How can you wield control to impact efficient operations and help deliver occupational efficiency to tenants?
Get equipped to de-risk operational liability amidst dynamic protocols
Today, an extended crisis has led to the mushrooming of new regulations under the umbrella of compliance. Broadly speaking, they encompass disinfection, air hygiene, and occupant distancing. And they're all bound by a common thread- building tenant confidence for safe return to work.
Operators are squeezing their siloed operational tools dry to quickly adapt and attract tenants. Managing new entrants to the compliance area like sanitization, digital systems falling short of communicating with transparency-seeking-tenants, operators blindfolded on portfolio performance. Your portfolio's proximity to compliance depends on successfully overcoming each of these challenges.
Here's a 3-phased approach to instill resilience in property compliance and restart strong –
a) Ensure safety for tenants as an immediate priority
Most tenants are looking forward to coming back to the office, although with satisfactory safety measures at the workspace. They expect reliable information on hygiene compliance.
Here's what you can do to reassure your tenants-
Automate new disinfection routines and easily manage hygiene routines at a portfolio scale.  Powerful platforms can enable this no matter the current systems for maintenance.
Share safety and health scores of individual offices with tenants in real-time. They will feel comfortable when they are abreast of the time of recent disinfection, say, by floor or zone, through digital displays at the lobby or other common areas.
As an operator, having ready access to building-wise open work orders in hygiene services, work that goes past resolution due date can be very helpful in knowing what's pulling down performance. And you can implement relevant steps to improve KPIs.
Open up digital communication channels to tenants to pre-empt issue escalation. Give them a range of touchless options to perform usual workplace affairs like temperature control, elevator, and access systems.
b) Fix gaps with proactive response to risks in the new normal
Inarguably, analytics solutions can report risks early on. But when there's real-time visibility into adherence to new HVAC guidelines and indoor air quality across your properties, it raises the bar on occupier comfort with enhanced safety.
For example, in order to adhere to ASHRAE's guidelines on ventilation and humidity, tapping into data via predictive analytics can uncover underlying problems like damper stuck open, dirt-clogged air filter, etc. Advanced systems can direct the findings to trigger corrective workflows and restore IAQ.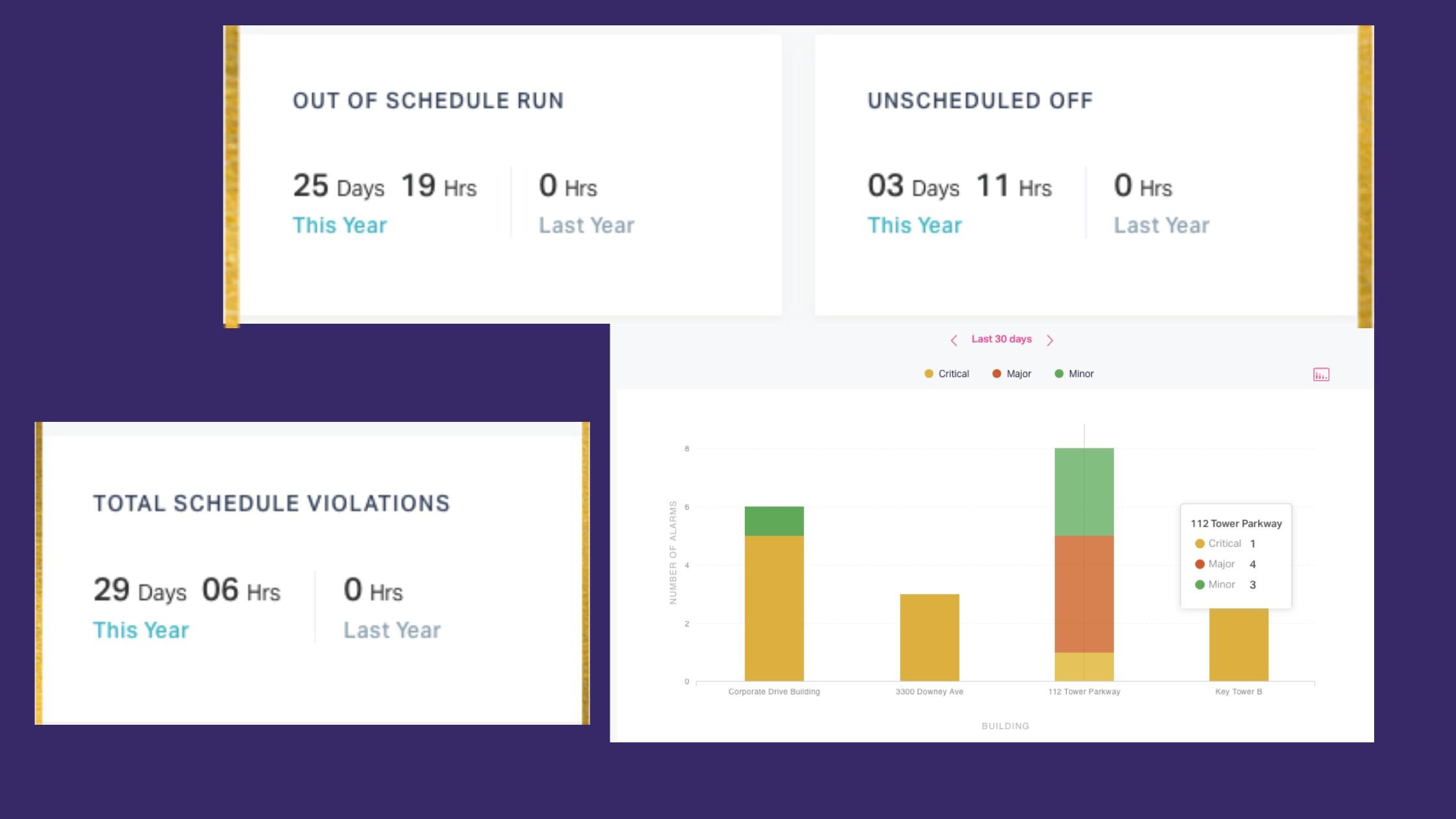 To be in a better position to predict, quantify and mitigate building health risks across the portfolio-
Surface cost-saving insights like building-wise unmet compliances, frequently problematic HVAC systems, better performing vendor-make, etc.
Leverage flexible SLAs that automate escalations until resolution to speed up response to disruptions.
So if you attach an SLA to FAHU overcooling to respond within 4 hours of the breach, an escalation will be auto-triggered after the defined time. This reaches the immediate supervisor as an email, and the anomaly can be sorted then and there.
c) Re-evaluate strategies for viability beyond the pandemic
Does it look like there will be frequent changes in regulation pertaining to industrial HVAC? Most certainly, yes. On top of it, there's the existing challenge of operating with a multitude of BAS brands, contractors, and O&M teams while dealing with rigid and complex tools.
An agile data-based approach shows the way for operators to survive and thrive in the post-crisis world. That way, you can unlock unparalleled opportunities to wield flexibility, optimize equipment, and control operating margins across the portfolio.
A concise how-to follows-
Extract data out of silos into one unified platform that talks to the entirety of operations in real-time. This helps you quickly re-orient during changing operational demands based on accurate and reliable reporting of KPIs.
Leverage easy-to-define compliance workflows tightly coupled with enterprise-wide performance conditions. On any non-compliance detected by diagnostic tools, there will be automatic progress towards resolution.
Own top-notch coordination mechanism to route information about due dates, issue corrections to key stakeholders like staff, vendors, and operators at the right time. Share-able dashboards and automated periodic reports help save a lot of time and avoid possible erroneous evaluations.
Where agile meets compliance:
In the new operating world, achieving compliance rests on the balance between intelligent integration of building systems and innovative ways of utilizing existing data. Comprehensive visibility into organization-wide operations will propel the executive leadership team to make better decisions and take measured risks. Fundamentally, it turns compliance into a strategic asset!
While the pandemic has instigated RE owners and operators to scour for adaptable tools, data-centric operations are taking the digital bull by the horns. Yes. You can easily scale smart building initiatives across your portfolio. But such a system will also automatically enforce compliance by streamlining operations along the way.
Indeed, the need of the hour is to bring a new perspective to compliance: one with an agile bottom line.