How to get started with data-driven building operations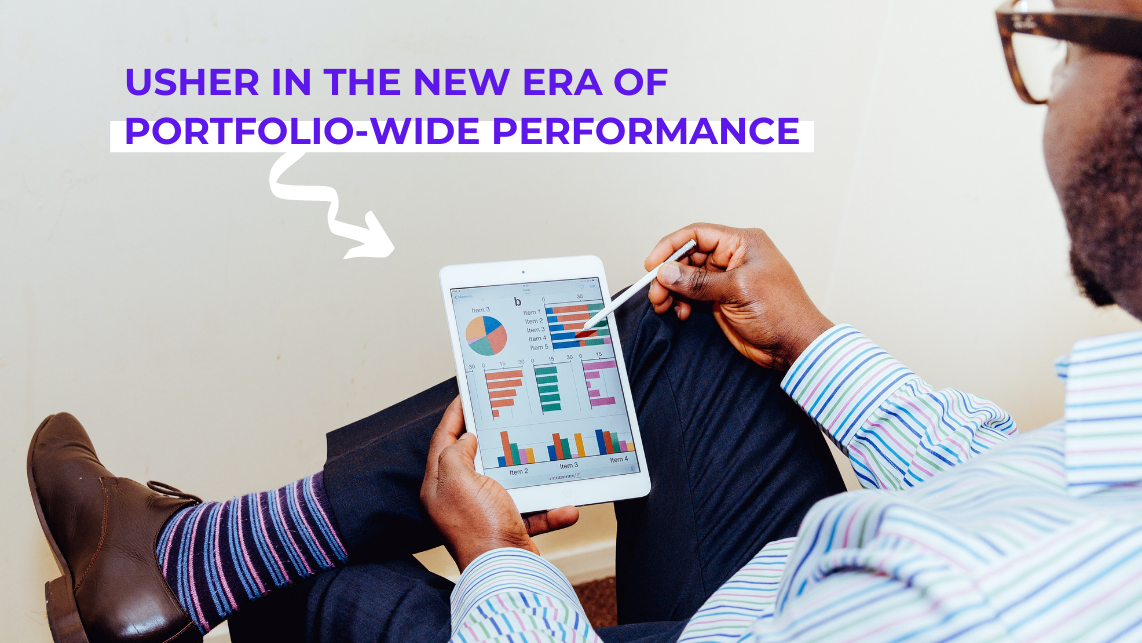 This is the second post in the series on leveraging data to optimize building performance and operate your entire portfolio as one. In our first post, we talked about the importance for property owners and operators to have real-time visibility into operations and why it's anything but straightforward. In it we identified three root causes of poor operational visibility: the fragmented property operations landscape, the dispersed nature of building data restricting real-time insights, and the siloed building management software—that are limited to singular purpose or stakeholder use.
For most of us in the property operations industry, these problems were familiar long before the pandemic. But now, the importance of having a holistic view of building performance across your properties is painfully obvious. Much of the responsibility to keep people safe has fallen on us, building pressure within the industry to rethink operations that suit this new and dynamic reality.
The good news is that—much of the data you need to uncover useful operational insights is already available within your existing infrastructure (BMS, HVAC systems, sensors, CMMS, BIM). Making buildings smarter is mostly a matter of finding ways to connect these existing systems and unlock its full potential in real-time.
And this article suggests one approach to making it happen—that's uncomplicated, incremental and fully tech-driven—so it's convenient to adopt across your operational journey.
The foundation: Remodel how you manage and share building information
Property owners are increasingly recognizing the business value in viewing building data as a whole, finding patterns in it, and deriving meaningful insights or KPIs in real-time. And the most efficient way to accomplish this is through data-driven operations.
Data-driven operations refers to the process of:
Freeing up data across operational silos;
Consolidating it in one place;
Making it accessible on-demand for any system, software or stakeholder use.
Take HVAC for instance. It's some of the most critical, capital-heavy, and performance-driven equipment in your buildings. It's associated with a diverse set of data over its entire lifecycle. Every piece of equipment carries with it data such as usage records (temperature, humidity, differential pressure, etc.), equipment information (type, model/brand, purchase date, warranty, etc.), operational info (fault and breakdown history) as well as maintenance and work order information.
In most buildings today, this data is dispersed in silos. Some exist in the Building Automation System (BAS). Some in a Fault Detection and Diagnostics (FDD) tool. Others in Computerized Maintenance Management System (CMMS) or Computer-Aided Facilities Management (CaFM) software. When this data is centrally available, it can be leveraged in so many useful ways: What if all the data across your HVAC systems could be gathered to be viewed and analyzed in real-time? What if—with minimal pre-configurations—you could deploy condition-based triggers, alarm notifications or reports? Now imagine your CMMS has access to this data. You could compare real-time HVAC information against it's warranty/work order information and optimize maintenance schedules. Imagine tailoring your BAS sequences and schedules based on this data.
By unlocking just the HVAC information, you are able to optimize for energy, equipment health, and occupant comfort. Now think even bigger—imagine unlocking this value from data across all your building systems. And then across an entire portfolio of buildings.
The opportunities that this data-driven approach opens up are multifold. We're talking about a world with centralized data, portfolio-level insights, interoperable systems, contextual software, remote operations, and more. It's exciting, but again, none of it is actionable unless we start somewhere, which brings us to the next important discussion:
What lies at the foundation of a data-driven framework?
A practical framework to get started
The most practical way to power data-driven operations is to have a platform-powered architecture that can bring together real-time information across disparate sources—BAS, HVAC, and other building systems, equipment or sensors—into one place.
This platform should:
Be built on a cloud architecture.
Use the edge technology and connect with IP-based, open standard protocols like Bacnet IP, Modbus IP, OPC, or others to seamlessly access data from BAS or any network.
Have built-in analytical capabilities to turn the consolidated data into insights in real-time.
Most importantly, meet your unique business needs today and scale to power your future operations.
This platform can become the centralized hub to manage and share information that drives all sorts of operations and maintenance workflows—from monitoring HVAC performance to making informed equipment purchase decisions to controlling building automation and systems via the cloud.
While the possibilities look futuristic to us today, the technologies are actually tried and tested, and have been revolutionizing other industries for decades. The Salesforce platform is one of the best examples. Built on a multi-tenant cloud architecture, Salesforce led the on-demand movement across enterprise use cases. It helped business teams focus less on software and more on the business. Having a centralized operations platform can empower your teams to focus less on managing data and software—and more on creating wholesome and real-time experiences for your customers.

And here's how.
Insights on-demand
Once all building data is centralized, it's possible to get a complete view of your entire operational scope—be it a single building or a large portfolio of buildings. This holistic view allows you to understand, and eventually influence, the 'why' behind what's happening in your properties.
There's real-time data on the function of various systems and equipment, what went wrong and when. Using the power of real-time analytics on top of these consolidated data sets can unlock powerful insights for multiple stakeholders.
It can provide drilled down insights into the root cause of every event, fault or condition trigger so your operating teams don't have to spend the majority of their time putting out fires. Having centralized data also makes it so much easier to create reports and monitor KPIs that can offer comprehensive business insights. Imagine viewing energy star benchmarks, peak energy usage, and total utility spend for all your properties, side-by-side and in real-time—without having to scramble across multiple systems or spreadsheets!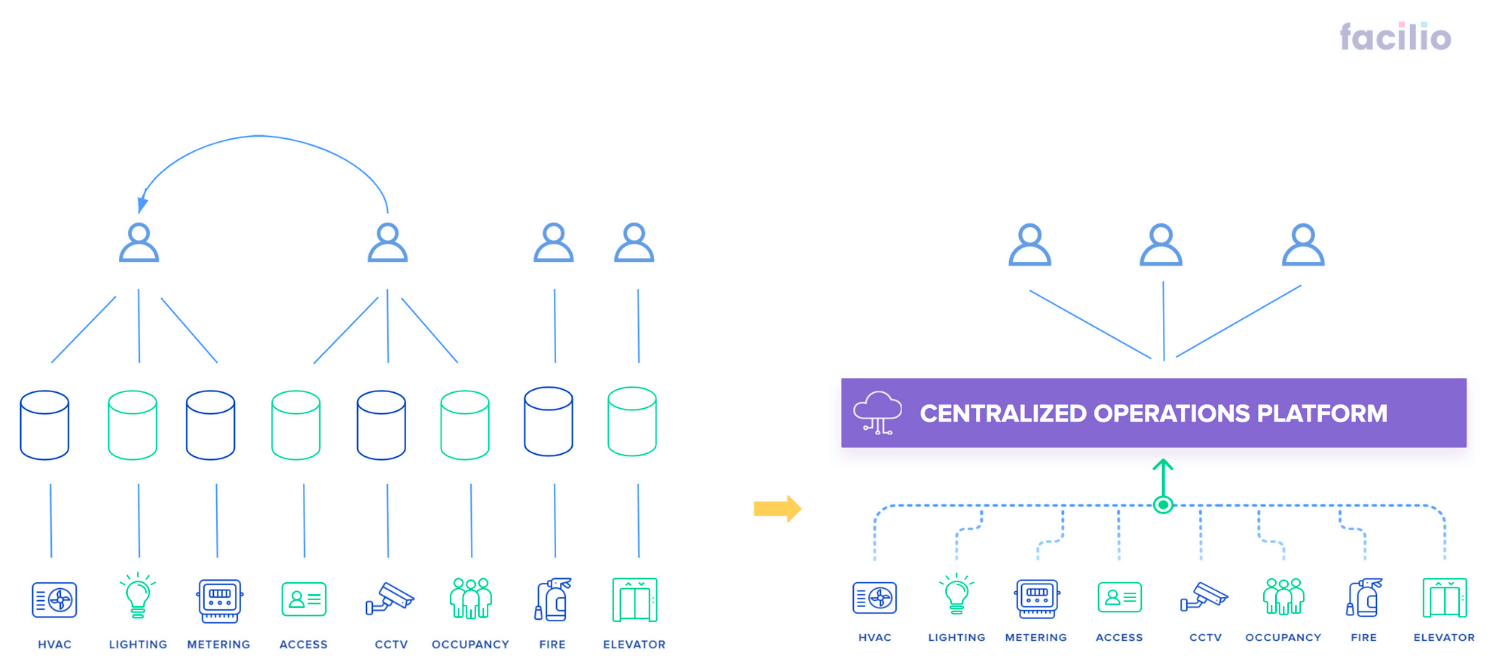 Context is everything
Today most core O&M functions use software that lacks real-time context and/or is disconnected from building information. A glaring example is your CMMS. Teams use it for service requests, asset and maintenance management, and more. Making the CMMS data-driven is however hugely complex, including painful system integration, data extraction from dispersed silos and redundant storage.
Having CMMS capabilities on a centralized platform instead of as a silo-ed solution allows for optimizations like: automated work orders from alarms, proactive service resolution, optimized maintenance schedules, and more. In most portfolios, switching to a new CMMS software isn't an easy decision to make—in that case, the best case is to integrate the data-driven operations platform with your existing CMMS and unlock contextual insights and use cases.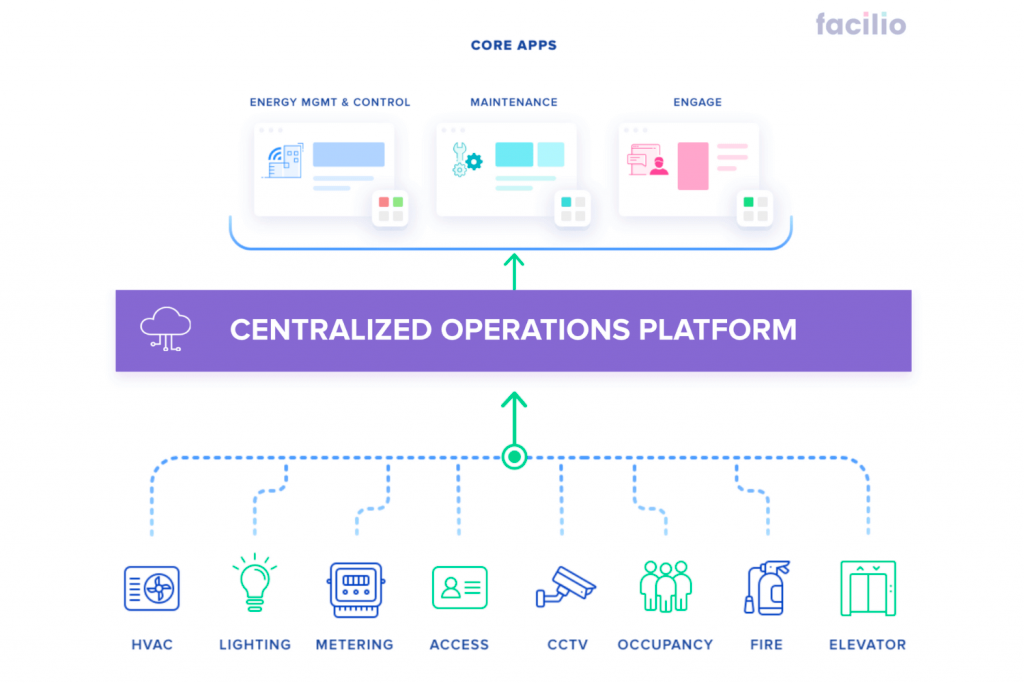 Quick deploy, bias for action
Without a common data model, just about any automation or efficiency-based initiative becomes a huge project with too much overhead. With a centralized platform, you can simplify data exchange across your enterprise applications and centrally manage 3rd party integrations. It can act as a middleware to expand future use cases at ease and share a unified context across your library of applications—without any additional integration efforts or cost.
Let's take occupancy data for example. We discover use cases that need occupancy data all the time: understand peak business periods, optimize HVAC and lighting schedules, space management, occupant engagement, and more. In most buildings today, this data is locked away in one of the silos—the BAS, lighting, the access control system, maybe a proprietary IoT solution that only an engineer has access to.
Let's say that you want to deploy COVID-specific use cases with this data, like gauging tenant attitude towards reopening, tailored ventilation control, or enforcing social distancing. Time is of the essence. With the platform approach, this can be deployed in a few weeks vs months.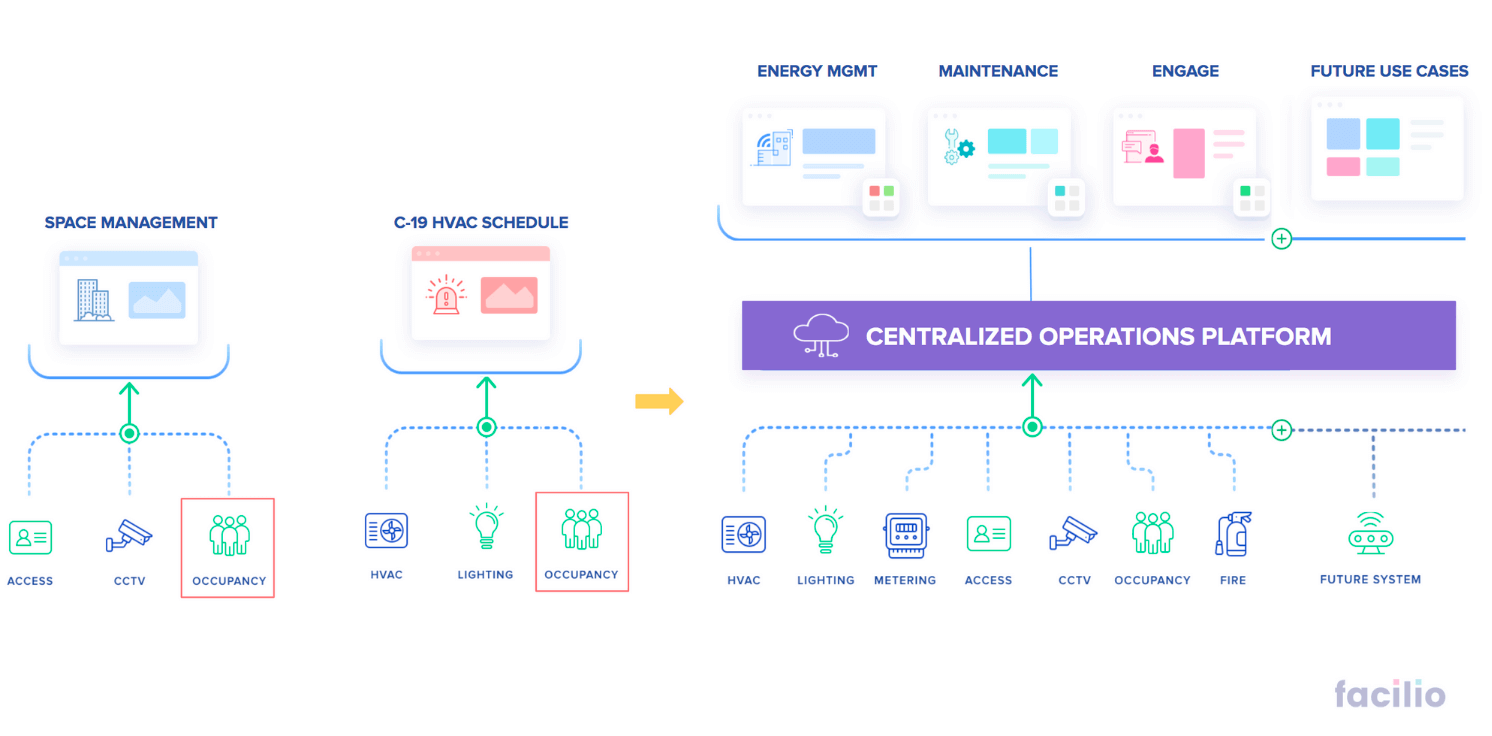 The future of data-driven: Democratize building operations
Historically, real estate companies were required to buy, build, and maintain their IT infrastructures. While the world has shifted to cloud computing, a major part of our industry still relies on on-premise legacy software to control building operations. Even in the case of potentially cloud-based tools, they are either deployed in isolation or with a single or limited focus.
But the centralized platform approach can pave the way for an autonomous future. It can facilitate a two-way communication with the BMS—read system parameters and send commands to control system function. It can enable unified cloud-based BAS controls and become the perfect plug-and-play environment to develop and deploy use cases on the go that require changes to the building systems—without the need for painful system integration. Imagine being able to develop, browse and deploy applications for your buildings as easily as installing apps on your phone.
The future is democratizing operations across your portfolio. It's gaining the freedom to operate and optimize without any limitations. And it's giving owners and operators complete control of and full visibility into their operations—and neither of these is far from reach as long as you are getting in the data-driven loop.
Originally published in Propmodo
---
About Facilio
Facilio is the data-driven property operations cloud platform that aggregates operational information across RE portfolios to help owners and operators optimize performance and control operations, from one place.
Trusted by forward-thinking enterprises across 40 million sq ft of space globally, Facilio empowers RE professionals with real-time operational visibility and complete control over their portfolios.