Best Space Management Software in 2023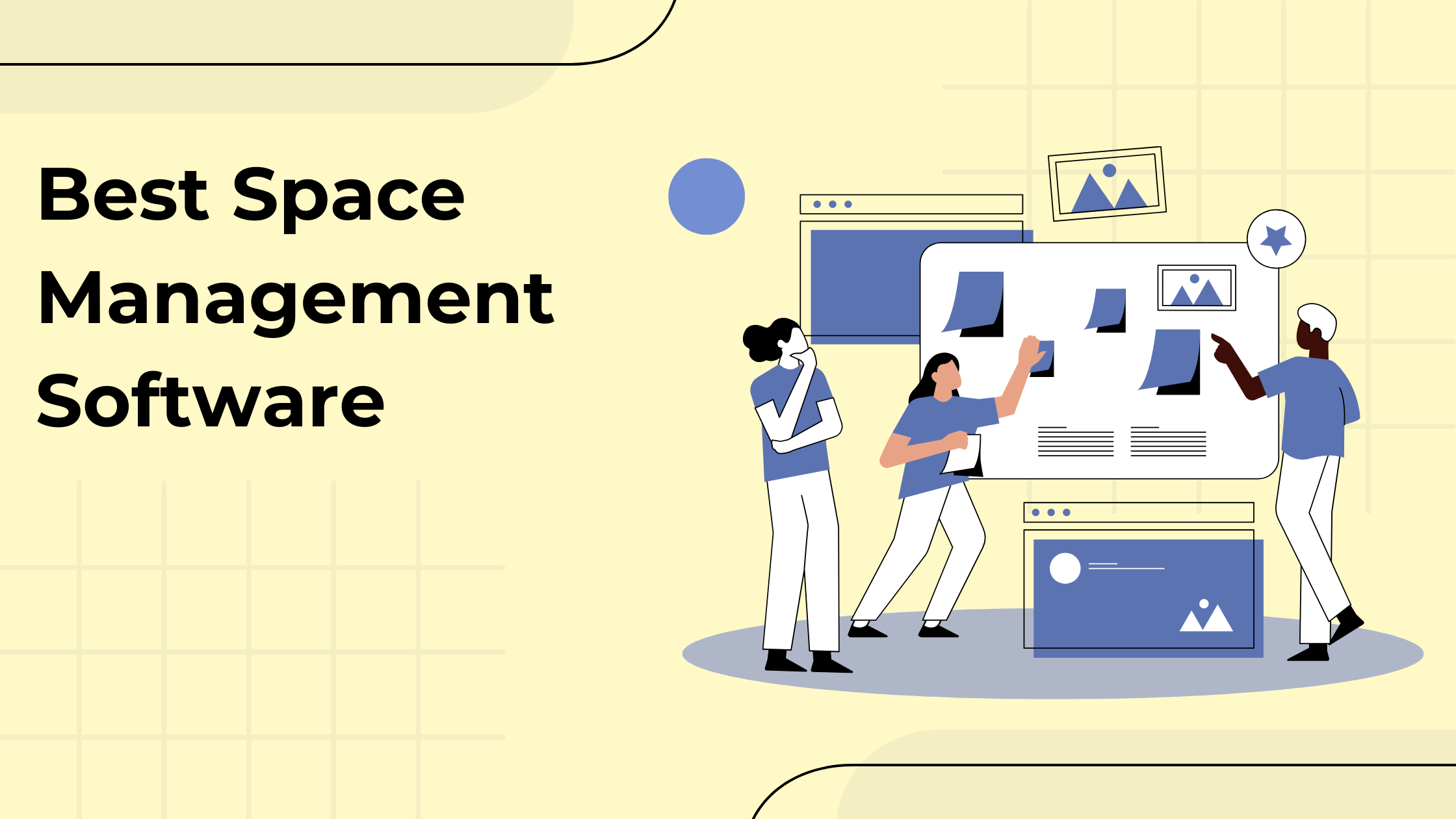 Workplaces have changed a lot in the last couple of years. For example, organizations have changed from flexible work models to completely remote ones to meet employee needs.
However, regardless of the workplace model, space management is crucial for an excellent workspace experience and to ensure your space is used efficiently.
Managing your space is easy with the right cadence and tech stack.
What is space management?
Space management is handling your physical spaces from end to end. It includes managing, monitoring, and tracking spaces and optimizing them for all occupants.
Space management oversees occupancy management, move management, maintenance management, property management, and asset management.
Space management has multiple steps: data gathering, floor planning, analysis, forecasting, and strategizing.
When implementing, you need to have a system that identifies floor layouts and occupants throughout your company.
Space management software simplifies this process and makes it easier for you to perform space planning.
What is space management software?
Space management software is an automated system that can be used to manage physical space inventory. This software enables users to reserve meeting rooms, desks, and other shared spaces and resources within the workplace.
The tool is used to manage assigned workspaces; however, some tools may also provide the ability to manage hybrid and non-assigned workspaces.
Users benefit from space management software, which allows them to book meeting rooms and offices independently rather than asking an administrator for help.
This tool also helps administrators manage the office space more efficiently by allowing them to oversee facilities, oversee user permissions, and utilize analytics to improve workplace efficiency.
Space management software assists users by ensuring facilities, such as desks and meeting rooms, are booked by office regulations to prevent overcrowding and prioritize workplace safety. Space management software lets employees see available spaces and choose the best location for their needs.
Space management software extends the functionality of meeting room booking systems by providing users and administrators with the means to modify permissions, manage rooms, and access meeting information. It also gives users detailed analytics tools that allow them to see how their space is being used at a glance.
Are you evaluating space management software for your organization?
Get in touch with us today to learn about the best space management software.
Top 15 best space management software in 2022
Here are the 15 best space management solutions in 2022:
Facilio
Robin
Condeco
Tactic
Eden
deskbird
Tribeloo
FMS:Workplace
Worksphere
Nexudus
AgilQuest
Locatee
Floor Plan Mapper
Gaia WorkSpace
KettleOS
1. Facilio
Facilio's space management software helps you boost space efficiency, work environment, and productivity, minimize vacant space, better expand or reduce office spaces, save operating costs, and remain compliant.
With Facilio, you can use building entry, hot desking, room booking (conference rooms as well), desk reservations and room reservations, interactive maps, interactive floor plans, and smart building sensor data to optimize space utilization.
Additionally, you can share your location with another company or agency to save money on assets, equipment, facility management, and parking lots.
With granular visibility into square footage and occupancy data, Facilio's cloud-based space management platform helps you automate and streamline your workspace from end to end.
Facilio provides the right office space allocation tools to boost in-person collaboration, manage business workflows, and more. With real-time data, workplace admins can predict space usage, check-ins, and metrics and make informed decisions to ensure the best workplace experience and safety.
From real estate portfolios to facility management, Facilio is one of the best space management software solutions that can fit right into your business.
Why is Facilio the best option?
Facilio helps companies strategically solve space utilization challenges and create a better workplace experience. Facilio's space management software collects and tracks real-time occupancy data from occupancy sensors.
You can also integrate with a building management system (BMS) to interpret that data and generate usage reports.
Facilio helps you:
Understand how your company uses space
Analyze and access real-time space data
Reduce operational costs by ensuring efficient space use
Attract and retain talent by creating a pleasant and productive work environment
Schedule a call today to learn more about why Facilio is the best space management software.
2. Robin
Robin is a workplace experience software. Robin's mission is to make work more human by allowing everyone to understand, use and advance their workplace. Many companies rely on Robin's space management solution to optimize employee productivity and engagement by reducing friction throughout the workday.
3. Condeco
Condeco offers workplace management solutions that equip employees with the right tools to help them best manage their flexible work day. By giving employees control over the flexibility to work from anywhere, whether they choose to collaborate at the office or to focus on work remotely, Condeco's technology creates better outcomes for businesses.
4. Tactic
Tactic makes your hybrid workplace more efficient and collaborative. Tactic's tools include a desk, meeting room, parking space management, an interactive office map, automated health check-ins, and more. Plus, with the ability to see who is in the office, your team can enjoy the benefits of hybrid work without missing out on in-person collaboration. Tactic also gives you insights into how and when your office is utilized.
5. Eden
Eden is a workplace software company that provides integrated solutions for People Operations, Workplace, and IT teams. Eden offers user-friendly tools designed with the employee experience in mind, allowing teams to consolidate all workplace experience needs into one integrated platform. Eden's tools include desk booking, visitor management, performance management, internal ticketing, room scheduling, and deliveries. The product suite allows teams to create a delightful user experience for employees that improves day-to-day operations by unifying all these functions into one integrated platform.
6. deskbird
deskbird is a workplace management system built around users. The software helps employees plan their week and choose whether to work remotely or in the office. Employees can also see information about whether their colleagues will be in the office or working from home. It has functionalities that allow users to schedule resources, such as hot desks, meeting rooms, and parking spaces for office days. Admins can use the analytics to get an overview of how many employees are coming to the office, popular days, which spaces get utilized, and more insights about work habits.
7. Tribeloo
Tribeloo is an easy-to-use desk booking solution that brings everyone together in the hybrid workplace. Change management is hard, but Tribeloo makes it easy to collaborate and optimize your hybrid workplace. Easy setup and intuitive to use, Tribeloo provides a simple way to facilitate agile teams coming together at the office and helps increase space utilization and reduce costs.
8. FMS:Workplace
FMS:Workplace is an integrated IWMS that helps facilities and real estate professionals manage, analyze, and report on O&M information. It gives them access to accurate data so that they can deliver better service, reduce costs, and improve the performance of their facilities portfolio-wide.
9. Worksphere
Worksphere is a workplace management software for hybrid teams. Book desks, know who's in the office, and improve team collaboration. Simplify office safety with automated health screening, contact tracing, and vaccine record tracking. You can also use your office data to understand the complete potential of flexible work with Worksphere's workplace management software.
10. Nexudus
Nexudus is a platform to help you manage and promote flexible working and coworking spaces. Nexudus automates most of the tasks involved in managing flexible workspaces, saving time for you and your members. Nexudus combines a range of tools providing smart solutions for billing, accounting, lead tracking, member onboarding, community management, event ticketing, and more.
11. AgilQuest
AgilQuest is a cloud-based SaaS platform that makes it easy to find the best place, share available assets, and optimize the workplace. With an easy-to-use, web-based interface, mobile apps, and digital sign integrations, AgilQuest helps organizations of all shapes and sizes, even universities, to manage their space. With capacity limits, physical distancing, and touchless access built in from the start, Tango Reserve is a platform for managing your hybrid workplaces while keeping your employees safe and productive.
12. Locatee
Locatee is a workplace analytics solution that gives businesses insight into their space utilization. Locatee was developed to focus on corporate real estate challenges, and it empowers businesses to make decisions confidently. The platform uses real-time data and intelligent dashboards to pinpoint underutilized areas and desks, rightsize floor space, identify patterns in occupancy per zone or team, and proactively fit the office to people's needs. Locatee is a cloud-based platform that works by leveraging data from multiple sources, such as Wi-Fi, ethernet, and sensors.
13. Floor Plan Mapper
Floor Plan Mapper transforms your facilities' floor plans into interactive maps, allowing users to search for office locations and other important assets. Use your Office 365 or Windows Active Directory (Microsoft Outlook) profiles to link employee seating locations to their desk numbers on the map and add searchable meeting room locations, printers, PCs, and other facility assets.
14. Gaia WorkSpace
Gaia Workspace is an easy-to-use workspace management software, including room and desk management, employee screening, vaccine & test tracking, task management, and visitor management. Gaia streamlines your workplace scheduling and ensures that your workplace is productive and efficient.
15. KettleOS
KettleOS is a platform that supports the entire hybrid work ecosystem. It helps companies return to the office while managing hoteling and hot desks and provides data that easily informs strategic choices about office leasing and management. At the same time, KettleOS helps companies manage health and safety policies, including vaccine status verification. It generates data about employees' habits which can be analyzed to adjust company policies over time.
Get in touch with us today and learn more about what Facilio's space management software can do for your business.