Maintenance for Building: Why It's Important In The Post-Pandemic Era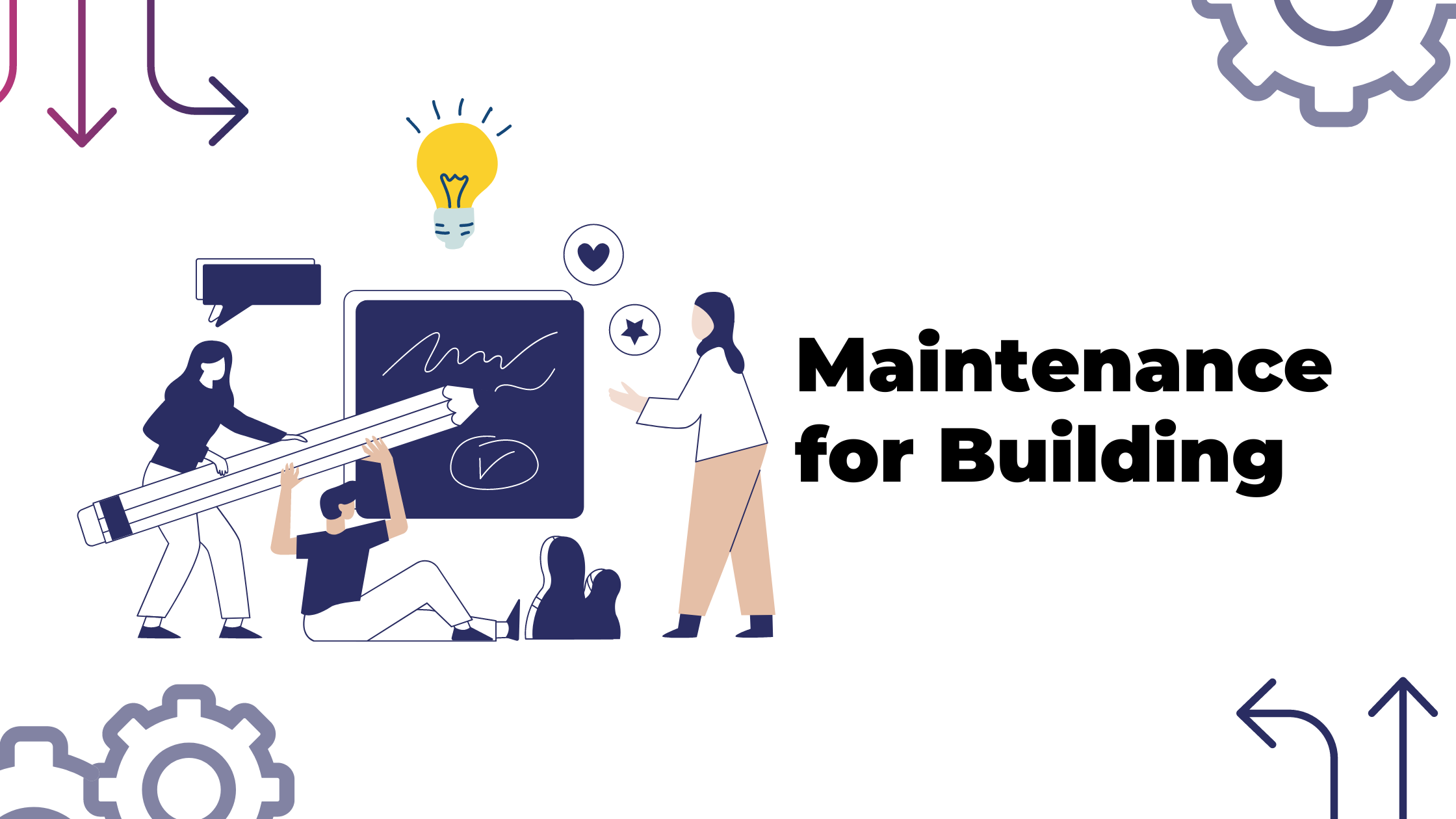 Building maintenance is the Cinderella of facility management – something that receives very little attention yet deserves more.
Building maintenance starts the day the builder leaves a site. Failing to diagnose defects and take remedial action on time leads to disruption, breakdown, and productivity loss.
You probably don't like to see maintenance costs add to the debt, but that's no reason to neglect industrial building maintenance.
Ready to keep buildings safe, comfortable, and functional for occupants? Time to leverage maintenance management software for streamlining property upkeep. If you're a property owner or manager looking to nail year-round building maintenance, this article covers the basics to help you get started.
Learn how you can centrally manage maintenance and sustainability across portfolios
What is building maintenance?
Building maintenance is restoring commercial and residential property functionality with maintenance tasks such as electrical system maintenance, cleaning, and landscaping.
Inspecting, repairing, and maintenance for buildings is key to creating a safe and functional environment for tenants.
Building maintenance activities can be as simple as removing trash regularly. What else? Some of the common building maintenance activities are:
Repairing broken items.
Maintaining electrical and plumbing systems.
Conducting preventive maintenance activities.
Inspecting utility services like water, sewage, and internet.
Maintaining heating, ventilating, and air conditioning (HVAC) systems.
Outdoor property care activities include lawn care, sprinkler management, and landscaping.
Washing and cleaning common areas and surfaces such as bathrooms, windows, handrails, and gutters.
Building maintenance makes your space liveable but differs depending on your property.
In most cases, tenants don't pay much attention to what goes on behind the scenes to keep properties running, but when something goes wrong, things can escalate fast.
Let's see how different buildings maintain properties.
Ace building maintenance with a single solution.
Schedule a call today and find out.
Building maintenance examples
Check out how businesses, residential complexes, and government organizations use building maintenance to keep their properties in tip-top shape.
Commercial building maintenance
Every corporate office building needs maintenance. Depending on your facility maintenance strategy and seasonal needs, maintenance activities may differ.
For example, while the Fall season may be a good time to service the furnace, you may need snow removal services in Winter.
Then, you have year-round maintenance activities like air filter replacement, fire alarm testing, leak checks, fire suppression system servicing, and more.
Depending on their size, organizations hire in-house maintenance staff or outsource maintenance to contractors.
Residential complex maintenance
Residential complexes such as apartments or condominiums often hire maintenance workers for year-round indoor and outdoor inspection and repairs.
These teams use a building maintenance checklist to repair or replace assets.
The checklist looks at exterior construction, lighting, doors and windows, fire safety equipment, HVAC, electrical, and interior hazards.
Government building maintenance
State and local government offices also sponsor maintenance for different public buildings, including but not limited to libraries, city offices, and post offices.
These maintenance works include repairing and restoring electrical devices, asphalt, plumbing, fixture, glass, and flooring.
No matter what type of building you own or manage, maintenance is crucial for preventing breakdowns, safety hazards, and inconveniences.
Suggested reads:
How to perform Facilities Condition Assessment?
A Quick Guide to Avoid Getting Pencil Whipped!
Importance of building maintenance in a post-pandemic world
Post-pandemic awareness about cleanliness, safety, and hygiene pushes companies to reimagine office spaces.
This increasing focus on efficient maintenance management means companies must:
Stay on top of space management. If you're scheduling space availability for tenants or employees in your building, you'll be better off with computer-aided facilities management (CAFM) tools or an integrated workspace management system (IWMS).
Solve problems rapidly. You won't always have the luxury to prepare for repairing faulty systems. That's why you need a breakdown maintenance plan to allocate technicians faster and restore business continuity.
Use touch-free technology. Post-pandemic circumstances require you to focus on hygiene and cleaning services to avoid airborne virus transmission. Another way to offer peace of mind to tenants is to use contactless entry and exit for buildings.
Improve air quality. The inability to maintain HVAC systems may lead to viruses or even the common cold transmission. Adopting a planned maintenance approach will help you maintain air movement units and deliver fresh air to building occupants.
You can only maintain a building well if you know what types of maintenance you can perform.  
Get a free copy of The Property Operations Leader's Guide for Today's New Digital Normal!
Types of building maintenance
Building maintenance can be of three types.
1. Corrective maintenance
A corrective approach fixes faults or mistakes after they have occurred.
Corrective maintenance for buildings means you restore property functionalities after they have been damaged or decayed.
This maintenance is ideal for assets with a shorter life span or costs more to repair.
Corrective maintenance doesn't require planning but may cause downtime and result in safety threats.
2. Preventive maintenance
Preventive maintenance for buildings detects anomalies and defects ahead of time to prevent downtime or asset failure.
Preventive maintenance uses asset data insights to find potential equipment failure and fix it. It's ideal for building systems that are key to operational efficiency, health, and safety.
Facility managers follow a preventive maintenance checklist to create work orders and avoid unexpected breakdowns.
3. Routine maintenance
Routine maintenance includes year-round, ongoing maintenance tasks for maintaining building functionality and preventing building decay.
Technicians typically perform routine maintenance tasks daily, weekly, or monthly, depending on the type of building you have.
For example, you may perform garbage removal daily, whereas hinge lubrication or repair once in a while.
Suggested read: How to measure asset reliability with a bathtub curve?
Types of building maintenance workers
Maintenance for buildings requires workers with different types of responsibilities and experiences.
The janitorial staff keeps your building clean. Commercial buildings rely on janitors for bathroom cleaning, floor mopping, vacuuming, and door or window washing. Janitorial teams clean common areas in residential buildings on behalf of building owners.
Maintenance technicians are responsible for specialized tasks such as HVAC and utility system inspection, maintenance, and repair. Commercial and residential buildings typically use computerized maintenance management systems (CMMS) to create work orders and assign tasks to technicians.
Maintenance supervisors manage maintenance technicians besides planning and scheduling building maintenance. These professionals sometimes build the entire maintenance team from scratch.
You can also divide building maintenance tasks into priority-based activities such as:
Emergency repairs you must perform immediately to minimize safety risks or restore building utility services.
High-priority tasks are time-sensitive activities that may become security risks if left unattended.
Medium-priority tasks that you must perform daily to keep a building functional.
Low-priority tasks are activities that can wait until proper resources are available.
Deferred maintenance tasks that go to your maintenance backlog because of a lack of resources or time.
Now, let's dive deep into maintenance areas that need your attention.
Different areas of building maintenance
Building maintenance includes various systems ranging from plumbing to energy management to building interiors.
This section walks you through the building maintenance areas you should focus on.
Interior and exterior: Common building interior maintenance activities include cleaning common areas, wall repainting, drywall repairing, flooring, and carpet replacement. Exterior maintenance involves repairing or replacing roofs, sidewalks, parking lots, and lawns.
Electrical systems: Inspecting and repairing power outlets, electric connections, circuit breakers, and other electrical equipment keep your building safe. Regular electric system maintenance lets you comply with standard building codes and prevent electrical hazards.
Plumbing systems: Preventive plumbing system inspection and maintenance help you avoid burst pipes, overflowing toilets, and drain clogs. Moreover, it keeps your bathroom fixtures, water heaters, and wash stations in good working order.
HVAC: HVAC maintenance includes seasonal inspections, changing filters, checking compressor coolant and oil levels, and cleaning coils. All these preventive measures make it easy to control ventilation and temperature.
Energy management: Whether you run a living space or a production facility, you must control the environment's temperature. Keeping energy systems efficient helps you lower energy costs, maintain temperature, and remain sustainable.
So, what benefits do you get with all these building maintenance activities? Let's see.
Benefits of building maintenance
Building maintenance has multiple benefits, such as:
Saves you money. Timely building maintenance activities prevent you from paying upfront for unexpected failures.
Improves safety. Strategic building maintenance improves a property's working conditions and keeps it functional and safe for occupants.
Prevents costly large-scale repairs. Preventive building maintenance stops your building facilities from breakdowns that would have otherwise resulted in expensive repairs or replacements.
You can't stay on top of building functionality all by yourself! You'll also need CMMS software by your side - keep reading to know why.
How to improve building maintenance with CMMS software
Building maintenance systems are all-in-one workspace management tools that help you manage equipment, schedule maintenance, create work orders, and track inventory.
Facilio is a top-class building maintenance tool that helps you find real-time issues with building maintenance data.
It also features integrated workflows that alert your team about maintenance issues or automatically trigger solutions.
The in-built reports give you a complete picture of saving opportunities, existing issues, and everything you need to know to keep your building efficient.
Time to simplify building maintenance
The world's smartest buildings are powered by data.
Without 360° operational insights, you'll be nowhere near unlocking the operational performance of your buildings. Whether you're an owner or building manager, it's time proactively address building inefficiencies.
Sign up for a demo to see how Facilio can be your ally in putting an end to building maintenance headaches.