What is Corrective Maintenance and When Should You Use it?
Corrective maintenance is the process of fixing a problem after it has already occurred. It's a reactive approach to maintenance, and is typically used for inexpensive assets that don't have major impact on operations.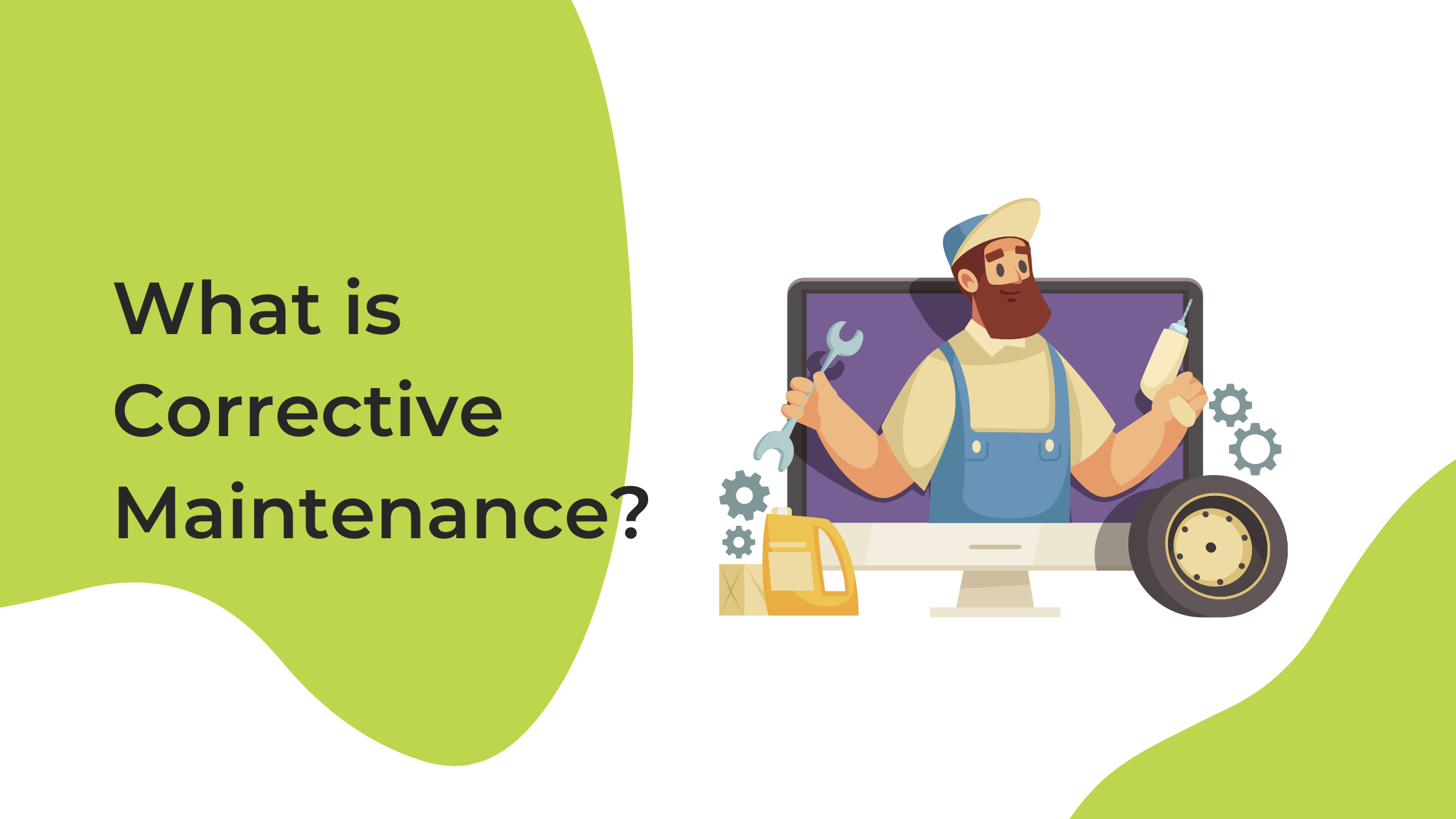 Every business is more than familiar with corrective maintenance (reactive or run-to-failure maintenance) - the most straightforward, primary, and cost-effective maintenance process.
To get started with a corrective maintenance program, all you need are experienced maintenance technicians qualified to perform repairs and the spare parts they need in case of replacements.
Corrective maintenance is an excellent kick off point towards operational efficiency for SMBs with few inexpensive assets.
It is, in many cases, a great one for asset intensive enterprises that already use condition-based maintenance or other advanced performance monitoring technology for critical assets too.
We'll talk more about that as we proceed.
Corrective maintenance is relevant to every business, regardless of the maturity of its operations and maintenance management processes.
What is corrective maintenance?
Corrective maintenance is the process of fixing a problem after it has already occurred. It's a reactive approach to maintenance, and is typically used for inexpensive assets that don't have major impact on operations.
Is corrective maintenance a good maintenance strategy?
Corrective maintenance is an effective strategy for candidates with either, or both of these characteristics:
The lifespan of the asset/component is relatively short
The repair costs are higher than the replacement costs
Further, it can also be a good strategy if you're running low on budget or time or when the failing equipment is critical to operations.
Technicians perform reactive maintenance when they notice unusual operating conditions or malfunctions in equipment like vibration, sound, heating/cooling, performance, and the like.
They perform appropriate emergency repairs to prevent faults from leading to a complete equipment failure (in which case, they will perform breakdown maintenance/emergency maintenance, which is more expensive).
Corrective vs. Preventive maintenance vs. Breakdown maintenance
Corrective maintenance is a reactive process, usually performed after a system has failed or is already malfunctioning and needs immediate repairs/replacement to keep operations running.
Preventive maintenance (PM) is performed to ensure that a system will continue to work properly by identifying potential problems before they occur.PM involves regularly scheduled checks on equipment to ensure that it remains in top condition—similar to an oil change for your car.
Breakdown maintenance happens when a system fails completely, and you must fix it before resuming operations (hence "breakdown").
When should you use corrective maintenance?
Scheduled corrective maintenance is a good idea for systems critical to your operations.
Take, for instance, an electrical power distribution system or a cooling system in a manufacturing plant.
It is important to plan regular inspections and maintenance schedules to keep such critical equipment performing optimally and reduce the risk of potential failures that could otherwise lead to catastrophic and costly outcomes.
Scheduled corrective maintenance can also help prevent problems from occurring in the first place by identifying potential issues early on and helping your maintenance teams resolve them before they become major problems.
Unscheduled corrective maintenance is performed in cases where:
The equipment isn't working the way the manufacturer intended.
If you notice a difference in equipment performance from normal standards. This could indicate wear on some parts, which may need replacing sooner rather than later if they are not performing up to their usual capacity.
Looking for a CMMS that truly simples, streamlines, and supercharges your maintenance programs?
We've built just the thing.
What are the benefits of corrective maintenance?
Corrective maintenance is often the first step in troubleshooting problems with a new machine.
It can reveal if there are any issues with the process itself or its setup that need to be addressed before moving on to more advanced troubleshooting techniques.
Its main advantages are:
Easy to implement with no planning required
Perfect for inexpensive parts or equipment
Saves maintenance costs on planned tasks that require technicians to inspect the equipment, whether or not they need it.
What are the disadvantages of corrective maintenance?
In the long term, corrective maintenance adds up to be much more expensive than any other maintenance.
Since this type of work is not planned and there's less time to prepare, you may pay overtime wages or pay a contractor at higher rates.
Additionally, you'll likely lose some productive hours.
For instance, if you have a production line where each worker has multiple tasks during their shift, those tasks may hang up as workers wait for corrective actions or replacement parts from outside suppliers.
The main disadvantages of corrective maintenance are:
It is not cost-efficient in the long run
It results in increased equipment downtime
It makes resource and inventory planning difficult
It brings more safety risks when compared to preventive maintenance
How can you reduce corrective maintenance?
The more frequently an asset breaks down, the more expensive it becomes to operate.
It is essential to track faults, breakdowns, and maintenance work closely so that when something goes wrong, expert technicians can refer to the asset history to understand possible causes and efficient fixes.
Learnings from an asset's performance and maintenance history can then be applied to other similar assets and tend to them proactively. This lays the foundation for preventive maintenance programs.
The most important thing is to pick the right software for the job - computerized maintenance management system (CMMS) software that suits your current needs and enables you to upgrade to preventive, predictive, or prescriptive methods as you scale.
Suggested reads:
How to perform Facilities Condition Assessment?
A Quick Guide to Avoid Getting Pencil Whipped!
How do predictive and preventive maintenance differ from reactive maintenance?
Reactive maintenance is when you fix something after it breaks.
Preventive maintenance is when you fix something before it breaks.
Predictive maintenance, which includes predictive modeling, trend analysis, and condition monitoring, can help identify problems before they occur and therefore facilitate proactive corrective action rather than reactive intervention.
Suggested read: How to measure asset reliability with a bathtub curve?
Should you use a CMMS for corrective maintenance?
Not to be dramatic, but..
That's how strongly O&M leaders recommend using a CMMS software from the get-go to set your business up for O&M efficiency in the long run.
Free resource: The property operations leader's guide for today's new digital normal
A CMMS software is essential for any business that owns assets. And choosing the right CMMS is not always simple. There are hundreds of solutions in the market leaving businesses spoilt for choice.
If you're evaluating maintenance management software for your business, take note:
A CMMS is an investment that keeps giving. It becomes the operational cornerstone of your business, empowering you to make data-driven decisions towards O&M efficiency.
So it's important that your CMMS fits your needs like a glove, now and as your business scales.
With the right CMMS, switching from reactive to proactive maintenance is a breeze.
Al Fajer, a facilities management company with more than 3000 employees and operations across the GCC region switched from legacy tools and reactive processes to fully digitized, proactive, and real-time facility management.
Within only 6 months of deploying Facilio, they achieved:
6864 connected assets managed across portfolio
80 + proactive planned maintenance schedules using 52-week calendar
13 % increase in productivity owing to to workforce efficiency
A modern Connected CMMS like Facilio offers features to track, record, and analyse maintenance tasks of all kinds - corrective, preventive, predictive, and prescriptive.
Its flexibility and modularity make it perfect for organizations across industries and use cases.
Would you like to learn more about Facilio's O&M platform?
Book a demo and a friendly face from Facilio will be in touch shortly.