When You Should Use Breakdown Maintenance (With Actionable Tips for Planning)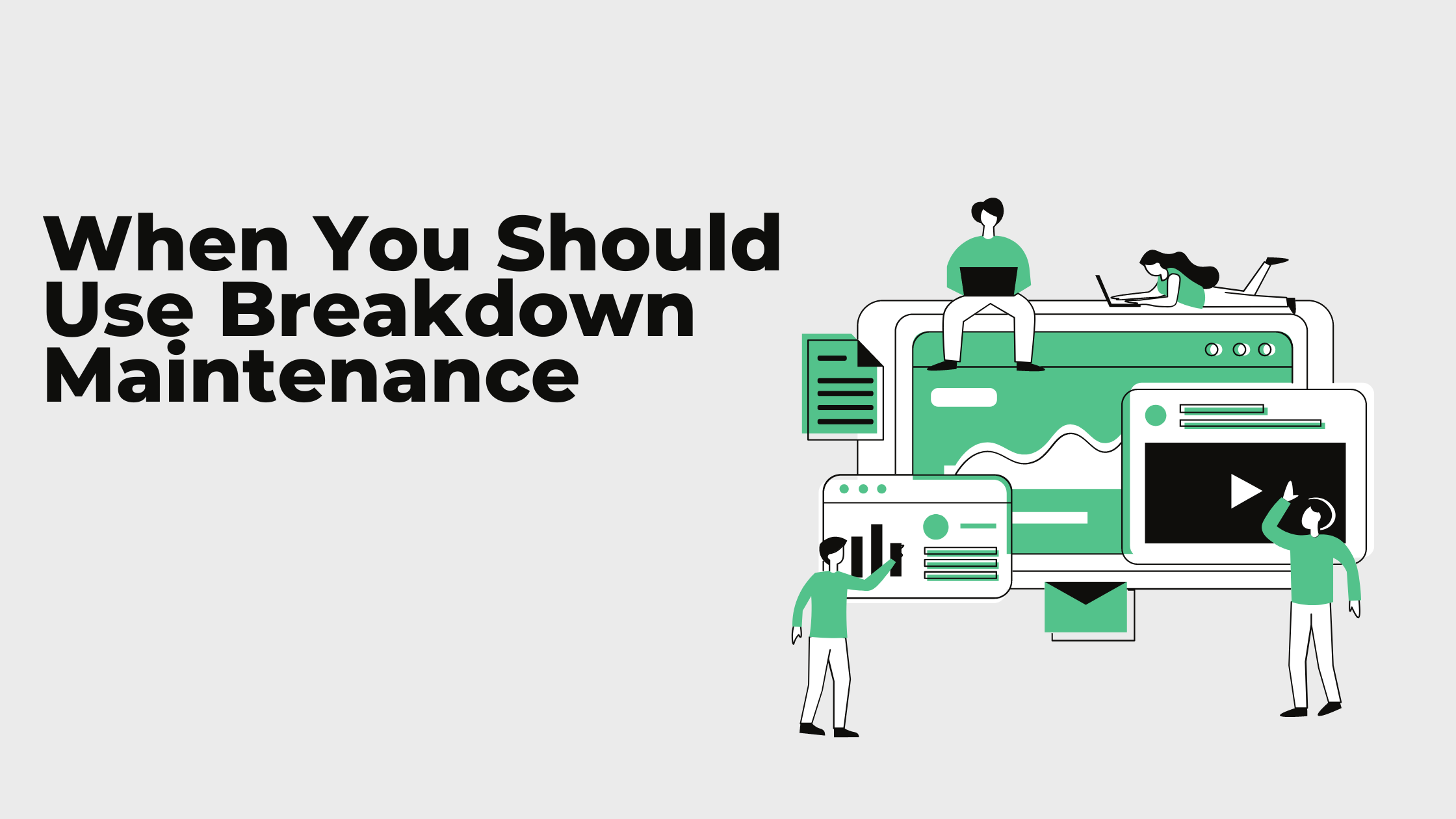 Asset breakdowns lead to equipment downtime and disrupt production.
You must redirect resources whenever equipment malfunctions so operations don't stop completely. However, since these malfunctions are inevitable, you better have maintenance management software for strategic breakdown maintenance planning.
What is breakdown maintenance?
Breakdown maintenance or reactive maintenance is the maintenance you perform when an asset completely breaks down, malfunctions, faults, or can't operate. This type of maintenance is unlike preventive maintenance, where you make interventions before an asset fails.
Breakdown maintenance can be planned and unplanned, depending on whether you're ready to handle a breakdown.
While breakdown maintenance may seem like a result of poor planning, it isn't. Some facilities allow certain assets to fail because those are easy to replace and don't pose a safety threat to the workforce. However, most organizations combine preventive and breakdown maintenance to protect high-value assets and save money on maintaining non-essential assets like batteries, fuses, light bulbs, and so on.
Wondering if you should be using breakdown maintenance at all? Keep reading.
Find out how you can reduce O&M silos and close the gap in real estate innovation. Get your copy of the free whitepaper now!
When to use breakdown maintenance
A breakdown maintenance strategy is ideal for assets that are:
Not critical to production continuity
Disposable and typically have a shorter lifespan
Not easily replaceable because of lack of access
Easy to replace because of inexpensive spare parts
Organizations adopting breakdown maintenance often do so to:
Minimize preventive maintenance costs
Increase the cost-effectiveness incurred by replacing disposable items
Cut staffing costs and repair downtime
Check out a awesome infographic that details the Rise of Real-Time Facilities!
Examples of breakdown maintenance
Let's look at two real-life examples of when and how to use breakdown maintenance.
Planned breakdown maintenance example
Let's say your manufacturing unit has an old electric generator that you use once in a while. However, your operations aren't entirely dependent on this generator. As a result, you don't experience service interruptions when critical equipment breaks.
To keep this asset, you can use a computerized maintenance management system (CMMS) to predict the mean time between failures (MBTF) accurately. This approach will help your technicians order spare parts ahead of failure, schedule corrective maintenance, and generate work orders on time.
Unplanned breakdown maintenance example
Unplanned asset failure leads to service interruptions. For example, if a recently purchased new electric generator fails suddenly, you're likely to lose thousands of dollars because of unscheduled downtime.
Without necessary replacement parts, you may also experience a prolonged unexpected failure. For this reason, facility technicians and managers use predictive maintenance to spot performance issues with real-time asset data.
Knowing different breakdown maintenance types helps you adopt the correct maintenance strategy throughout an asset lifecycle.
Find out how you can easily handle breakdown maintenance.
Schedule a call with us today!
Different types of breakdown maintenance
There are three main types of breakdown maintenance.
1. Run-to-failure maintenance (RTF maintenance) happens when you know a piece of equipment is likely to fail and have the plan to handle the failure. Since this is a planned breakdown maintenance program, you will likely already have replacement parts.
Organizations create a run-to-failure workflow for assets that:

Have little to no impact on facility safety and operational productivity
Are inexpensive and can be repaired/replaced on the go
2. Corrective maintenance occurs when you repair and restore faulty equipment and systems. Technicians typically initiate this maintenance after observing an additional problem while executing an emergency or routine work order. Then, they issue a corrective maintenance order for the task.
Corrective maintenance is ideal when you:
Detect issues while monitoring asset conditions
Find potential product line or HVAC faults during routine inspections
3. Reactive maintenance is repairing assets as a reaction to asset failure. It only fixes issues that have been identified. As a result, you spend less on staffing and maintenance.
Consider reactive maintenance when critical assets need emergency maintenance to be functional and ensure operational safety.
Many use corrective maintenance and reactive maintenance synonymously. The critical difference is that corrective maintenance is planned, whereas reactive maintenance occurs after an asset or equipment has failed.
Suggested reads:
How to measure asset reliability with a bathtub curve?
A Quick Guide to Avoid Getting Pencil Whipped!
Preventive vs. breakdown vs. corrective maintenance
Preventive maintenance involves routine and regular equipment maintenance to avoid unplanned downtime and prevent unexpected asset failure. In addition, a good preventive maintenance plan reduces the chances of asset breakdown.
On the contrary, breakdown maintenance is all about performing maintenance tasks like repairing or replacing when an asset breaks down.
Corrective maintenance is breakdown maintenance that you plan ahead of time and perform to restore faulty assets. Corrective maintenance occurs when you have a preventive maintenance checklist and scheduled maintenance.
Suggested read: How to perform Facilities Condition Assessment?
Breakdown maintenance pros and cons
Now, let's look at the advantages and disadvantages of breakdown maintenance:
Breakdown maintenance workflow
A breakdown maintenance plan or workflow is a step-by-step action plan for handling equipment failure. While this workflow varies depending on the asset and emergency type, here's a simple plan that maintenance engineers follow.
Spot the issue. Find the key asset failure details and create a work order if necessary.
Inspect the asset. In this stage, you investigate the facility and asset in detail so that you know exactly what you're trying to accomplish.
Create action items depending on whether an asset needs replacement or repair. Don't forget to test the asset once you execute the maintenance work.
Run an operational, functional test to understand whether the maintenance procedure has solved the problem and if the asset is operating normally.
Create a maintenance report. Now, it's time to create a report to document site status, tasks completed, and breakdown conditions. Also, keep an eye on the material inventory to prevent similar breakdowns in the future.
Want to know how maintenance software can help you plan for breakdown maintenance? Keep reading.
Want to know how maintenance software can help plan for breakdown maintenance?
Get in touch today.
How CMMS helps with breakdown maintenance
A connected CMMS software collects data about breakdown types and frequency so that you can prevent future events. Let's look at how a CMMS can be your ally at each step of breakdown maintenance.
Tracks asset failure. Choosing the right CMMS tool helps collect asset failure data and create a preventive maintenance plan for high-value assets. Once you collect historical equipment failure data, you'll be better positioned to order parts or generate RTF triggers to alert technicians. Overall, comprehensive asset lifecycle management reports make predicting asset failure and maintaining assets easy.
Centralizes asset info. A centralized asset maintenance log is key to maintaining spare parts inventory and dealing with breakdown maintenance. A CMMS software keeps all the data in one place so you can easily follow original equipment manufacturer (OEM) recommendations, run maintenance procedures, and streamline maintenance workflows.
Identify downtime costs. A CMMS solution also lets you understand the financial impact of asset downtime throughout the year. Those data insights help you decide whether to put assets on breakdown or preventive maintenance.
If you're looking to optimize asset performance while protecting equipment, Facilio can certainly help. Facilio equips you with 360° operational insights, so you don't have to worry about fault diagnostics or data-driven maintenance management.
Break the breakdown maintenance cycle
While breakdown maintenance is perfect for minimizing risks and maintaining budgets for certain assets, it isn't ideal for high-value equipment. That's why your facility must use CMMS software to stay on top of preventive maintenance.
Want to see how best-in-class CMMS transform facility operations?
Schedule a demo and experience how Facilio can drive operations efficiency.