What is Field Service Management?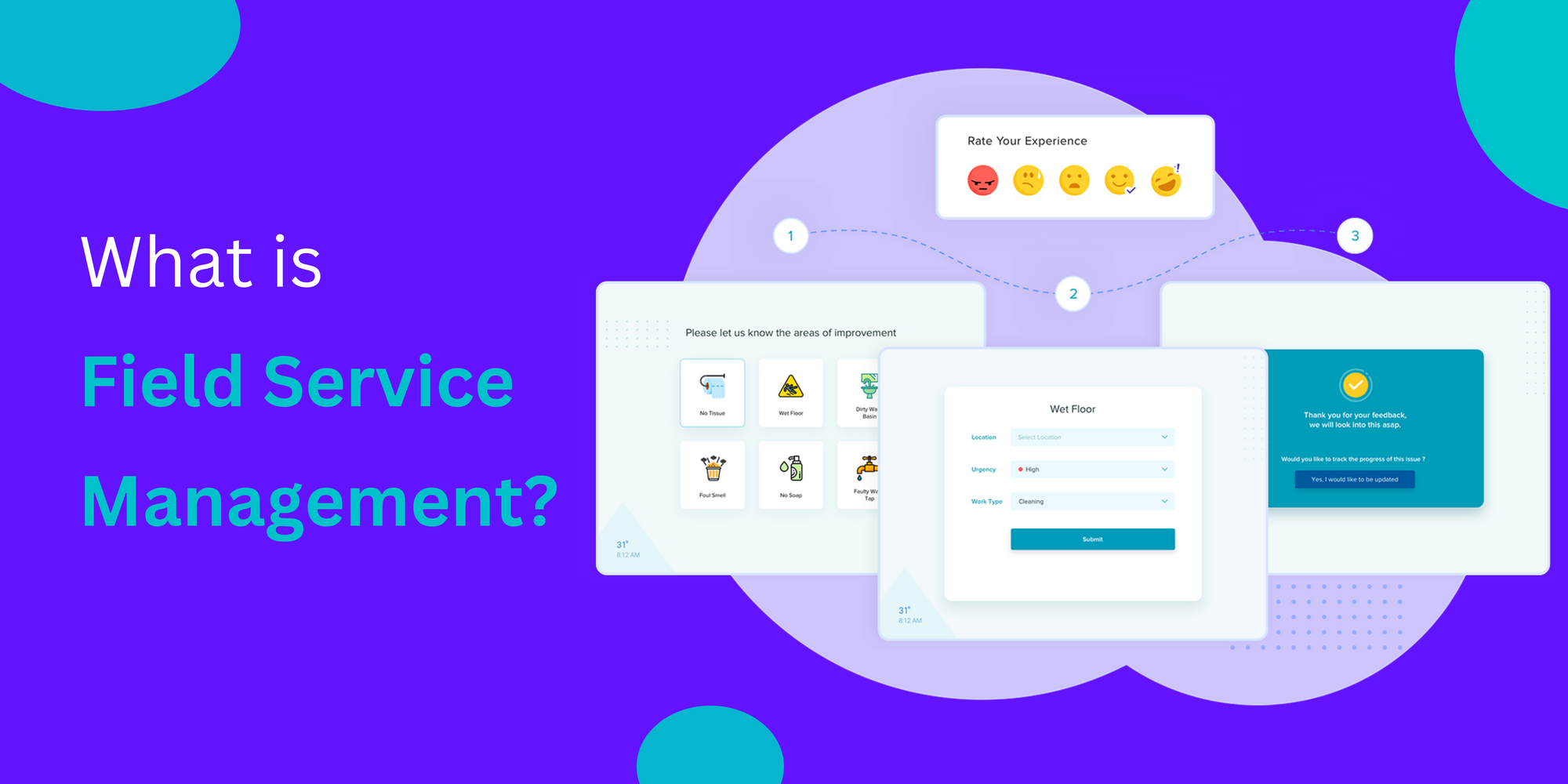 The Field Service Management (FSM) industry is at the cusp of a major digital transformation. If you are in the customer service industry, you are likely to be spending a lot of time and effort juggling tons of tasks and solutions outside the office, attending to clients' immediate requirements.
These requirements could involve client communications for routine repair and maintenance, customer support, infrastructure migration or upgrade, or sales consultations.
All these can be taken care of in an automated manner using your mobile device linked to a field service management solution.
It's almost like tapping a button or swiping a screen on your phone to meet every customer's expectation and fulfilling every work order in real time.
How does it happen?
Enter field service management software of the modern era.
So, how does a business leader decide if they need FSM software? To get to the bottom of this question, we must first define what field service management is.
What is Field Service Management (FSM)?
Field service management is the scientific approach to planning, identifying, organizing, managing, and optimizing customer service and support initiatives at the client's location or in the field.
Traditionally, service providers would rely on field managers or contractual technicians to accomplish FSM tasks.
However, the paradigm shift towards customer experience transformation and new standards in personalized customer experience management, remote monitoring, and predictive maintenance have compelled most service providers to adopt software-based FSM.
Benefits of Field Service Management
Field services management delivers measurable benefits to the service providers. These include:
Standardized and cohesive customer service
Streamlined workflow planning backed by electronic-document processing and back-office optimization
JIT and agile work order scheduling to save time
Improved workforce productivity
Improved opportunities to work with automated tools, mobile apps, and analytics
Better safety, security, and employee morale
Challenges with FSM
Different kinds of challenges with FSM could arise at different phases.
During assignment
Manual work assignments leading to time-consuming activities
Poor workflow scheduling due to a lack of communication
Lack of workforce planning
Time conflicts, double-booking, and missed schedules
Poor rescheduling arrangements
During dispatch
Lack of tracking tools to monitor routes, maps, and location-based dispatch
Delay in information transfer between the back office and field service technical team
Re-order and rescheduling mismanagement
During installation and maintenance
Ineffective inventory management
Lack of spark parts and assets
Inadequate measures to save cost or material lead to poor customer service
Damage and tampering
Failure to report Root Cause Analysis (RCA)
During invoicing and expenses management
Relying on paper-based invoices leads to a loss of revenue
Multiple payments or transactions leading to uncertainties
Erroneous reporting and billing, leading to conflicts with back-end office
Manual data entry leads to loss of business opportunities in the future
These challenges should be met with proper training for technicians and field contractors to derive maximum value from FSM.
Businesses today rely on cloud-based FSM software to provide various field services to meet customer requirements as mentioned in the service or maintenance agreements.
Field service management trends in 2022
Access to world-class technologies and uninterrupted mobile connectivity has enabled service-based organizations to embrace the far-reaching benefits of FSM software for efficient work order management.
The dawn of cloud computing, data science, and edge/ IoT capabilities has heightened the expectations of field service providers when it comes to streamlining various task orders at the customer's end in real time.
Issues that would take days and weeks to be reported, acknowledged, and sorted can now be completely resolved within a few hours with FSM software. Backing FSM efforts with a software platform can solve all these challenges with contactless and self-service automation capabilities.
These technologies play a big part in the digital transformation of FSM:
Artificial Intelligence (AI), Automation and Robotics
Edge and Fog Computing
Barcode and QR Code scanning
Augmented Reality (AR)/Virtual Reality (VR)
5G Networking
Internet of Things (IoT)/wearables
Data visualization and business analytics
Top Industries That Rely on FSM
Manufacturing, healthcare and pharmaceuticals, logistics and transport, retail, and real estate are the biggest markets for FSM software. Principally, field service management is critical in supply chain and operations management.
Rapid digitization of various business operations has opened new opportunities for FSM software innovation companies.
These innovations streamline the various FSM services at for personas including customer support agents, dispatchers, field service workers, contact center managers, vendors, customer, and occupants/tenants.
Here are a few examples of how FSM is used in different industries:
Manufacturing
Field service management is critical for the manufacturing industries, which primarily consist of sectors such as automotive, farming, oil and gas drilling, aerospace, shipping, and others.
Engineers, consultants, and equipment handlers are identified and sent to conduct inspections, repairs or replacements, and maintenance at the various sites where machines are installed.
Healthcare
The healthcare industry has become dependent on field service executives for various operations in the last two years.
These include maintenance of healthcare software for electronic patient data monitoring, document backups, logistics, drug inventory management, equipment supplies, and compliance.
Real estate and property management
Field service technicians are dispatched to survey and monitor existing real estate properties and ongoing projects. In addition, they are tasked with the maintenance of the properties, landscaping, repairing, and rent collection.
The property management industry now boasts of embracing 100% paperless automated back-office and work order management.
Banking and Insurance
The banking and insurance industry is heavily reliant on field service management components. For example, customer service executives, loan agents, bank reps, mail dispatchers, and collection agents carry out different field operations to bring business.
Telecom BPO services, 5G/ IoT-based logistics, urban transportation, utilities, and education use field service management to standardize workflows and optimize costs.
Main components of FSM
Field Service Management comprises manually-handled field operations techniques, business leadership acumen, and software-based automation capabilities.
The major components are:
Field service scheduling chart
Inventory management dashboard
Workforce management
Work order management
Invoicing, payment, and processing tools
Contract management
Dispatch, vehicle tracking, and logistics
Customer portals
E-learning and training resources
Looking for a field service management software for your business?
What is field service management software?
Field service management software is a SaaS-based product specifically developed to simplify various components of field service management.
This software is deployed on-premise, as a hybrid cloud, or as a mobile application to empower service providers with better flexibility and transparency in work order management.
How does it work?
FSM software is an integration of various overarching solutions such as Enterprise Resource Planning and Asset Management (ERP/EAM), inventory management, payroll, compliance, billing, location data, and business analytics.
Modern field service software is a unified platform that automatically integrates with all the essential solutions for simplified work order scheduling, ticketing, routing, and worker activity management.
It could be ingesting and analyzing data from various systems using AI and Machine Learning (ML) to further the efficiency of field service teams.
Common features of FSM Software
Here are the most significant benefits that influence the adoption of a powerful and user-friendly FSM software for business:
Automated work assignments on mobile apps
FSM software leverages sensors-based IoT devices to report critical issues to field service managers. This way, an FSM team can automatically assign work orders to the available on-field workforce.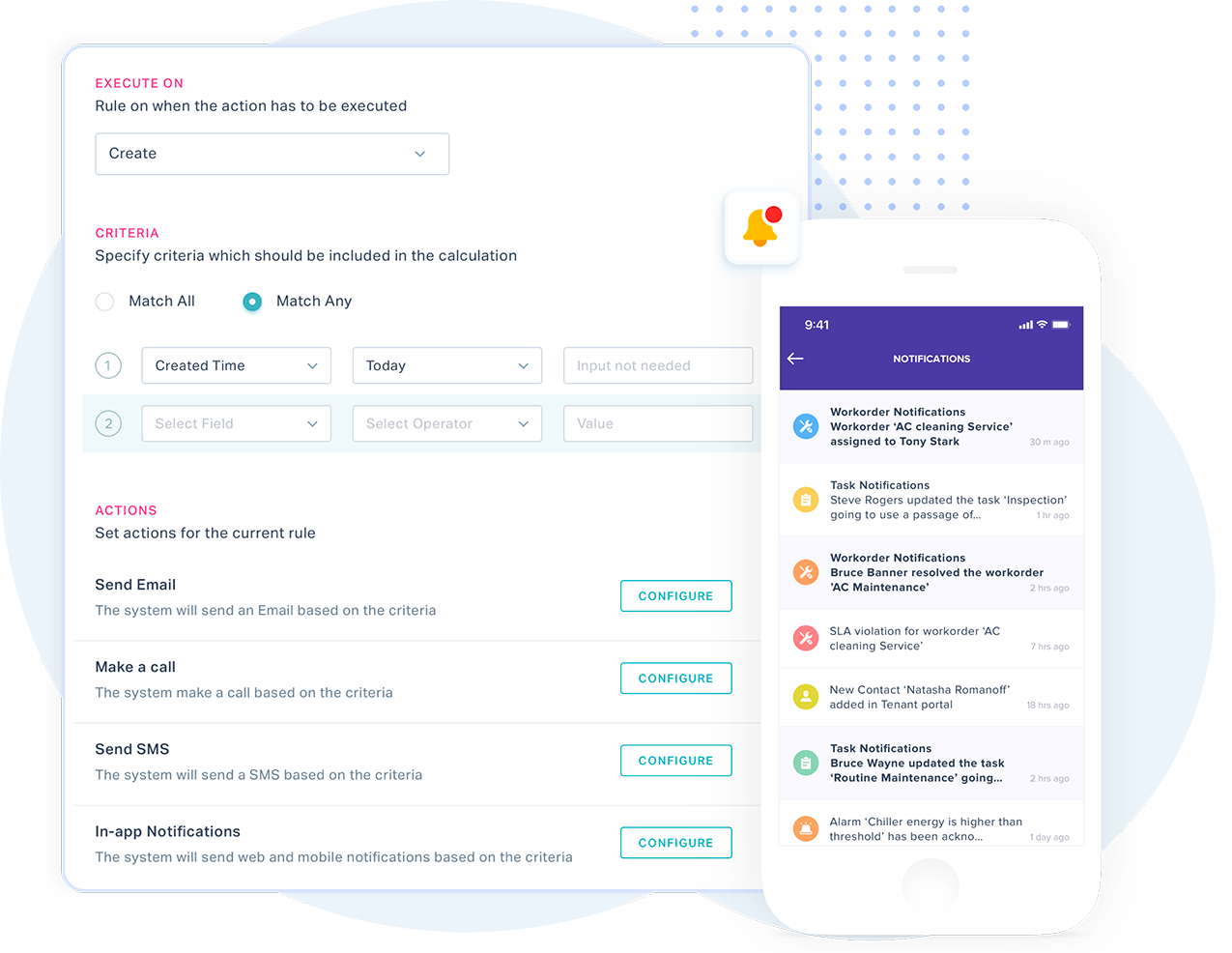 Technicians can access important information through FSM apps on their authorized mobile devices.
Intelligent scheduling with task optimization
Service technicians use FSM to view, accept and complete more work orders in a day for high-value customers who pay more for emergencies. Assigning, assembling, and dispatching field technicians require intelligent scheduling to manage these incidents.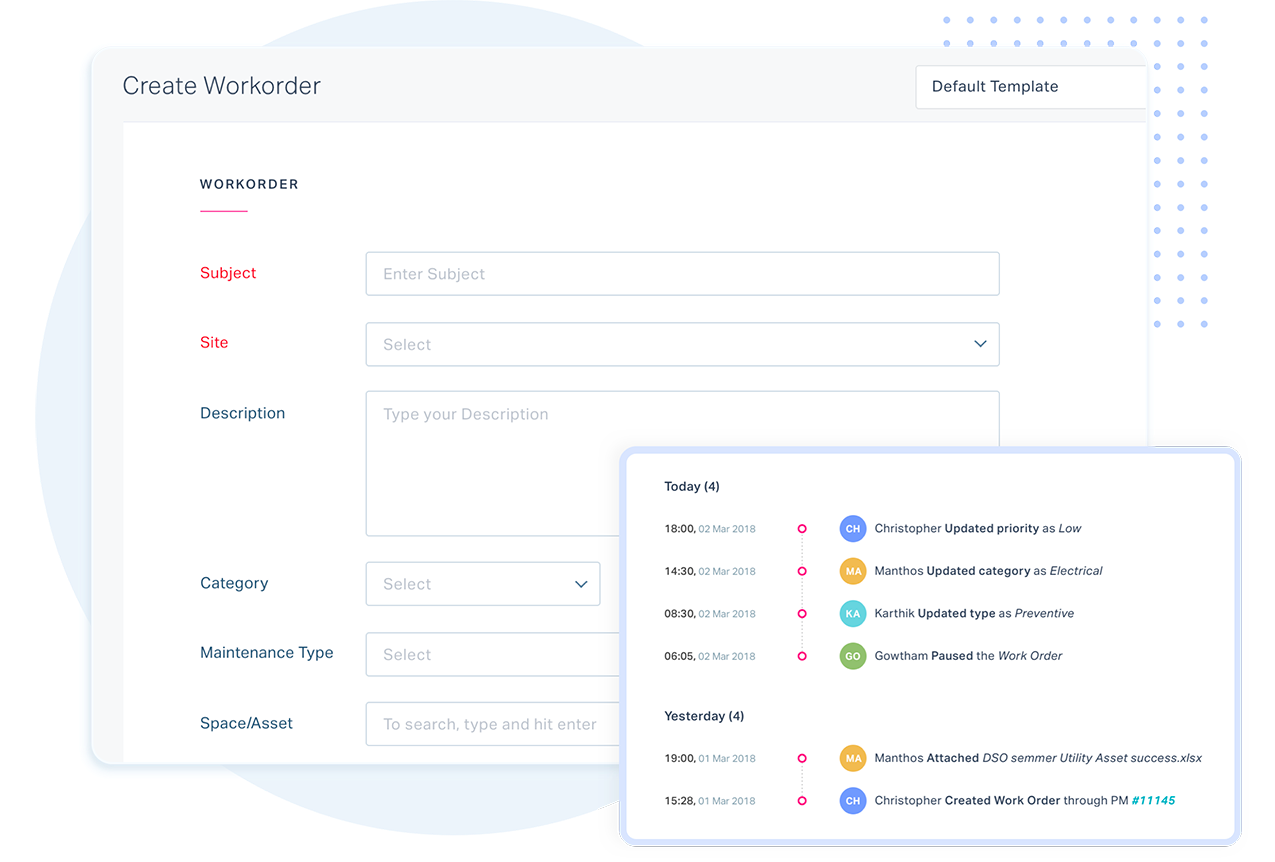 This allows FSM teams to automatically configure and optimize their various SLAs without jeopardizing outcomes.
Analytics-centric CX Management
FSM helps to improve customer experience (CX) management by quickly prioritizing customers' needs over all other activities. Interactive and branded dashboards provide a quick-view analysis of every incident or complaint.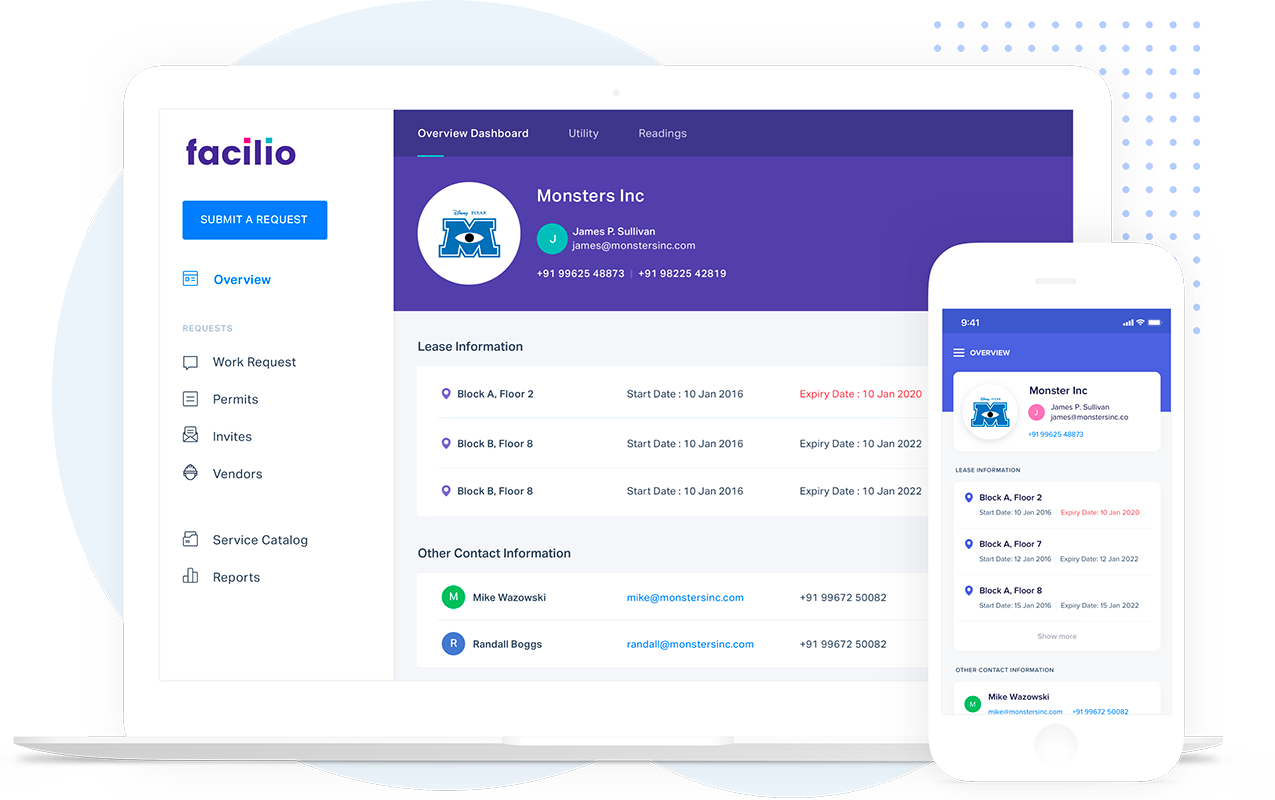 FSM technicians can access this information on the mobile apps to view current workflows, inventory management, invoicing, and pricing with end-to-end, 24/7 workforce management.
Tracking and communication
Tracking refers to human technicians, spares, and assets. The FSM system keeps a dynamic record of every technician on the field and their ongoing assignments.
This allows busy technicians to reassign their work orders to the available workforce. In addition, communication dashboards in the advanced FSM solutions enable technicians with chats, SMS, phone, and email channels.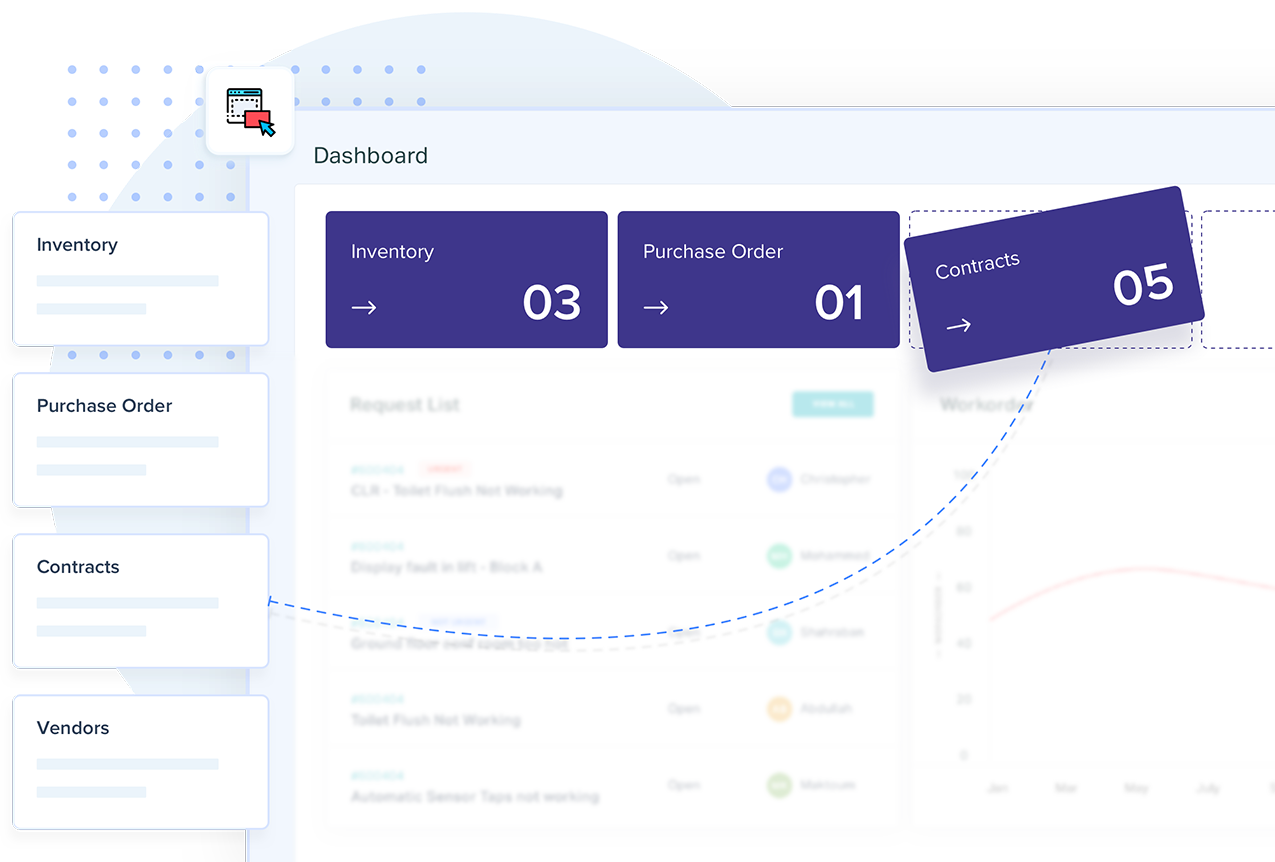 These channels can be used to track work order completion status, purchase orders, contracts, vendors, inventory, bills, and expenses.
Customer surveys and feedback
A hyper-personalized, branded experience for each client helps improve relations and customer experience. This in turn avoids the much dreaded churn.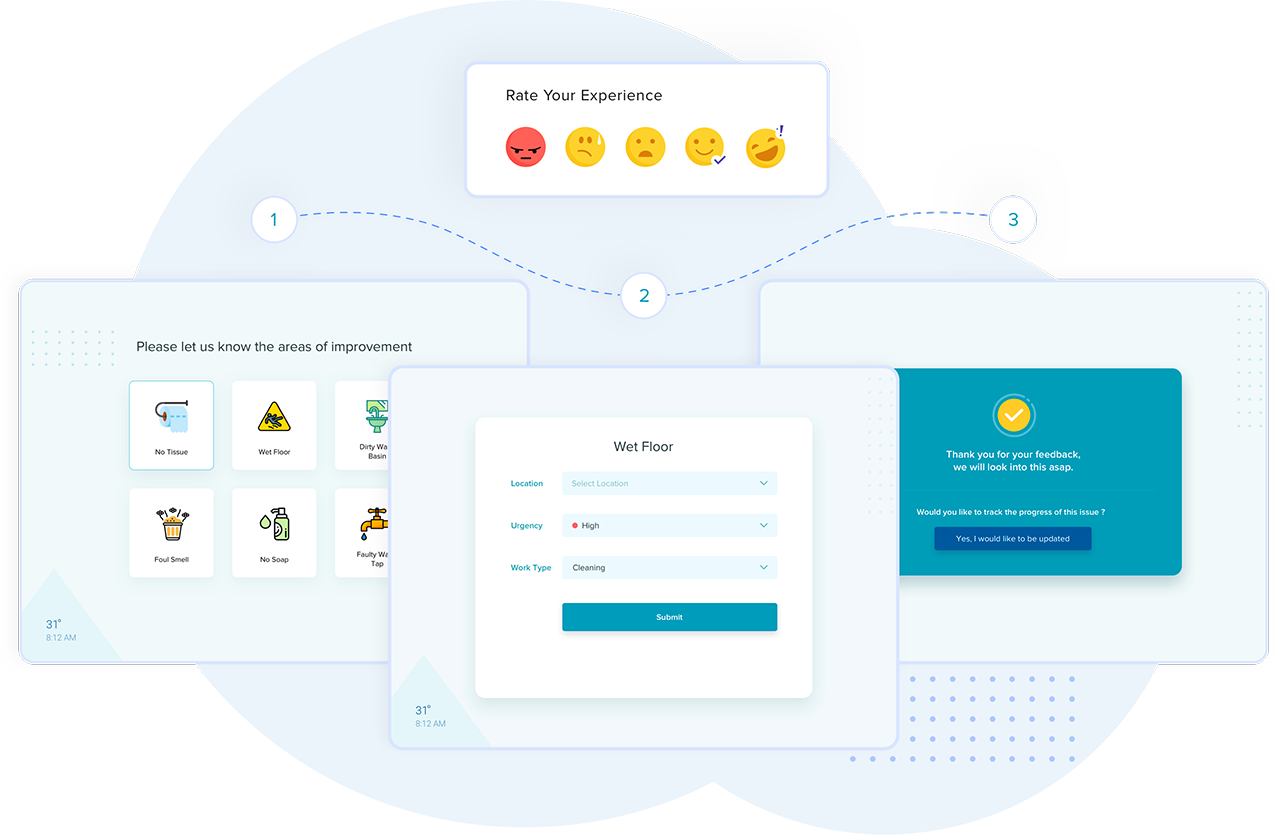 FSM software like Facilio ensure your clients get the transparency they seek with 24x7 web and mobile live support, across devices.
How to choose the right field service management software?
Here are a few questions to ask when you are evaluating field service management software:
Is the FSM implementation simple?
Understand if your chosen FSM fits well into your existing tech stack. What workflows are going to be impacted in the process?
Does it integrate with other essential software like a computerized maintenance management software (CMMS), CaFM, EAM, and more.
This is to ensure the FSM doesn't create new silos or gaps in your existing processes.
Is it accessible on mobile?
Your field service workforce needs to be able to access work orders, associated asset information and maintenance histories, preventive maintenance checklists, safety procedures, and more on their mobile devices.
Ensure your FSM is intuitive, easy to use, and mobile-friendly so technicians have everything they need to execute work orders efficiently.
Does it give real-time visibility to all important stakeholders?
Your FSM should give real-time visibility for everything happening on the field to back office teams, as well as technicians on ground.
Is it scalable?
An FSM solution should be able to scale as you do. You will need to add more features and capabilities to adapt to an evolving customer base and their changing service management needs.
Pick a platform that meets your FSM needs, now and forever
An FSM software helps build personalized experiences for better customer relationships, enhances work completion quality, maximizes the speed of delivery, and above all, creates a hassle-free and safe environment for your technicians.
Companies that use FSM software meet customer expectations more positively with branded portals, live web and mobile support, integrated surveys and feedback, and many more rich features!
Pivoting your customer service to a SaaS platform like Facilio guarantees your business meets benchmarks for exceptional customer service at all times.
Further, Facilio's modular approach to enterprise operations & maintenance management enables you to add features and capabilities as and when you need, without any hassles.
Learn how Facilio can help improve field service management for your business