The Complete Guide To Enterprise Asset Management
Enterprise Asset Management (EAM) is a combination of systems, software, and services to maintain, monitor, evaluate, and optimize assets for the entire asset life cycle.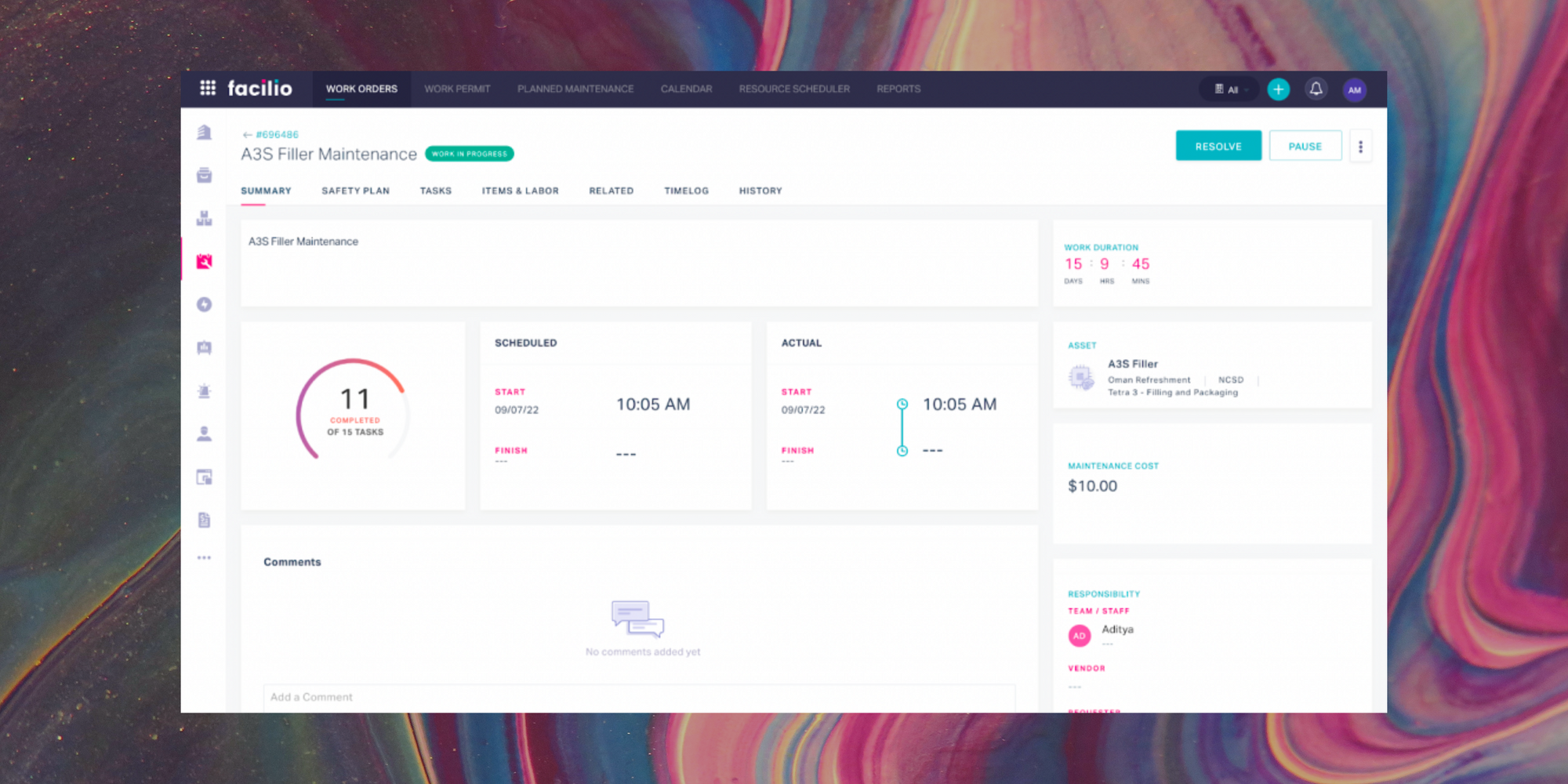 Enterprise Asset Management (EAM) is a combination of systems, software, and services to maintain, monitor, evaluate, and optimize assets for the entire asset life cycle.
EAM is popularly used in industries that rely on such critical assets and equipment for operational success.
Oil and gas, mining, energy, utility, government, aerospace, and defense are some industries that rely on EAM to keep their assets healthy, efficient, safe, and cost-effective.
In this guide, we answer what enterprise asset management is, why it is important, what an EAM software is, and how to choose the right one for your business.
What is Enterprise Asset Management (EAM)?
Enterprise asset management is a set of software, systems, services, and tools used to maintain and control operational business assets.
Its primary objective is to optimize asset quality and improve performance. At the same time, it also regulates asset utilization.
As a result, businesses can make the best use of assets and enjoy productive uptime, greater efficiency, cost savings, and general health, safety, and well-being.
That's not all. EAM also helps with the following maintenance management tasks:
Asset lifecycle management
Budget management
Contractor management
Work order management
Preventive maintenance
Predictive maintenance
Environmental, health, and safety (EHS) upkeep
Benefits of Enterprise Asset Management
Enterprise asset management can have several different benefits deferring from one use case to another. Here are a few popular benefits business enjoy with EAM:
It centralizes all the asset-related information, like location, specifications, parks, maintenance schedule, and more. This makes tagged assets accessible and auditable.
It acts as a one-stop resource for asset intelligence, which enables hands-on management of virtually all assets.
By establishing a single source of truth, EAM-related processes become unified and standardized.
You can embed assets with IoT sensors and other health tracking devices that can assess the state of these assets. This data is instrumental for real-time asset management.
It automates and schedules critical asset management activities to help enterprises switch from reactive to proactive maintenance. Such proactive EAM ensures stable and continuous business operations with fewer unplanned downtimes.
Apart from ensuring business productivity and continuity, EAM also ensures compliance with equipment warranty and local regulations for health and safety using preventive maintenance scheduling.
EAM maintains a record of the assets' past and real-time condition, making it easier to anticipate the asset's condition in the future and extend its lifetime and reliability.
The historical data also sheds light on the availability of the asset throughout its lifecycle.
You can leverage asset utilization information to automate workflows and resource allocation to maximize asset performance and lifetime.
Manual methods of managing enterprise assets work quite well for small businesses with few assets. However, enterprises collect enormous amounts of data that can't be managed manually, especially if the goal is proactive maintenance management. Thankfully, there's software for that!
What is Enterprise Asset Management (EAM) Software?
An enterprise asset management software solution brings you benefits of EAM plus those of process automation.
This dual advantage results in higher maintenance efficiency, greater scope for automation, monolithic workflow integration, higher data accuracy, rigorous compliance, and granular task, inventory, workforce, and asset control.
EAM software contains a full suite of digital tools for managing capital assets and corresponding data. Essentially, it is the software realized for all EAM-related tasks.
How does an EAM software fare against a CMMS?
EAM vs. CMMS: Key Differences
CMMS (computerized maintenance management software) is a subset of EAM, with the former focusing on productivity and the latter focusing on lifetime.
Here's are some key pointers that differentiate EAM from CMMS
CMMS primarily focuses on asset maintenance management. EAM also includes asset lifecycle management, asset depreciation management, project management, and accounting.
Interested in learning more about a CMMS?
Check out our comprehensive guide to CMMS software.
Read on to understand the key features you should look for when evaluating EAM software for your business.
Features to look for in an EAM software
Even though the features and functionalities of EAM software may vary from vendor to vendor, do ensure that your choice contains the following core features:

1. Asset hierarchy: It offers a top-level overview of asset categories, criticality, life data, images, specifications, conditions, location, and other crucial details. It provides a high-level breakdown of the available assets.

2. Work order management: It allows maintenance engineers to report work order status and progress in real-time and anywhere. They can also use it to update inventory details in case spare parts are consumed. It is used to prioritize work orders.
3. Document storage: Your EAM software should maintain soft copies of all the asset-related paperwork so that you do not have to worry about filing and documentation.
4. Cost monitoring and control: Cost data is helpful while making a repair or replace decision. The best EAM software would display the total cost of ownership, the cost of the asset, and its components or sub-assets.
5. Predictive maintenance: Predictive maintenance software collects historical data about an asset's health, usage, downtimes, and repairs to predict different outcomes and recommendations for optimal usage. With the world moving towards smart facilities management, predictive maintenance is increasingly becoming the standard.
6. Failure and Downtime Reports: It offers information on the cause of failure and the period of downtime. These details will keep you apprised of the asset's availability, reliability, and maintainability.
7. Data analytics and reporting: Your EAM software should integrate with other systems and tools so operations executives automatically receive flexible, intuitive, consolidated reports compiled from data within third-party reports and from the platform's own real-time data.
A quick guide to selecting the best EAM software
A typical process for selecting an EAM software would broadly play out as below:
Stage 1: Asset management needs assessment
As with any requirement, the first step towards evaluating EAM software is to make a case for it with the higher ups.
Consult with stakeholders across departments to understand the process, challenges, and tasks around asset management .
Prioritize issues based on their impact or importance and illustrate how the EAM can resolve them.
Identify critical assets and equipment critical for business operations, and project outcomes and improvements you can achieve with intelligent EAM backing your every decision.
It is important to pick the right assets for predictive maintenance pilot projects to show maximum RoI from EAM software.
Stage 2: Hardware and software Inventory
Taking stock of existing hardware and software assets will help you understand the diversity of assets in your possession. Additionally, consider
Gather information about the assets performance, maintenance and repairs data to understand what issues you encounter often, which ones have the most impact, and how EAM software can help.
Assess if your chosen EAM platform is fully compatible with your assets and can address your use case.
Use this knowledge to map out an integrated asset management system – from whole to parts.
Stage 3: Integration
Most enterprises and CREs already have a range of disparate building systems for automation, elevators, access control, fire & safety, lighting, security cameras, and many others. Additionally, there are also point software solutions like CMMS, and BIM (Building Information Modeling).
Legacy EAM solutions often fail to integrate with these, forcing businesses to invest in expensive changes, replacements, and additions to their existing processes.
This is primarily what makes implementation long, costly, and painful! Be sure to pick a platform that enables interoperability for your entire portfolio.
Stage 4: Financial implication assessment
Since an EAM requires a massive upfront investment, you must calculate its financial impact. After obtaining quotes from the vendors, perform a cost-benefit analysis. It helps to get an estimate of the anticipated RoI. This qualitative assessment would act as the north star for your EAM selection decision.
Future-proof your assets with intelligent EAM
As businesses turn cosmopolitan thanks to a remote and distributed workforce, keeping a close tab on your assets becomes essential.
If you're like most real estate owners, or even FM professionals, you want everything to do with building maintenance and management in one place –
Or maybe you only need some of these capabilities, but need a platform that is robust and integrates with any smart building technology. Either way, you'll love what we've built!
With Facilio, teams manage portfolio-wide operational maintenance, asset performance, work order management, and sustainability from a single dashboard.
Powered by IoT and AI, it enables operations teams to be proactive with maintenance to improve asset life cycles, automate workflows, minimize unplanned downtimes, and uncover more opportunities for improved performance and energy savings.
We've solved several EAM challenges for enterprises like Investa, British Land, ASDA, Gatwick London Airport, and many more! What can we do for you? 🙂
Discover the power of IoT and ML-driven asset management