Here's Why We Built The First-Ever Connected CMMS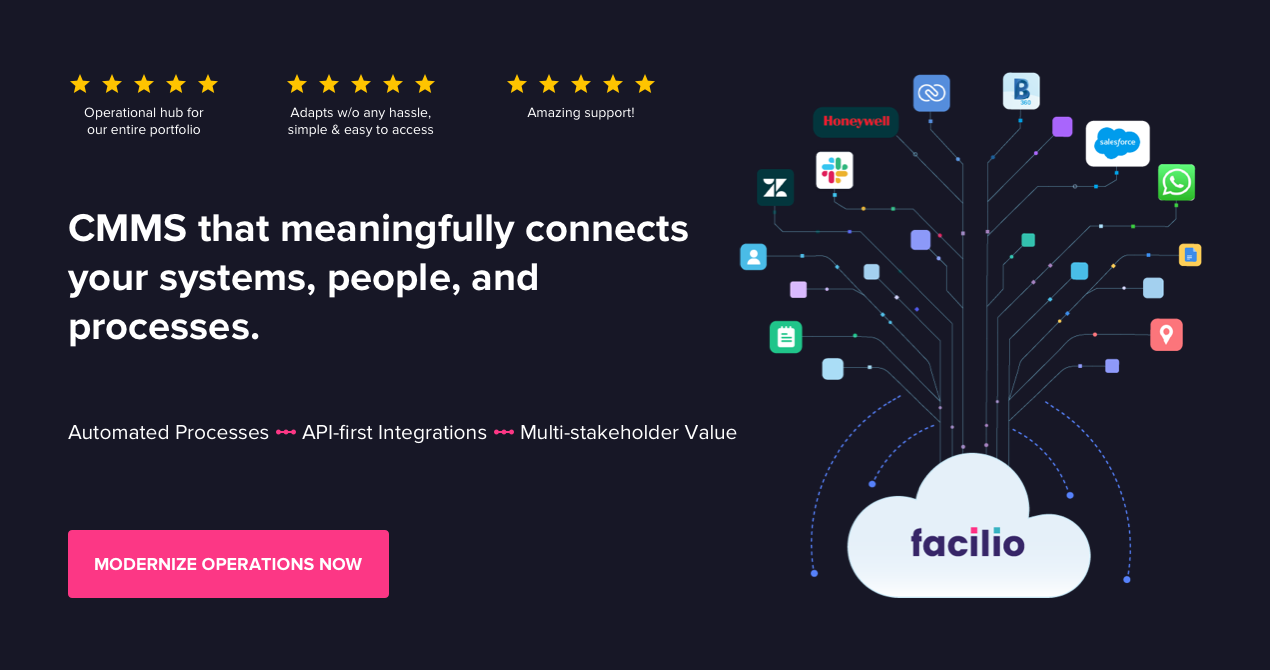 Introducing the Connected CMMS, a reimagined approach to the traditional CMMS/CaFM to meet today's enterprise O&M needs.
Back in 2017, when we set out to build the property operations platform of the future at Facilio, CMMS featured as a key part of the puzzle. When it comes to building Operations and Maintenance (O&M), CMMS is at the heart of it all and is, in most cases, the only system deployed at the portfolio level, capturing data from across the portfolio and used by stakeholders across the portfolio. So we built and launched Facilio with CMMS capabilities that were already better than that of legacy CMMS solutions. It was not just best-in-class in terms of features,it was powered by the Facilio IoT data platform that effectively allowed customers to deploy condition-based and predictive maintenance strategies with ease. We were able to delight customers who were enamored by the ease of use and flexibility of the solution. It was a breath of fresh air for them, compared to the decades-old interfaces and functionality of incumbent CMMS solutions.
While our customers were incredibly happy, we realized how even the most feature-rich CMMS was not adequate for enterprise O&M needs.We saw how most enterprise customers had to use multiple systems, to service their tenants or customers, manage their contractors, and collaborate with colleagues. There was very little in terms of integration or automation that these tools helped with, resulting in manual workflows and disjointed processes. It was clear as daylight that to address the inadequacies of the CMMS,we had to reimagine it to be a system that is not just for maintenance, but to effectively connect people, processes and systems. And, we are calling it: Connected CMMS.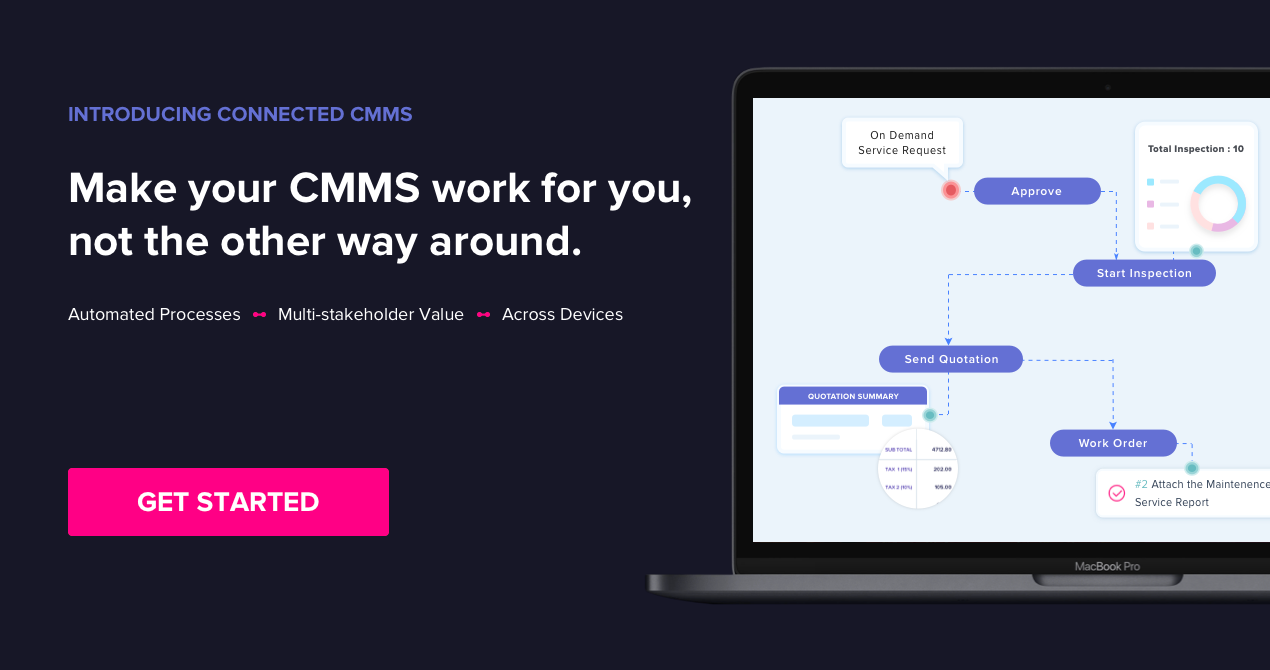 Connected CMMS is a first-of-its-kind software approach to CMMS that helps enterprises simplify operations, optimize expenses, and keep pace with the dynamic needs of their customers.
We're bringing the power of the latest technology trends in enterprise cloud applications to the property operations market. With this approach, we've expanded the possibilities of CMMS/CaFM and created a unified O&M solution suite that focuses on connecting systems, people, and processes through an IoT-based, no-code/low-code SaaS platform with workflow management capabilities.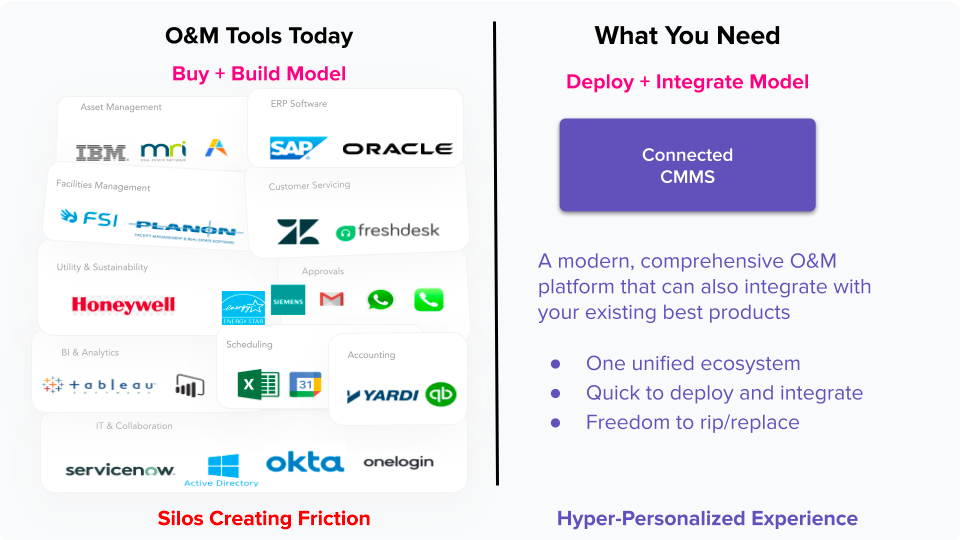 Facilio's connected CMMS solution replaces multiple siloed tools in a single comprehensive platform. This is what it means for your property teams:
One place, not all over the place: It becomes the only
software platform to consolidate all operations—from property maintenance and client engagement, to vendor and workplace management, to asset performance, and IoT data—workflows in a single solution
Improves your service quality by seamlessly fitting into the existing 'tech' stack: Facilio adopts an API-first approach that offers seamless OT & IT integrations—with BMS, sensors, BIM, CRM, ERP, or any business software
Let's you build processes the way you want: Each building is unique, every organization is different in terms of its policies, contracting, occupancy, and efficiency goals. We've built a workflow orchestrating engine that allows you to intelligently route work, set unique status checks, deploy routines, inspections, approvals, requisites, and resolution workflows—the way it works best for you
Engages all stakeholders contextually—web,kiosk,and mobile:Intuitive interfaces for multiple stakeholders (internal & external)mean operations are aligned, proactive, and data-led
Transition to data-led operations, your way—with Facilio
We're living through a massive shift in the way people experience the built environment, and we have a unique opportunity to shape what that looks like with future-focused software built to address the pain points of real estate operations. We're pleased to see our customers realize cost savings and improve productivity within months of adopting the Connected CMMS approach. With this product offering, we aim to offer a software platform that lets property teams become more agile, focus on addressing customer needs, and thrive in today's digital-first world.
Talk to our product expert now and see how we can help you unify and power up your operations.