Best Field Service Management Software
Field service software is a unified platform that allows companies to centrally organize, optimize, and automate their field service operations. Explore the top 10+ best field service management software in 2023.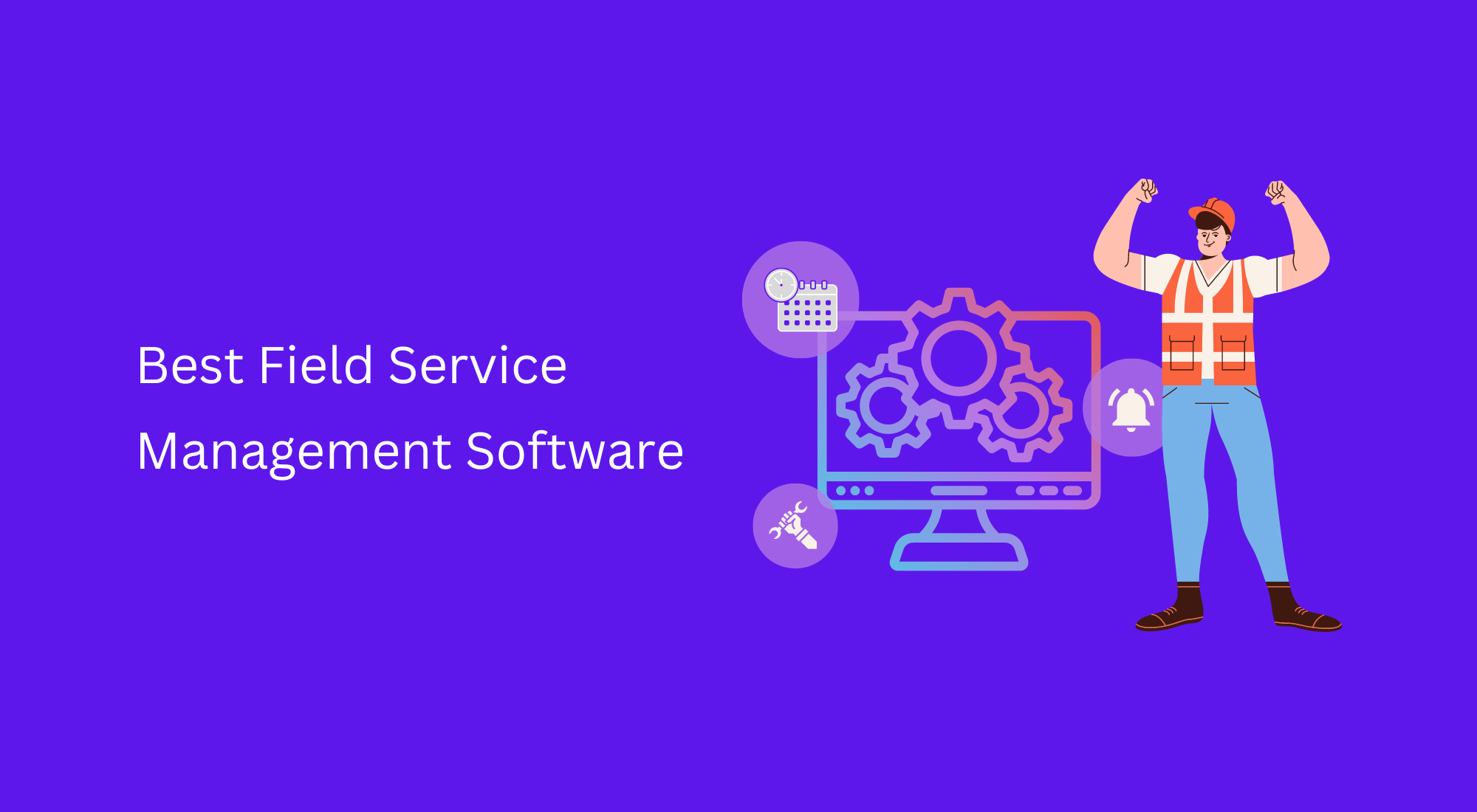 The expected standard for customer experience (CX) has changed over the past few years. Today, customers expect a personalized and hassle-free support experience from their vendors.
Asset-intensive businesses with technicians working on the field or customers in multiple locations must mobilize resources and inventory for service requests. The service standards customers expect are the same.
Regardless of which industry you're in, service management is one of the most important factors for customer satisfaction and, in turn, retention.
This post will discuss some common features found within field service management platforms, who typically use them (hint: anyone who spends time interacting with customers), and how you can choose one that suits both your needs and those of your employees.
What is field service management software?
Field service software is a unified platform that allows companies to centrally organize, optimize, and automate their field service operations.
Modern FSM software integrate with systems such as enterprise resource planning (ERP) and asset lifecycle management (EAM), inventory management, payroll, compliance, billing, location data, and business analytics to simplify workflows, work order scheduling, ticketing, routing, and worker activity management.
This helps field services teams meet customer requirements specified in service or maintenance agreements.
FSM software is especially useful for remote management where communication is limited by time zones or distance—it's much easier to do this from one central database than through messages passed along verbally, or via emails.
Top field service management software in 2023
The best field service management software solutions are the ones that allow for visibility into your company's critical data. They can automate processes and help you manage operations more efficiently.
There are many factors to consider when evaluating a field service management software solution—from how well it integrates with your existing systems to whether it offers the right features for your service management needs.
Here are some of the top FSM software in the market today:
Facilio
OntheGo
Cryotos
PestPac
PENTA service management
Nexterna Clearview
Synchroteam
FieldPower
Hormiga
Joblogic
Facilio
Facilio is a modern field service management software that helps businesses deliver a hyper personalized and real-time experience and meet benchmarks for exceptional customer  management and service, always.
The platform comes with a range of features that make it easy for users to streamline the way they handle field operations, including:
A customer relationship portal where clients can view progress reports, submit requests, and pay invoices.
An automated dispatch system that lets users easily assign jobs to technicians based on their availability.
A mobile field service app that allows technicians on-site to access work orders on the go and track maintenance progress.
Interactive and branded dashboards to provide a quick-view analysis of every incident or complaint, including the number of jobs assigned, completed, and pending.
A centralized O&M platform that allows facility management teams to manage work orders, inventory, invoicing, and pricing, 24/7 workforce management, asset performance, and preventive maintenance scheduling, and more.
Looking for a modern field service management software? You're in the right place.
OntheGo
Onthego is an FSM software for your service teams to plan, assign, track, Prioritize and execute every service activity with agility and confidence.
Easily schedule and track job status, quotations, parts, inventory, AMCs (all materials cost), service reports, invoice, and feedback cost-efficiently with a proven enterprise-scale CRM.
Cryotos
Cryotos is a cloud-based field service management software that helps companies in healthcare and other industries.
Cryotos CMMS is built for fast-paced environments where healthcare workers, patients, and medical equipment are constantly on the move.
It also helps with regulatory compliance and safety checks, maintenance scheduling, asset tracking, streamlining communication, and more, it helps your teams communicate efficiently.
PestPac
PestPac, a WorkWave software, is a web-based field service management solution offering unique features to improve productivity, profitability, and quality of customer support.
PestPac offers an integrated suite of software tools to help you manage your customer database, create sales jobs, schedule field service technicians for jobs, track technician activity throughout the day using GPS location tracking data, and keep customer invoices up-to-date with automatic billings on completion of services.
PENTA Service Management
PENTA Service Management  is a cloud-based FSM that helps businesses to manage their field service teams and business operations.
It is available on mobile devices for field technicians, which enables them to access customer information, job details, and other important information. These features make it easier for them to provide better service to customers.
Penta Service Management also offers construction management, service management, multi-company accounting, project management, equipment management, and mobility solutions.
Nexterna Clearview
Nexterna Clearview is an FSM software that helps service-based businesses to manage their operations and activities.
Its features include scheduling and dispatch that integrates maps and GPS, asset tracking that offers automatic warranty entitlement, scheduling with multiple resources, mobile apps for offline access, a web portal for remote access, and more.
The platform also includes advanced reporting capabilities and compliance management tools to streamline regulatory requirements.
Synchroteam
Synchroteam is a cloud-based FSM software that caters to small businesses as well as enterprises in the field service industry, including cleaning services, construction, electrical, and HVAC.
Synchroteam features contact management, scheduling and dispatch, and works order management functionalities. The solution also provides dispatchers with a real-time view of their workers in the field.
FieldPower
FieldPower is a cloud-based field service management software that caters to property management, utilities, energy, and transportation organizations.
FieldPower allows dispatchers to schedule a work order manually, depending on situational needs.
The software offers an easy-to-use mobile app that allows technicians on job site to document repairs by taking photos of the damage being repaired and attaching them directly to the work order.
With this information, dispatchers can communicate effectively with customers and service contractors using push notifications or text messages as well as voice calls or emails sent directly from FieldPower's dashboard console (depending on your settings).
Hormiga
Hormiga is a cloud-based field service solution offering a suite of features, including GPS tracking, work order management, scheduling and dispatch, and more.
In addition, the solution provides an app called "BrightWorker" that offers real-time updates, automated timelines, alerts, forecasts, and more.
The dashboard shows which workers are working on break or idle so managers can identify their top performers and reward punctuality and efficiency.
Joblogic
Joblogic is a field service management solution to connect the back office and mobile workforce with customers.
The system allows users to enable job management and quotes through one platform while also offering tools for complete forms, time tracking, risk assessment completion, and photo capture.
Joblogic is available for both iOS and android users.
Who uses field service management software?
Field service management software helps keep employees, assets, and operations organized, whether you're a manufacturer, utility company, or any other enterprise that relies on mobile workforces.
Here are a few examples of industries that can benefit from field service management software:
Energy sector
Public sector
Energy sector
Manufacturing
Retail
Healthcare
What should you look for in FSM software?
These are some common features you should look for in a modern FSM software:
Field service scheduling chart
Inventory management dashboard
Workforce management
Work order management
Invoicing, payment, and processing tools
Contract management
Dispatch, vehicle tracking, and logistics
Customer portals
E-learning and training resources

Suggested read: Tips to evaluate CMMS software intuitively from Investa, one of Australia's largest commercial real estate companies.
Benefits of using FSM
Field service management software can provide a number of benefits for organizations that manage field service technicians and other mobile workers. Some of the key benefits include:
Improved efficiency and productivity: Field service management software can help organizations schedule and dispatch technicians more efficiently, reducing downtime and improving the utilization of field service staff. It can also help technicians access the information and resources they need to complete tasks quickly and effectively.
Better communication and coordination: Field service management software can facilitate communication between field technicians, dispatchers, and other stakeholders, enabling organizations to coordinate efforts and respond to customer needs in real-time.
Enhanced customer satisfaction: By providing real-time updates and the ability to track the progress of service calls, field service management software can help organizations improve the customer experience and build stronger relationships with their clients.
Increased visibility and control: With field service management software, organizations can track the location and activity of their technicians in real-time, providing greater visibility and control over field service operations. This can help organizations identify bottlenecks and optimize their processes.
Reduced costs: By streamlining and automating various aspects of field service management, such as scheduling and dispatching, field service management software can help organizations reduce operational costs and improve their bottom line.
Trends that will shape field service management in 2023
Field service management is becoming increasingly important in a competitive and constantly evolving commercial real estate landscape.
Here are some trends that are set to shape field service management in 2023 and beyond:
Augmented reality and virtual reality: Incorporating augmented reality (AR) and virtual reality (VR) technologies to enable technicians to access visual instructions, diagrams, and other information in real-time. This can help technicians complete tasks more efficiently and reduce the need for costly on-site visits.
Predictive maintenance: Predictive maintenance capabilities, using data analysis and machine learning algorithms to predict when equipment will likely fail and schedule maintenance in advance. This can help organizations proactively address potential issues and reduce the risk of equipment failure.
Artificial intelligence: Field service management software may incorporate artificial intelligence (AI) to enable intelligent decision-making and automate various aspects of field service management, such as routing and scheduling.
Blockchain: Blockchain development is also helping FSM make big strides by enabling secure and transparent tracking of service calls, parts, and other assets.
Internet of Things: Integrations with IoT devices to enable real-time monitoring of equipment and other assets, enabling organizations to respond to issues more quickly and effectively.
Closing thoughts
The right field service management software can help you save time, money, and headaches. But as with any other technology, there are a lot of different options out there.
It's important to know what you need before deciding which service management software is right for your business.
If you'd like to know more about how Facilio can help improve your field service management and boost customer satisfaction, get in touch!