Insights from Investa x Facilio Customer Journey:

Investa Property Group, one of Australia's largest commercial real estate companies, has more than 550,000 square meters under management. Many of the buildings they own are quite advanced, but they wanted a flexible way to streamline property operations and deliver a seamless tenant and contractor experience across their entire portfolio. The major driving factor was the need to improve daily operations. The current systems in place were siloed and inefficient. It became extremely difficult to centrally manage tenant and visitor needs.
They evaluated specific big names in the industry but failed to move forward because of their inability to integrate with their existing legacy tools in the tech stack. In addition, these companies had strict contract terms, and their need to adapt to evolving changes during the Implementation stage was a huge drawback.
After reviewing multiple tools to unify their portfolio operations, Investa chose Facilio's Connected CMMS solution. Investa looked to Facilio for its ability to deliver a modern, unified model of portfolio O&M management processes and increase agility to keep pace with its dynamic needs. Facilio's Connected CMMS brought together every app and legacy system currently used in Investa's operations.
Investa followed all these evaluation steps for a successful CMMS Implementation:
1. Identify O&M Scope

With over 22 buildings around the country, Investa was assessing existing operations procedures and picked the ones that needed immediate attention to be digitized and automated. This was brilliant because the aim to restructure entire portfolio operations seemed revolutionary and transformational, but they realized that it will almost certainly result in cost overruns and technological issues, leaving them overwhelmed.

2. Identify your CMMS needs

Ask yourself what you want to see as an outcome of using CMMS software. Is it work order tracking, streamlining preventive maintenance, building a central data repository, reducing tenant escalations, or reducing response time to incidents? You may have all of these on your to-do list, but we recommend prioritizing them and ticking them off. Why? Because of the fool-proof method handled by Investa and seeing their massive success.
While every aspect of O&M is essential, Investa took a customer-first approach and put tenant satisfaction at the top. They chose a tool that unifies tenant information (currently tracked in separate databases and spreadsheets), service request portals (help desk), and work order assignments into a single console. By streamlining their most important O&M aspect, they could then concentrate on fixing the others.
3. Never Compromise on Deal-Breakers

Digitalizing your environment does not translate to replacing your existing system with a better, newer version. You have to pick the parts that work well and oil the ones that don't. For Investa, their must-have was a CMMS tool that tightly integrates with Yardi - their property management software.
While big names in the industry were evaluated, they were given a hard pass after failing to integrate with Yardi - their primary accounting system for property and tenants. So, keeping the design intact but deriving its total value was essential. It also brought together data from every app in their tech stack into a single console.
4. Make Change Management Work For You

So you've decided to deploy a new CMMS tool. But do you have the time, money, and expertise to train your technicians to use the new tool? In most cases, the technicians who work with the tool daily are averse to change and will resist unique technology.
You'll need to pick a tool that solves your O&M problem, is user-friendly, and offers dedicated web and on-the-go mobile apps. After all, you wouldn't want to direct your limited resources to training when you can use it to improve your processes. This was crucial for Investa as they had over 20,000 vendor contacts to manage, and training them could take months before they were onboarded to the tool. So they made the right choice with Facilio, a fully customizable platform that is just as easy to use by the technicians as it is for the top management.
Note: Keep in mind the above points and map your requirements to what the tool can deliver, and perform a swot analysis where you take into account all of the pros and cons associated with using the software to make an informed decision
Here's what Paul Vandervlis, General Manager of Facilities Services of Investa Property Group, has to say about Facilio's Connected CMMS Approach: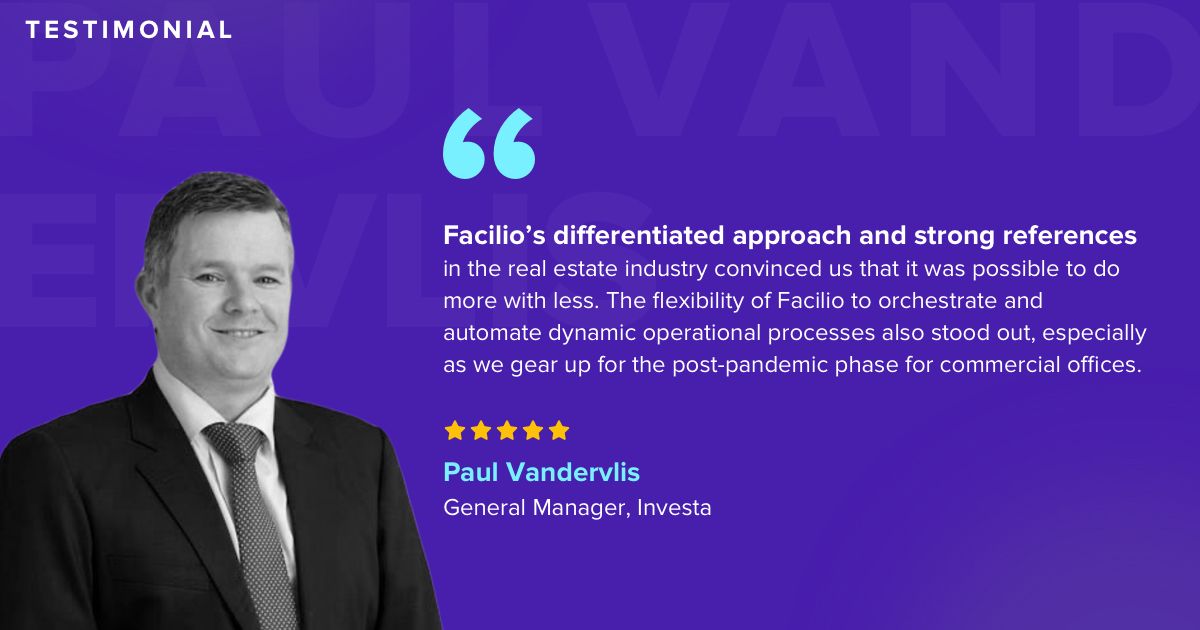 Choosing the right CMMS for your company can take a lot of work, and it is one that you should take seriously. Ask yourself the right questions, and take the time to establish your company's goals, technical needs, and capabilities to find the right CMMS for your Operations and Maintenance needs.