Introducing REbuild from Facilio: restart property operations with confidence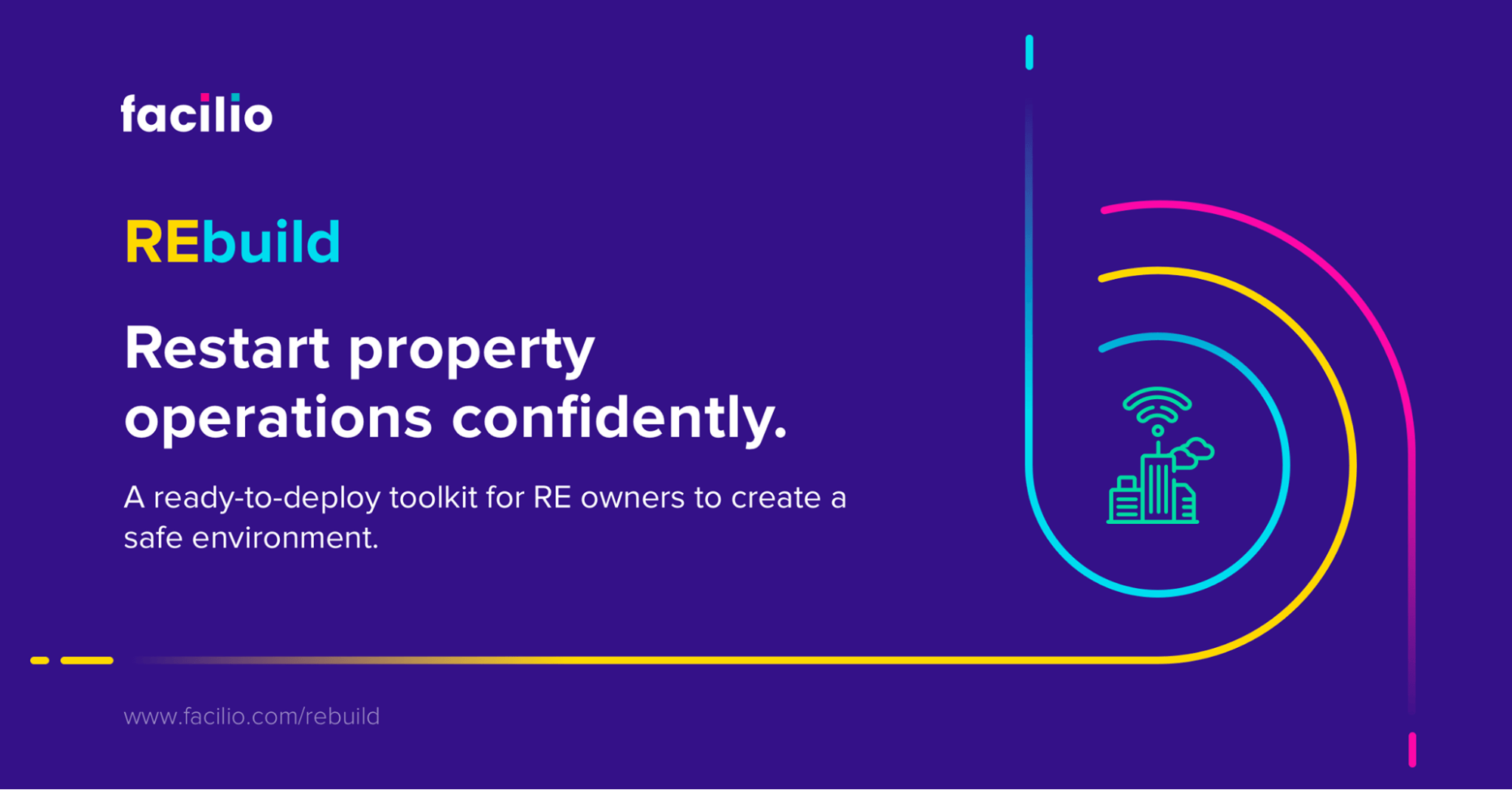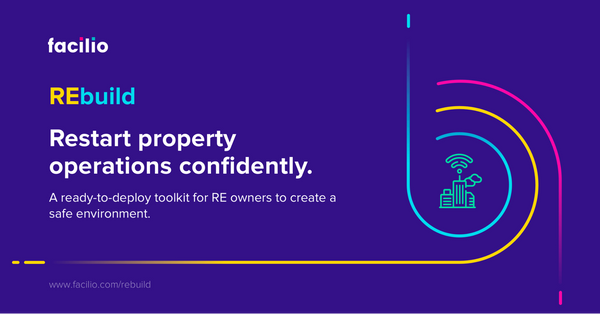 As stay-at-home restrictions are lifted and jurisdictions around the world have started the process of reopening economies, what's obvious is that – we're at a fork in the road.
We're witnessing a new reality.
The fact is people are conditioned differently now – we begin our shopping list with sanitizer; we expect not to shake hands; we prefer temperature checks of the person delivering our food. Anything less is just not reality anymore.
The implications of this change are completely disrupting the way properties operate – and the shift permeates far beyond wearing masks and gloves. Increasingly, tenants want to be over-communicated to, know more about hygiene measures and plans in place, and be fully sure of walking into a space that they can control.
This change is undeniable and evolving.
But the key question is: how can the existing investment of building systems, workflows, and staff skillset be rearchitected to restart operations for the next normal and satisfy tenants?
At Facilio, we believe that your property operations are now the biggest lever of growth for your organization. Real estate companies need to fundamentally shift how they think about operations in the post-pandemic phase.
That's why, in the last couple of months, our goal at Facilio was to dig deep on how owners and operators can a) think about operations differently, b) develop a plan with what's in place and what needs to be reoriented, c) execute on it with minimal time take taken off their plate.
Today, I'd like to share with you the launch of REbuild – a set of six new solutions with the goal of helping owners restart property operations with confidence.
Leading with agility in operations
We started Facilio to bring in tech-driven efficiencies in the real estate industry. This pandemic has only accelerated the need for digital transformation, allowing owners to automate more of their portfolio operations and make informed data-driven decisions.
Fortunately for us, as an operations & maintenance platform that is used across the world's most forward-thinking properties, we had a unique front-row opportunity to speak with experts and RE leaders across the globe.
As we started to peel back the layers and separate the certain from the uncertain – we realized that underlyingly what they needed now was identical – properties want to lead with agility, regardless of the region or intensity of the viral impact.
A recent Savills report also highlights that the post-pandemic scenario will give a fresh start to the real estate industry with greater intensity and vigor than it was in the pre-C19 stage. Increasingly, owners and operators are relying on technology to engage with tenants, maintain business continuity, and automate processes that yield time and cost efficiencies.
REbuild with adaptive solutions
So yes, we're at a fork in the road. This is when RE companies decide how to build a business for the future.
In the last few weeks, our #1 priority has been to help owners and operators make that decision and navigate the new conditions.
We got creative and quickly added new functionalities to the powerful Facilio O&M Platform with extensive customer feedback and laser-sharp focus on solving the most impending problems now.
The result is REbuild – a ready-to-deploy and adaptive operational toolkit, with solutions for:
Hygiene Management – automate tailor-made disinfection routine across properties, manage essential routines, and share live hygiene and health updates with tenants.
Visitor Management – create a contact-less visitor experience with QR-code-based mobile sign-in, pre-register to get vital info on travel history and wellness, and trace the journey corresponding to spaces and assets in the visitation path.
Portfolio Analytics and Compliance – adhere to new HVAC guidelines and indoor air quality data, identify areas to act on immediately, and provide live dashboards to tenants on HVAC compliance.
Portfolio Automation – allows operators to deploy bulk changes to multi-vendor building automation systems across properties based on altering HVAC guidelines and dynamic tenant requests such schedule changes and overrides, automating trigger-based sequence, audit logs, and more.
Touch-less Occupant Controls – welcome tenants safely with touchless app-based access to spaces and comfort control. Provides occupants with intuitive apps to control high-touch points like lighting, HVAC parameters, or elevator calls.
Operational Command Center – is a single hub of operational data to get a 360-degree view of property operations readiness, make data-driven decisions, and holistically benchmark against C-19 guidelines for hygiene, maintenance, BAS operations, and tenant management.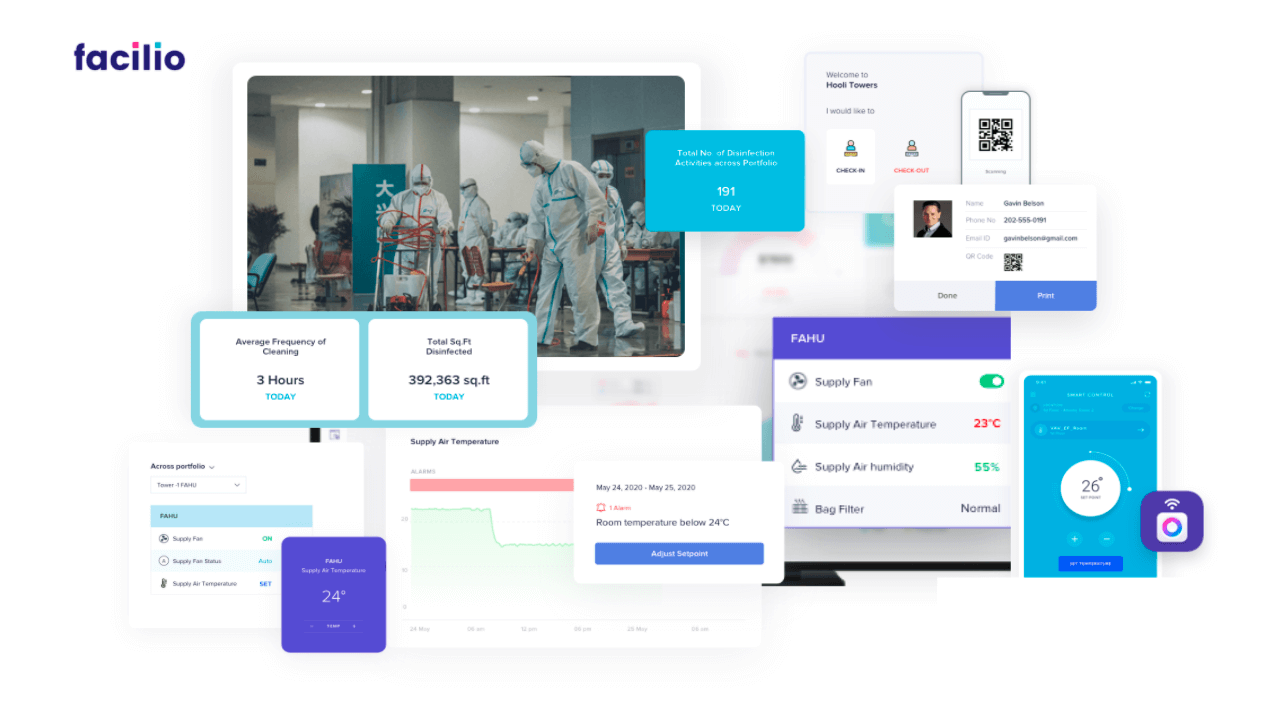 An expanding community-driven resource
With these combined components, RE businesses can use the Agile-led Operations Model to streamline the logistics of restarting portfolio operations, manage cost and staff productivity, and keep up with changing tenant expectations.
The good news is we've already opened up REbuild functionalities to many customers. From our experience of rapidly deploying REbuild across properties, we've learned that: easy onboarding, soliciting continuous feedback, and helping operating teams get up and running with the tech (and not get bogged down in implementation) – have been leading indicators of a smooth transition to the new operational guidelines for clients, a crucial form factor right now.
In conjunction with the REbuild toolkit, we also launched a knowledge-sharing video series for property operations professionals, as part of the Facilio FUTUREPROOF community. This collective has been growing since 2019 with the purpose of facilitating a community to exchange ideas and learn from like-minded people on their tech-driven operations journey.
The REbuild video series features practical insights, case studies, and best practices from industry peers, globally, and can be streamed on-demand.

Our vision for the future
This is only the beginning of what REbuild can do. In this new reality, we're committed to bringing in more useful solutions for the agile-led model of operating properties.
We're expecting to broaden our platform integrations and expand our partnerships with automation OEMs, system integrators, and other technology providers globally.
We'd love to work with you closely, and I invite you to take a look at the new REbuild solutions here. Any insight you can offer will go a long way in helping our industry recover with confidence and be more agile.