Best Energy Management Software in 2023
Energy management software is a tool that helps businesses to reduce their energy consumption and carbon footprint. Explore the top 10+ best enterprise energy management software for 2023 and beyond.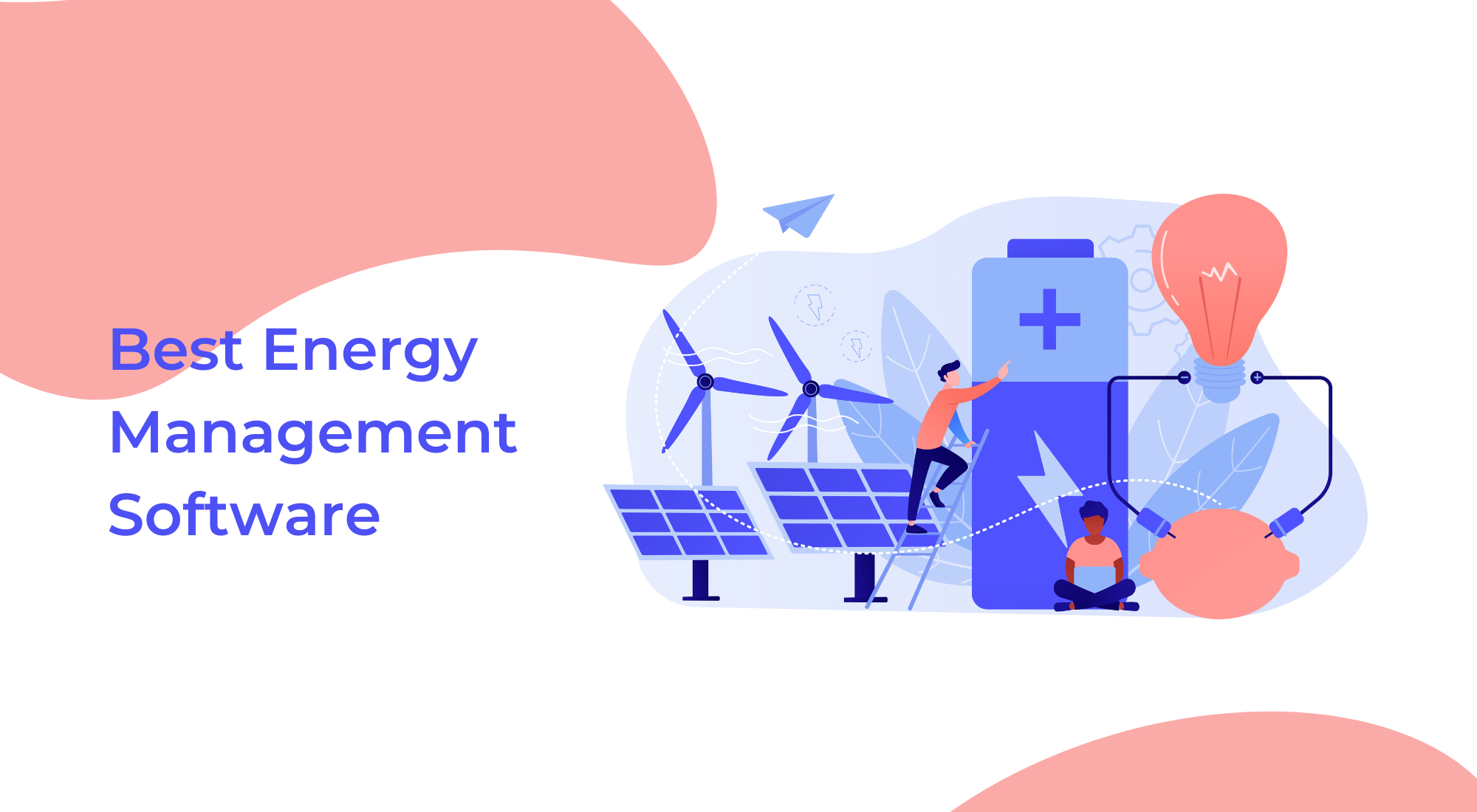 Energy management software helps track, monitor, and optimize energy usage for your business.
Businesses have several objectives to adopt energy management software. Perhaps your business is trying to boost energy efficiency by reducing your carbon footprint, saving on utility bills, or optimizing energy efficiency across a portfolio of buildings.
Or maybe you're trying to meet a government-mandated goal, such as reducing energy consumption by 15% over two years.
No matter your objective for implementing energy management software, it is critical that you pick the solution best suited for your business' needs.
We've shortlisted the best energy management software in 2023 to help you get started on your evaluation journey. Let's dive right in!
Top 15 energy management software in the market today
Energy management software is a tool that helps businesses to reduce their energy consumption and carbon footprint.
Energy management tools are typically broken down into two categories: desktop and web-based applications.
Check out the top energy management software for businesses in 2022:
Facilio
Wattics
DEXMA energy intelligence
Galooli
Watchwire
Goby
Strata
JadeTrack
inavitas
Vitality
Planetly
Datakwip
Veritone Energy
CEnergy
AQue
Facilio
Facilio's energy management suite enables businesses to track, monitor, adjust, and optimize energy consumption in buildings to make sustainability a habit.
Facilio's O&M platform brings data-driven intelligence to existing building infrastructure and systems, enabling teams to manage critical asset maintenance and efficient energy consumption from one place.
It uses IoT and ML-driven technology to derive meaning out of mines of siloed data from existing automation systems.
Key energy management features:
Consumption heatmaps & regression analysis
Portfolio wide energy comparison
Deep HVAC monitoring
Trend monitoring and heavy usage alerts
EnPI based energy benchmarks
Anomaly detection and predictive diagnostics
Fault detection & diagnostics (FDD) and root cause analysis (RCA)
How much does it cost?
Facilio allows users to pick and choose modules they need from the various enterprise applications that comprise its comprehensive O&M platform.
We'd be happy to show you how the platform works and tailor a custom quote for the modules you pick.
Interested in Facilio's energy management software?
Get in touch with a product expert and start saving energy today!
Get a demo
Wattics
Wattics is a cloud-based management solution that can be used by small to midsize businesses in a variety of industries.
Key features of the software include trend analytics, energy monitoring and measurement (M&V), and cost allocation analysis of waste reduction.
DEXMA energy intelligence
DEXMA is a cloud-­based energy intelligence and analytics software platform that provides energy services companies with an efficient way to deliver usage data to clients.
It helps users monitor consumption patterns, analyze energy prices and track key performance indicators (KPIs). Key features of the software include automated reporting, budgeting, and analytics functions.
Galooli
Galooli's remote monitoring solutions help companies optimize energy usage, reduce operating expenditures and maximize alternative energy use.
It provides a sustainable, eco-friendly solution for multiple industries and use cases around the world—from major cities to rural areas.
Watchwire
Watchwire is a sustainability and energy management solution that helps real estate companies manage utility consumption, budgeting, and other sustainability initiatives.
It provides customizable dashboards and performance reports, so you can monitor individual key performance indicators (KPIs) or create custom views for a specific use case.
Goby
Goby is a web-based platform that allows companies to track and share their ESG initiatives.
It provides businesses with the tools they need to attract and retain capital, accelerate sustainable growth, and manage risks.
Strata
Strata by Cotopaxi is a web-based energy management software that enables data collection, analysis, and visualization to help businesses track energy consumption by source.
It helps employees track utility consumption, create maps and handle facility scheduling. The software also allows them to manage load levels and emissions monitoring processes.
JadeTrack
JadeTrack is a cloud energy management software that provides real-time insights and automation to deliver savings.
Its platform simplifies your utility data collection process, allowing you to seamlessly track energy, water, and waste metrics.
inavitas
inavitas energy management platform enables plants, businesses, and utilities to streamline operations related to electricity production, distribution, and consumption.
Businesses can use it to control devices, monitor solar production and electricity bills, and receive alerts for faulty equipment.
Vitality
Vitality is a cloud-based energy management software that helps businesses track and control utility bills and emissions in buildings.
The platform's key features include rate schedule optimization, accounts receivables reporting, tenant collections, and data normalization by territory.
Planetly
Planetly is a climate tech company that offers digital tools enabling companies to calculate, reduce and offset their carbon footprint as per international carbon accounting standards.
This involves assessing and reducing the carbon footprint, followed by investing in climate-friendly initiatives to offset it.
Datakwip
Datakwip is an energy management software that helps businesses gain insight into energy costs and consumption.
The platform enables managers to streamline the collection of data and analyze it by creating custom rules within flowcharts.
Veritone Energy
Veritone Energy's software helps utilities, equipment providers, and independent operators optimize the management of smart grids.
Administrators can use AI-based tools to forecast loads, schedule dispatches, and control distributed energy resources (DERs) in real-time.
CEnergy
CEnergy is a web-based application that monitors your plant's energy consumption and optimizes the manufacturing process.
The tool helps you visualize and understand energy flows and consumption rates at your facilities, allowing you to reduce downtime and increase production efficiency.
AQue
AQue by PLC Group is a cloud-based energy management tool that helps businesses manage facility infrastructure.
Key features of the system include AI, ML, KPIs forecasting, inventory management, and predictive modeling.
How to choose the right energy management software for your business?
Choosing the right energy management software for your business can be tricky, but it's worth putting in the effort to make sure you find one that serves all your needs and is compatible with your device.
Here are some of the most important factors to consider:
System integrations: How easy is it to integrate other software?
You need to make sure that the software is compatible with any hardware or IoT devices you plan on using, as well as any third-party applications or cloud platforms.
You also want to make sure that the software is compatible with any other systems you use, such as building management and security.
On-premise vs. cloud deployment: How easy is it to access data?
If you plan on tracking energy usage in real-time, then a web-based application will be your best option.
You should also consider whether the software has offline capabilities if you don't have reliable internet access at all times.
Ease of use: How easy is it to use the software?  
You want to make sure that whatever you choose is easy enough for your facility manager and technicians—and anyone else who may need access to the data—to understand.
Scalability: How easily can you expand the software to include additional features?  
You want a system that will grow with your needs.
If you're just starting out, you'll need something basic and affordable; if you plan on expanding into other areas of building management, you'll need one that offers more versatility.
Alternatively, you can opt for an O&M platform like Facilio, which is perfect whether you're just starting out or looking to implement advanced energy conservation strategies.

Aside from energy management, Facilio enables 360° operational insights for the entire portfolio with:
Choose a platform that empowers your energy management initiatives, now and forever
The future of energy management is about more than just energy optimization.
It's about ensuring that your facilities are always operating at peak performance, providing optimal comfort and productivity for the people who work there—all while reducing your carbon footprint.
And while there are many ways to achieve these goals, it all starts with the right software.
Trends shaping enterprise energy management in 2023
With the rise of energy management software, you can enjoy a variety of benefits and take full advantage of cutting-edge technology.
Here are some of the top trends in energy management software:
The use of data analytics to help businesses make better decisions about energy usage.
Cloud-based solutions that allow you to access your data from any location, on any device.
Integration with other business software applications, such as accounting and payroll systems.
Mobile apps that allow you to track energy usage and costs, even when you're away from your office. Integration with hardware, such as smart meters and Internet of Things (IoT) beacons, and more.
The use of artificial intelligence (AI) to optimize energy use based on factors like weather conditions, operating parameters, or financial incentives.
Interested in learning how Facilio can supercharge your energy management initiatives?
Try Facilio
FAQs
What is an energy management system?
An Energy Management System (EMS) is a computer-based tool that helps monitor, control, and optimize a building or industrial plant's energy consumption and distribution.
It automates various energy-consuming systems such as heating and cooling, lighting, and power distribution.
With real-time data on energy usage and cost, the EMS aims to increase energy efficiency, reduce waste, and lower energy bills.
What are the main elements of energy management?
The key components of an energy management include:
Energy monitoring: gathering data on energy use, production, and cost, including real-time information.
Energy control: managing energy-consuming systems like HVAC, lighting, and power distribution to reduce waste.
Energy reporting: analyzing energy data to see patterns, trends, and areas for improvement.
Energy strategies: implementing plans and policies to reduce energy use and costs, including using efficient technologies and promoting conservation.
Energy culture: creating a culture of energy awareness and efficiency through employee training, engagement, and involvement.
What are some examples of energy management systems?
Lighting Control Systems - systems that monitor and control lighting in a commercial building, including occupancy sensors, timers, and daylight harvesting systems.
HVAC Control Systems - systems that monitor and control heating and cooling in a commercial building, including temperature sensors, thermostats, and energy-efficient equipment.
Building Management Systems (BMS) - an integrated system that monitors and controls heating, ventilation, air conditioning (HVAC), lighting, and other energy-consuming systems in a commercial building.
Building Automation Systems (BAS) - a more comprehensive system that integrates multiple building systems and controls lighting, HVAC, security, and other building functions to increase energy efficiency and lower energy costs.
Energy Information Management Systems (EIMS) - a system that collects, processes, and analyzes data on energy consumption, costs, and other relevant information for a commercial building.
💡
Most commercial buildings have at least one of these systems in place.

However, it is challenging (or impossible to scale) to collect data from all these different systems to analyze energy analytics in one place.

This is where cloud supervisory platforms like Facilio come in.

Facilio connects all disparate systems, processes, and people to bring all your data to one place, command and control assets remotely, and apply energy efficiencies across portfolio.
Essential features to look for in energy management software
Some common features you should expect from modern energy management software are:
Real-time energy monitoring using IoT and AI
Energy analytics dashboard
Benchmarking
Real-time reporting
Integrations
Benefits of enterprise energy management software
From a business point of view, there are several benefits of enterprise energy management software. These include:
Cost reduction: The ability to identify cost-saving opportunities and implement them can help reduce your electricity bills and protect your business millions in fines.
This can also result in an increase in productivity, as you are able to get more work done with the same amount of resources (energy).
Increased revenue: With greater efficiency and productivity, your business may be able to generate more revenue while using less energy than before by lowering costs and increasing profit margins.
Carbon footprint reduction: Reducing carbon emissions is a hot topic at present, so anything that helps you do this will improve your image with customers and investors alike—and increase customer satisfaction as well as employee safety.
Who uses energy management software?
Energy management software is used by large and small businesses in many different industries. Some examples include:
Retail
Higher education
Manufacturing
Utilities
Government
Transportation
Oil & gas
How much does an energy management system cost?
The cost of energy management systems can vary greatly depending on factors like size, technology, and integration with other building systems.
For a small building, costs can range from a few thousand to tens of thousands of dollars. But for larger or more complex systems, the costs can reach into the hundreds of thousands or even millions.
It's important to keep in mind that the cost of an EMS is not just the initial investment, but also the ongoing costs for maintenance and upgrades.
However, the energy savings and increased efficiency that an EMS provides often offset the total cost of ownership.