5 Empowering Ways To Steer Your Planned Maintenance With No Intermediaries
You strive to keep your building assets in the pink of health. Yes, proactive facility management is a key enabler, no two ways about it.
So you prepare an extensive maintenance schedule for your enterprise and pass the baton to your CaFM software to set it up.  
Now, does it sprint off or rides piggyback on you to be dragged across the finish line?
Complex legacy software can cause chaos in this crucial exercise in more ways than one. Pop quiz – Which of these do you agree with?
Complex legacy software can cause chaos in this crucial exercise in more ways than one. Pop quiz – Which of these do you agree with?
| | |
| --- | --- |
| | Software is cumbersome so you always depend on a trained user to operate the system. |
| | Usually rigid, any scope for customization comes with added costs. |
| | The entire PM could fall apart like a house of cards with one wrong move |
| | Regular software updates can stall business operations at unwarranted times. |
A helpful tool empowers you to independently and seamlessly perform actions
You wish your facilities staff breeze through routine tasks and place greater emphasis on enhancing experience to the building occupants. Wondering how this is possible?
Here are five ways of making your PM exercise perfect while staying on top of it all the time!
1. Automate your PM with quick steps
A swift process to set-up your Planned Maintenance ups your motivation and lets you devote more time to the demanding tasks to follow.
Let's say, you have thousands of assets in your building. Creating a separate Planned Maintenance for each of these units will make you burn the midnight oil, and you will still be done with just one asset category!
An intelligent PM template is what you'll need to save tons of time.
Facilio cue: Create multiple work orders in one-shot within single PM by choosing asset or space category.
Your tech-staff will instantly receive them as mobile notifications. You can view this as a Gantt's chart that spans across 52 weeks. Quick and neat.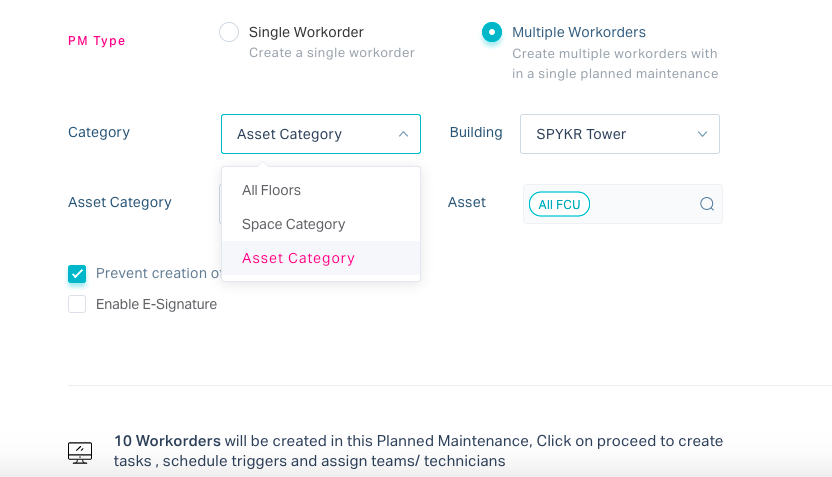 2. Flexibly select what really matters to your plan
Not all assets in a building require the same maintenance care. The frequency and conditions for PM also differ.
Under such circumstances, the flexibility to choose a bulk of similar category assets or drill-down to specific asset units in a building area becomes paramount.
Facilio cue: Choose 'Space category' or 'Asset category' and zoom-in to your required asset group.
Top-down from Building->Floor->Space-> asset unit, work orders will be generated based on your selection.
You can also access effort-optimizing insights on work orders like – overdue, stats on unplanned requests, resolution time, etc. – on the go!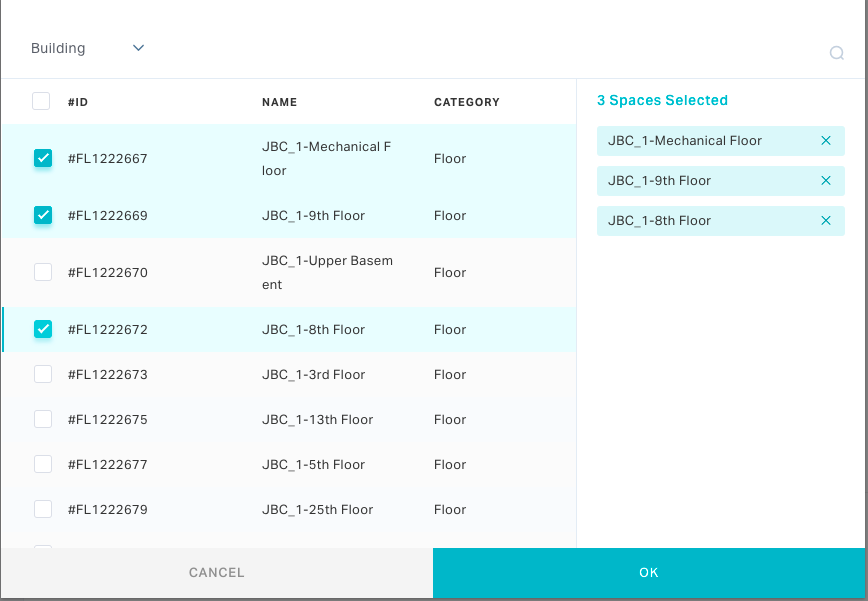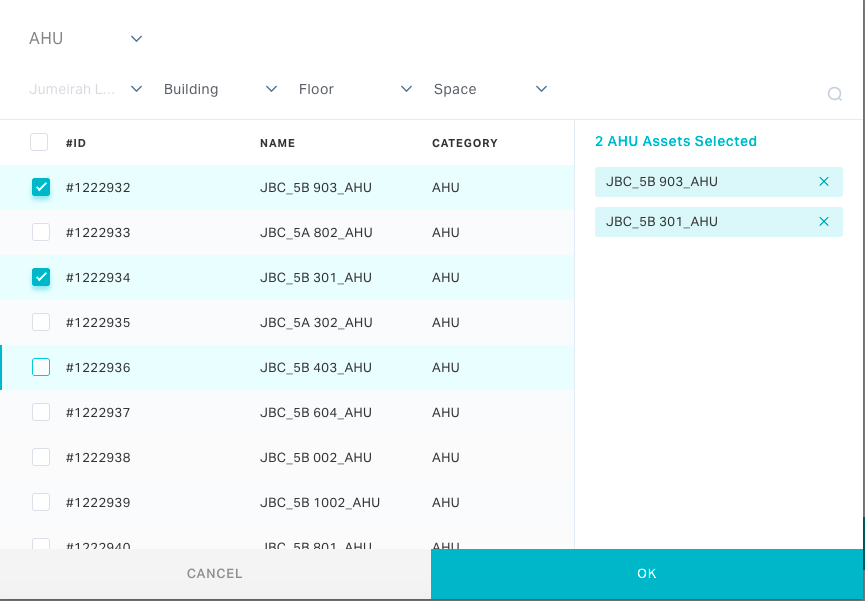 3. Centralize enterprise-wide maintenance activities
Most of the time, task schedules are scattered across remote, hard-to-access parts of your app.  At the end of the day, your enterprise is one unit comprised of interdependent site blocks.
Hence it's vital to cohesively observe the performance of your facilities. With knowledge about data like maintenance work completed on-time, work overdue, average resolution time by different teams and so on, key maintenance metrics like SLA Compliance, average resolution time of PMs across buildings, etc. are totally in your grasp.
Facilio cue: You can view the spread of work orders based on buildings, teams, type, status and so on within one visually-enticing screen; No back-and-forth jot downs, no excel-sheet collation- just one continuous scroll!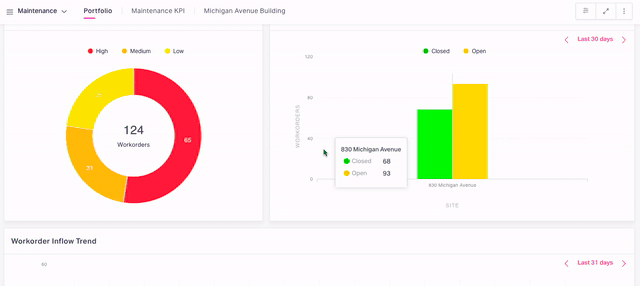 4. Make macro changes with micro actions
Eventualities can happen anytime, and you are expected to be on your toes always. If you can make changes to your planned activities with a few mouse clicks, that's the sign of a robust application.
Facilio cue: If you want to push your PM to a later date than scheduled, simply drag and drop the entity to a chosen date on the PM Calendar.
Again, you can choose if the work orders of successive cycles should or should not follow suit.
This way, you can set a proper interval between tasks. Impromptu reassigning of tasks to your staff is also possible, so you can precisely modify with the overall settings undisturbed!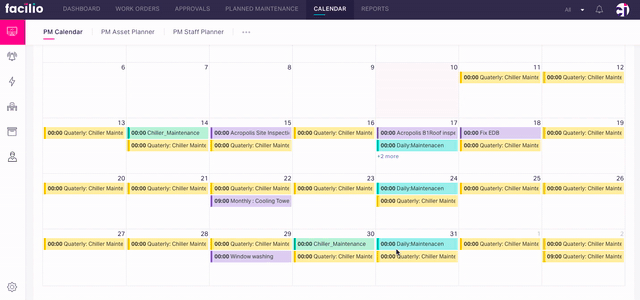 5. Stay informed about the costs incurred
As a Facilities Manager, you will want to stay abreast of the expenses associated with PM.
It's helpful to keep track of whether or not the numbers comply with your estimate and the extent of deviation if any.
The overall cost of the PM sheds light on the much-needed understanding of the operational budget for this activity.
Facilio cue: The insight on PM cost comes as part of the app. It is integrated with the work order and is no longer an entity separate from your FM software.
By specifying items and labour associated with every work order, the overall cost is made known.
This can be cumulatively tied up to arrive at accurate actual PM costs for your portfolio.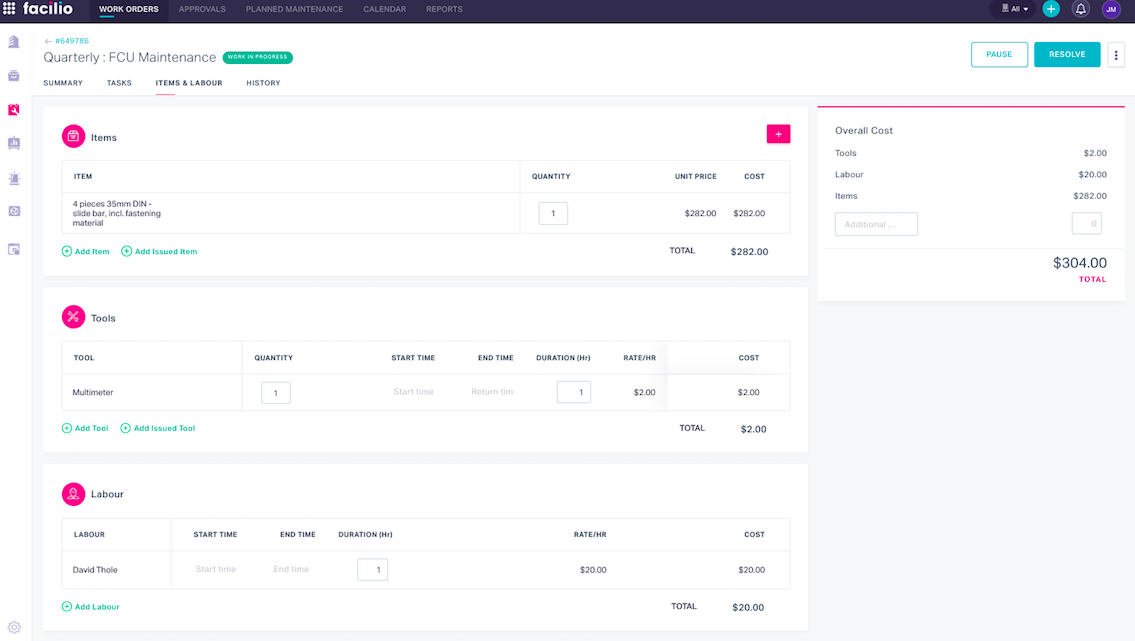 Witness a quantum leap in operational efficiency
Planned Maintenance is an important aspect of facilities management. When implemented effectively, it ensures a massive drop in major repairs and equipment downtime.
Simplified PM configuration and staying in control of real-time data through this process begets continuous efficiency.
Not only will your building's assets perform optimally but your enterprise will be empowered by experience-driven facilities.
Choose the right tool, clear the clutter and bring growing profits to your enterprise!