Best Healthcare CMMS Software in 2023 [UPDATED]
A healthcare CMMS is a tool the healthcare industry uses to keep medical assets, equipment, and facilities in good shape. CMMS enables healthcare maintenance teams to maintain a reliable, healthy, safe environment for staff, workers, and patients.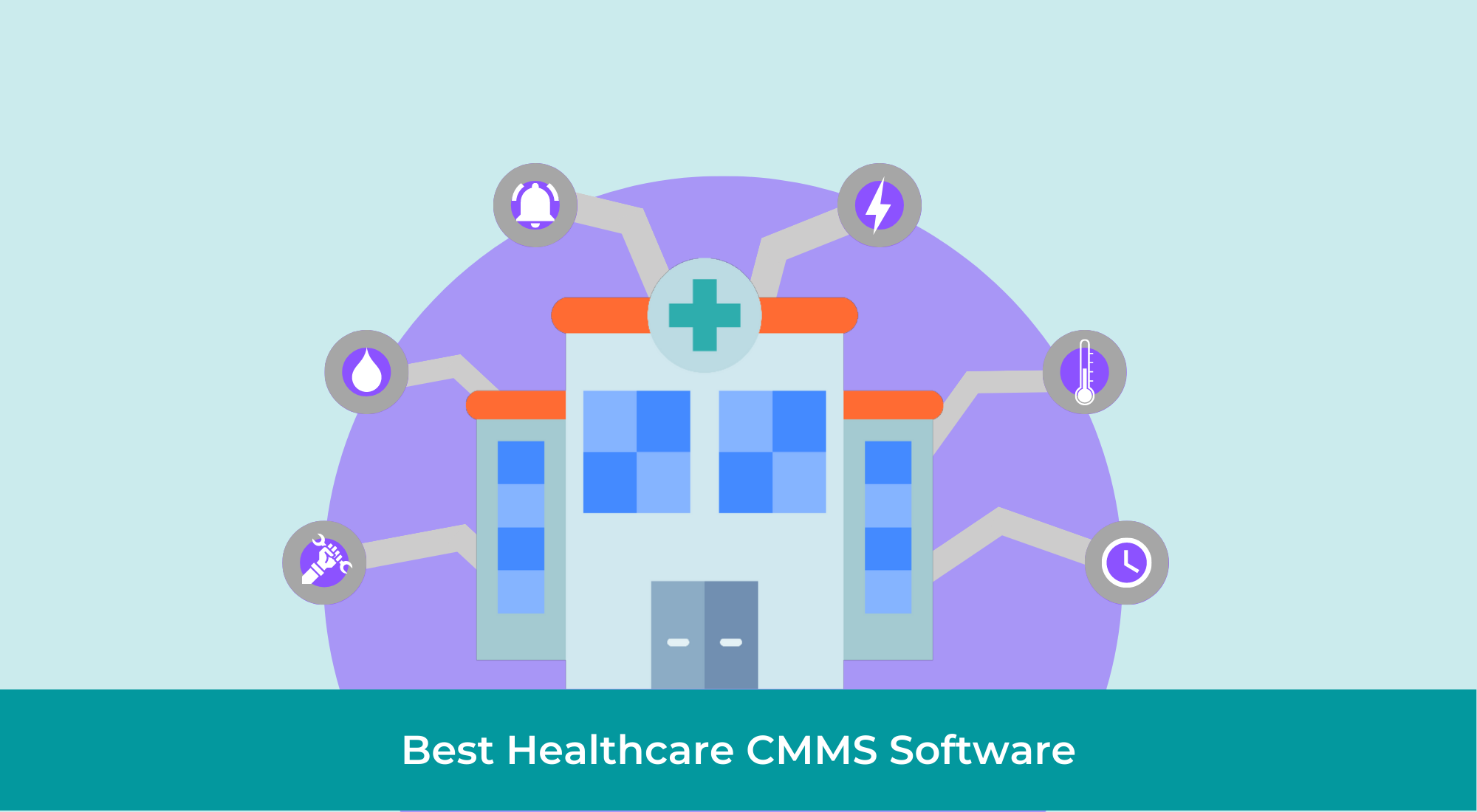 The World Health Organization (WHO) formally recommended using computerized maintenance management systems (CMMS) in hospitals.
In their words,
As health facilities expand and the number of medical devices they depend on to provide quality health care increases, a need to manage healthcare technology more effectively and efficiently becomes evident.

CMMS is a tool that can improve overall medical equipment management at the facility level.

For organizations with the appropriate resources to implement this tool, CMMS can be very beneficial.

It is a highly flexible tool that when properly implemented has the ability to transform the management of medical equipment while also improving the availability and functionality of the technology required to prevent, diagnose and treat illness.
As crucial as implementing CMMS software in your facility is, picking the right one might take much work, considering the sea of vendors offering CMMS solutions.
We scraped every corner of the internet to help you get started on your journey to evaluate and pick the best healthcare CMMS software for your facility.
What is healthcare CMMS?
A healthcare CMMS is a tool the healthcare industry uses to keep medical assets, equipment, and facilities in good shape.
CMMS enables healthcare maintenance teams to maintain a reliable, healthy, safe environment for staff, workers, and patients.
Suggested read: 3 Trends That Are Set To Shape Property Ops in 2023
Why is CMMS important for healthcare organizations?
CMMS software is relevant to all types of medical facilities - hospitals, clinics, MedTech manufacturers, and other healthcare organizations.
For instance, healthcare facilities house critical equipment like ventilators, the proper functioning of which is vital to patient safety in emergencies.
Unquestionably, medical equipment should not break down unexpectedly - and a healthcare CMMS is critical in ensuring they don't.
A CMMS monitors such critical assets to detect anomalies and schedule preventive maintenance measures to reduce the risk of unplanned breakdowns and downtimes.
Check out the best CMMS software for the healthcare industry.
Suggested read: How to Proactively Manage Facilities
Top healthcare CMMS software in 2022
Facilio
Medusa EAM
Proteus CMMS
TruAsset
DimoMaint
Innomaint
RMS Omega
Cryotos
LLumin
Valuekeep
Facilio
Facilio's Connected CMMS aids healthcare maintenance management with a suite of operations and maintenance management (O&M) apps customizable for any healthcare facility and use case.
Here are a few ways in which Facilio's Connected CMMS helps medical facilities:
Manage assets proactively and avoid costly repairs: Automate preventive maintenance scheduling and set up complex workflows to create rule-based work orders, assignments, and approvals.
Monitor medical equipment health and performance in real-time: If you're looking to upgrade from preventive to predictive maintenance, leverage Facilio's Internet of Things (IoT) technologies and machine learning (ML) powered platform to predict anomalies, identify the root cause for failures, and prevent them from turning into problems.
Control building systems from your maintenance management dashboard: Facilio is hardware agnostic and integrates seamlessly with your existing building automation systems (BAS), heating, ventilation, and air conditioning (HVAC) systems, and more.
This means you can remotely adjust indoor humidity relative to the outside or control HVAC systems based on real-time occupancy data from IoT sensors.
Streamline visitor management and enhance occupant experience: Enable data-driven visitor logs to maintain accurate records critical to the management and authorities in emergencies.
Keep everyone in the facility informed about maintenance activities and other changes via Facilio's occupant experience portal.
Identify your best contractors and foster strong relationships with them: Identify your top contractors, and foster strong relationships using Facilio's contractor management portal to help you secure the supply of essentials such as gloves, masks, and disinfectants—all, so you're prepared for supply-chain disruptions during emergencies like COVID-19 or for days you see an unusual spike in visitors.
Ensure your facility is cleaned and sanitized regularly: Healthcare facilities are high-risk environments where a lapse in cleaning protocol adherence can result in severe consequences like outbreaks.
Use Radio Frequency Identification (RFID) tags to track activities like janitorial tasks and regular sanitization of frequently contacted surfaces like elevator buttons, and monitor them in your CMMS software.
Facilio's Connected CMMS enables healthcare facility management teams to maintain transparent processes and reinforce operational strategy, develop maintenance routines, and engage effectively with stakeholders in real time.
How much does it cost?
Facilio offers custom pricing to help you make the most of your CMMS investment.
Would you like to understand Facilio's pricing for your healthcare organization?
Medusa EAM
Medusa EAM enables healthcare facilities to automate maintenance, ticket management, work orders, stock and order management, and more.
It also provides the tools necessary for quality control, documentation, and efficiency in your departmental workflows.
Proteus CMMS
Eagle Technology's Proteus CMMS software provides asset management capabilities and preventive maintenance scheduling to ensure optimal performance of many assets, including HVAC systems, lights, plumbing and piping systems, restrooms, elevators, and parking lots.
TruAsset
TruAsset was purpose-built for the healthcare facilities management industry. It streamlines and automates service request and work order management, purchase order and invoice tracking, assets tracking, parts inventory management, and reporting. It is accessible on computers, tablets, and smartphones.
DimoMaint
Dimomaint CMMS offers solutions for asset management, building information modeling (BIM), geolocation of medical equipment, budget management, and centralized technical management.
Innomaint
Innomaint is a cloud-based CMMS software that helps healthcare organizations manage, monitor, and measure the maintenance of all medical equipment.
In addition, it comes with a web & mobile app that can help patients get uninterrupted services of ventilators, oxygen masks, and the like.
RMS Omega
RMS Omega provides your team with daily routines and accurate, up-to-date information for responding to an emergency.
You can also use the data to support longer-term planning for operations, the annual maintenance schedules, deployment of personnel, and budgeting for replacement equipment, consumables, and maintenance supplies.
Cryotos
Cryptos CMMS is built for fast-paced healthcare environments where healthcare workers, patients, and medical equipment are constantly on the move.
In addition to helping with regulatory compliance and safety checks, maintenance scheduling, asset tracking, and streamlining communication, it helps your teams communicate efficiently.
LLumin
Limin enables healthcare facilities to view real-time machine vitals, perform unplanned/planned maintenance, auto-optimize inventory assets, conduct self-audits to ensure compliance with regulations, and more from anywhere with a human-machine interface (HMI) or mobile device.
Valuekeep
Valuekeep provides a comprehensive CMMS solution to help medical facilities track and manage maintenance programs, minimizing costs while ensuring regulatory compliance.
Benefits of using CMMS software in healthcare facilities
Healthcare facilities benefit from CMMS software the same way any other organization does.
The main objectives of CMMS software are to:
Improve building and asset reliability, and extend asset life
Boost operational efficiency and productivity with proactive maintenance
Optimize operational costs and reduce unnecessary maintenance to improve RoI
Track, measure, and report maintenance KPIs accurately
The right CMMS software can help healthcare maintenance teams deliver a well-maintained and reliable portfolio of assets, equipment, and spaces that are always ready to provide patient care with the best experience and a safe working environment for your staff.
How to choose the right CMMS software for your healthcare organization?
The right CMMS solution empowers healthcare organizations with real-time asset tracking & performance, predictive or preventive maintenance tasks scheduling, work order management, contractor management, spare parts and inventory management, field service management, space management, and continuous regulatory compliance standards such as MDR, GMDN, UDI, and EUDAMED.
Here are some questions you should ask while evaluating healthcare CMMS software:
Does your chosen CMMS vendor satisfy your unique maintenance management needs?
Is the implementation quick and straightforward?
Is there a big learning curve?
Does it integrate seamlessly with building management systems, condition monitoring devices, enterprise resource management (ERP) systems, and other essential tools and software?
Is it intuitive and easy to use?
Is your vendor constantly improving and updating CMMS capabilities?
Is their pricing model scalable and within your budget?
Is the deployment on-premise or on the cloud, and which suits you the best?
Is their customer support quick, reliable, and technically well-rounded?
Can your new vendor transfer historical data correctly to the new system if you're looking to switch CMMS software?
Suggested read: Tips to evaluate CMMS software intuitively from Investa, one of Australia's largest commercial real estate companies
Why choose Facilio's Connected CMMS for your healthcare maintenance management needs?
CMMS software plays an important role in ensuring health, safety, and compliance for healthcare facilities.
Expectations from maintenance management software for healthcare facilities are ever-evolving, depending on scale, use cases, or emergencies.
It is best to pick a platform that can adapt to your needs and accommodate any strategy changes, measures, and technology upgrades-and fast.
Facilio's IoT-enabled and AI-powered O&M platform gives healthcare facilities the flexibility to pick and choose modules as per their current needs and change or upgrade with zero friction and quick implementation.
It enables interoperability with all building management systems (BMS) and acts as a central command center for all things O&M.
We hope this article helps you navigate the myriad options for CMMS software and pick the best one for your business.
Do you want to know more about what Facilio can do for your healthcare organization?