2022 Tech Resolutions for Operations Professionals: Mobility, Integrations, and Automated Workflows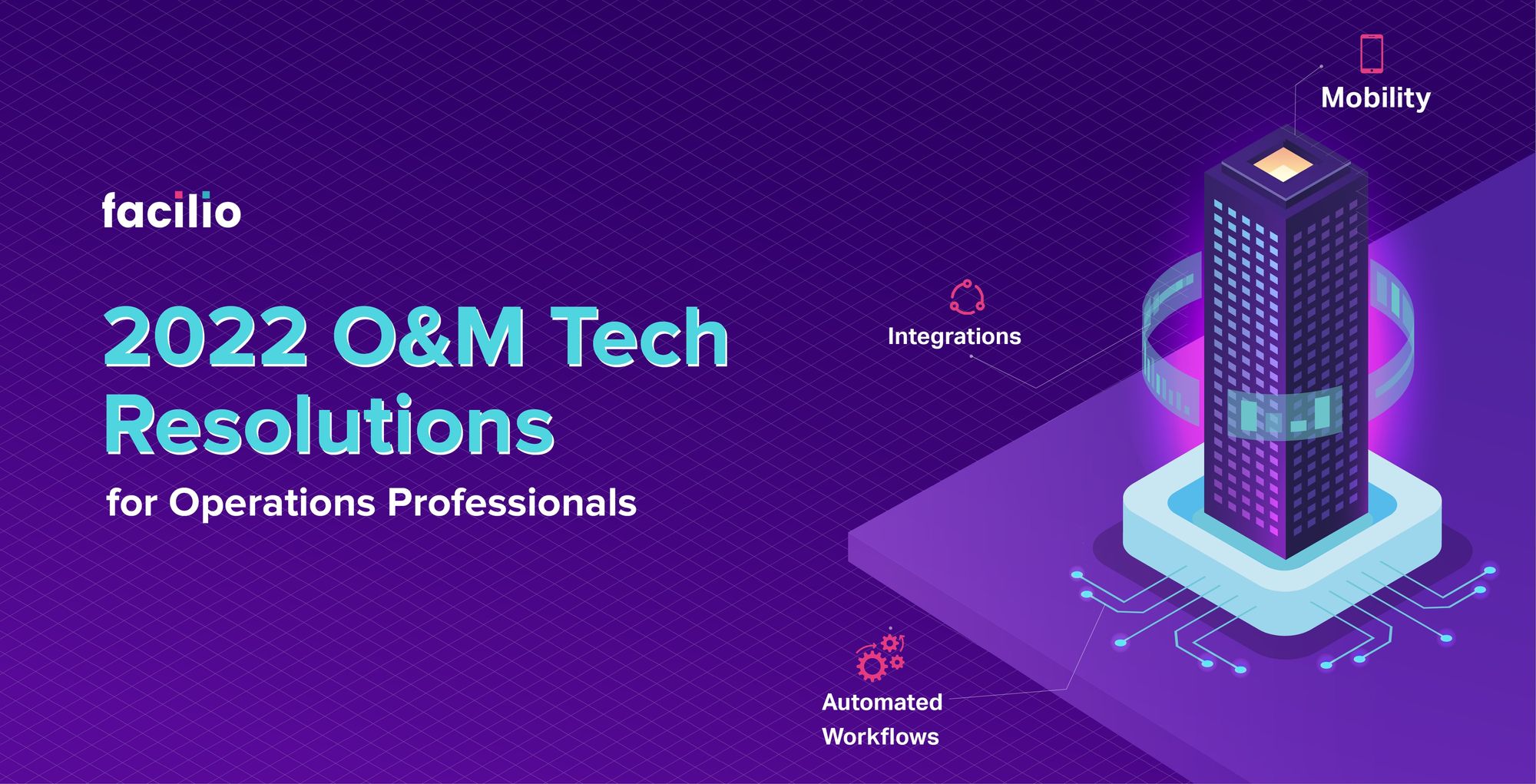 After an eventful 2021, facilities management firms are ready to hop on a steady wagon to a brighter future. Technologically advanced and differentiated solutions have made life easier for property operations professionals to make more informed decisions with a high and accurate impact.
In case you haven't yet, 2022 is the year for facility and property teams to shift to a CMMS platform that can augment your everyday life, making it more efficient, seamless, and streamlined. Since you have several options, below are our top three features and their payoffs that will narrow down the best CMMS platform for you this 2022!
Connect and compound vs. add and acclimate
Pick software that converges with most of the O&M functions for your team. This is a big ask but ensures you aren't adding just another CMMS platform to your already full plate.
Given the siloed system data and punctuated work flows you are already dealing with, you need a CMMS that will enable maximum mobility between existing structures and teams through connectivity and insight.
Facilio's connected CMMS system does exactly this by creating a Single Pane of Glass interface that slots in above these siloed systems to derive data, compound actionable insights and enable greater visibility and control across your portfolio.
As property and/or portfolio managers, you need a platform that can accommodate your unique needs instead of you having to acclimate your processes to it. Look out for a system that adds seamless connectivity and collaboration to your everyday maintenance and property operations to save your valuable time and energy!
Integrate vs. separate
Imagine the convenience of having well-presented data from across all the siloed systems, software and buildings in your portfolio at a glance. This is the 2022 vision we have for property managers everywhere!
Most CMMS softwares require harsh restructuring of existing software aided processes since it might not play well with what you already have in place. This year, find a CMMS software that empowers you with connectivity and visibility by integrating with the systems you already use. This overlay structure would coordinate across geographically and technically disparate systems to provide granular insights and incisive functionality.
Go a step further and make this year your most efficient yet – a CMMS software that integrates, showcases data and helps you control your assets by writing custom rules through your previously disparate softwares. Facilities management has officially moved past punctuated processes and inaccessible data!
Hiccup-free automation
Ensure your 2022 is about productively directing your focus energies. This is why we saved the best tech feature for last: Automation.
This is one of the most sought after capabilities in any facilities management system – and for good reason! Better automation of workflows ensures you have the time and mental energy to focus on the issue at hand instead of the processes involved around handling it.
Any automation system worth its salt should allow you to customise and define how and when a work order should be raised – depending on whether a major or a minor alarm is triggered –, what the content should be, who should be tasked with it and so on.
In fact, automation is all about intelligent, proactive maintenance of controlled systems. If the temperature in a room is going to drop beyond your preferred value, you should be able to automate maintaining it at your sweet spot.
Look out for this feature to ensure your peace of mind, helping you focus on issues of greater gravity and bolstering your operations overall!
Facilio's upgraded workflow management system enables a premium automation of operational requirements. Maintenance tasks are now auto-controlled and auto-assigned, work orders seamlessly generated – all in minutes, saving you time and money. Whether tech-literate or not, Facilio's low-code platform empowers everyone with valuable, real time data through its single pane of glass software i.e. our reimagined, award-winning Connected CMMS.
We hope these top three features and their values help you make an informed decision with the CMMS software you choose this 2022!
About Facilio
Facilio's AI-driven property operations platform allows real estate owners to aggregate building data, optimize performance, and control portfolio operations from one place. Customers in the commercial office, healthcare, higher education & retail categories use Facilio across 60 million square feet to reduce operations costs, increase net asset values & de-risk operational liability. Headquartered in New York City with offices in Europe (the United Kingdom and Italy), Dubai, Chennai & Singapore, Facilio is a global company backed by leading investors, including Accel Partners and Tiger Global Management.