10 Inspiring examples of Property Operation Teams coming together to fight the viral spread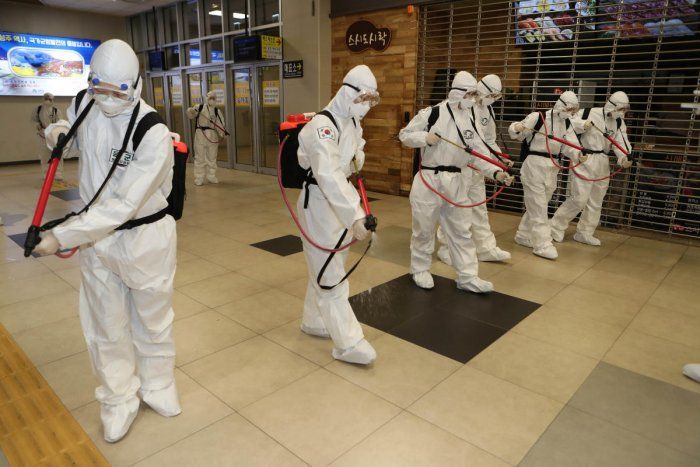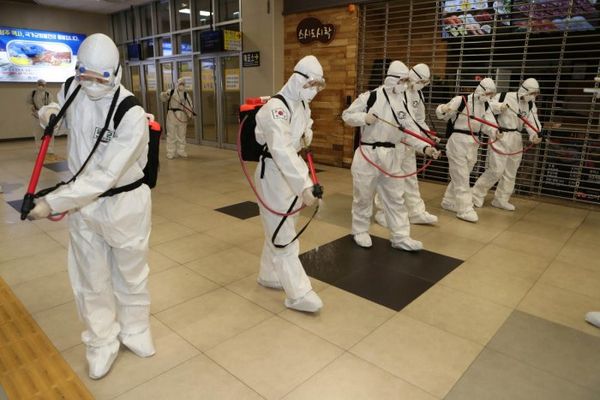 Isolated squads of property operators taking preventive measures to combat COVID-19 have now transformed into a full-fledged army. The entire community of global real estate companies is going all out to safeguard its occupants and facilities. And all this, within a gap of just a few weeks! Property managers are working tirelessly to do all they can to slow the spread of the virus.
You are eager to contribute to multiplying the circles of sanitization at facilities. But challenged by a novel adversary, we understand how the community feels anxious and is actively seeking comprehensive information.
With detailed guidelines on how best to use your existing resources at this time, we wanted to be supportive and do as much as we can to help you be in good shape to control this viral outbreak. So we curated top useful and relevant information to help property managers put their best foot forward – by taking lessons from the inspiring groundwork of facilities and property operations community across the globe.
Common measures being taken across industry verticals
Most facilities have set up thermal scanners to detect abnormal body temperature of occupiers so they can be immediately isolated and carefully monitored. Property managers are also implementing enhanced sanitization routines and providing rigorous training for staff to improve awareness and best handle situations where symptoms confirming the infection surface.
Must-do's in every large property to minimize the risk of infection
Ample hand sanitizers evenly distributed across the facility

Frequent disinfection of high touch points with proper logging of the activities

Increased awareness of COVID-19 symptoms to promptly act upon

Continuous emphasis on handwashing etiquette and personal hygiene
We wrote in detail about how property managers can swiftly respond to Covid-19 and ensure hygiene at scale.
Airports:
1. Berlin Airport:
The airport company discloses that it is closely collaborating with health care authorities both at the state and national levels, to arrest the spread of infection and protect its passengers, staff, and partners at its facilities. A crisp infographic about its various preventive measures below: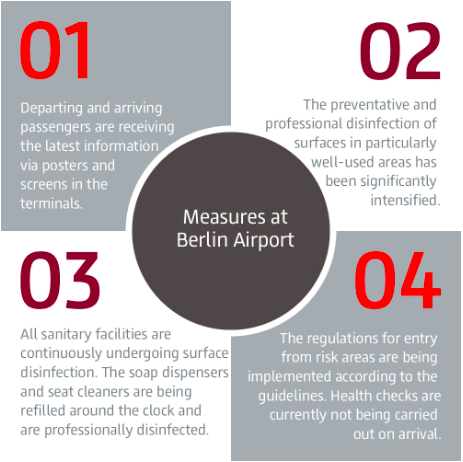 2. Airport Company South Africa(ACSA)
ACSA CEO, Mpumi Mpofu is being lauded by the parliamentary portfolio committee on health, for her intensified precautionary measures and strict screening protocols to help control the infection rate at the South African airports. ACSA  emphasizes that passengers and airport occupiers follow hygiene etiquette at all times including wearing masks and avoiding direct contact with airport staff by wearing gloves. They are also ramping up awareness among the general public by various methods like posts on social media platforms, educational videos, and digital and printed pamphlets. ACSA is well-prepared to take more aggressive safety measures when the situation calls for it.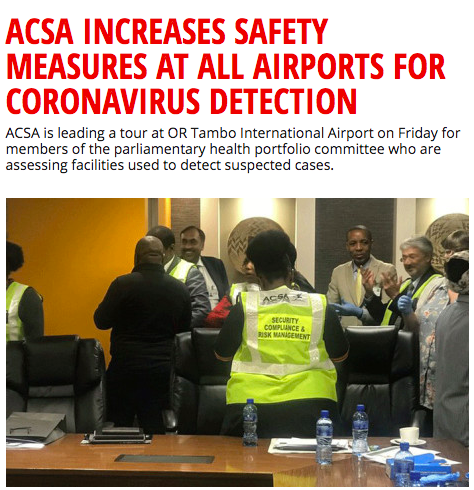 3. Bangalore International airport
Bangalore airport has set up special zones consisting of elevators, baggage screening, restrooms, collection belts, and exit gates for passengers arriving from high-risk countries.  Hand sanitizers have been placed at various points in the airport. There's a dedicated helpdesk for COVID-19-related queries at international arrivals, to extend all help by disseminating any information pertaining to the infection.
Malls:
4. Connex(FM) helps retailers across North America
Connex is helping retailers access and share useful information and experiences at this time of social distancing.
It has created two exclusive online communities to facilitate the flow of critical information. The first community lets any Connex member post information or questions and get advice. The second one is devoted to multi-site retail operators to ask for advice and suggestions from fellow-retailers on the best ways to deal with the outbreak. They also have a dedicated resource page on their website specifically to keep their FM team abreast of COVID-19-related news.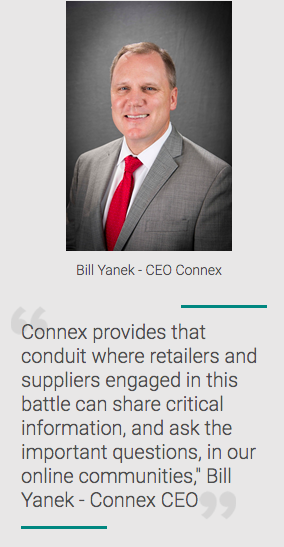 5. Westfield Meriden Mall, Connecticut
Apart from instructing housekeeping of high-intensity cleaning in high-touch areas like restrooms, play areas, dining areas, and water fountains, Westfield mall also has a public service advertising campaign to strengthen preventive measures to curb the spread of COVID-19.
6. Ibn Battuta Mall – Nakheel properties, Dubai
Ibn Battuta malls are going one step ahead in the prevention strategy by closely monitoring that tenants are also actively following all the required safety protocols. This way they ensure that processes are followed by the entire mall user-community. They have provided comprehensive training to all their cleaning service providers to boost awareness about the virus. And this is closely monitored by submission and verification of attendance records.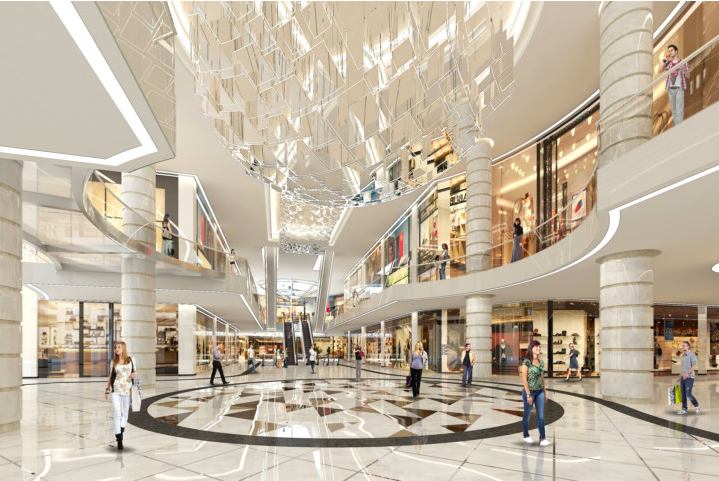 Hotels:
7. Marriott Hotels:
Marriot Hotels temperature-screen their guests using thermal scanners and infrared thermometers. They have a robust well-planned process in place to handle guests with the virus symptoms and refer them to the designated government health facility. They have also trained their hotel staff adequately to be aware of hand and respiratory hygiene.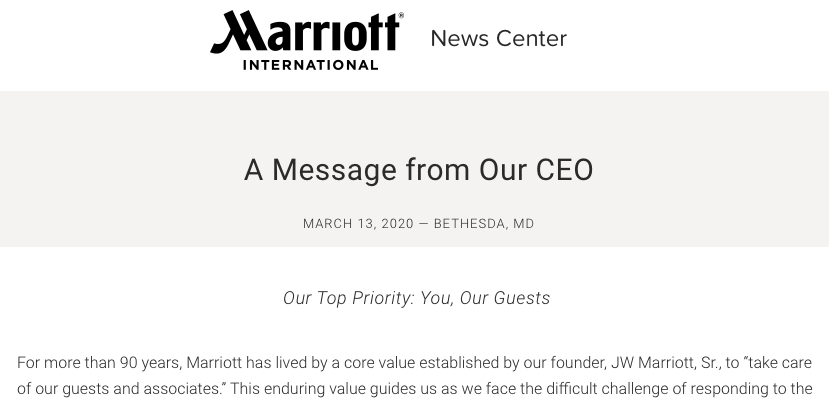 8. Oberoi Hotels
Right at the time of check-in, Oberoi hotels request guests to fill declarations of their travel in the past two weeks. Their parameters are checked and if not normal, the guests are advised to go through a medical check-up. Oberoi has implemented an intelligent visitor tracking system that uses thermal images to check temperatures of visitors. The chain also restricts entry of guests to hotels located in remote areas, thereby limiting the chances of infection.
9. Radisson Hotels
Radisson Hotels has activated its corporate crisis response teams worldwide and has strong processes and support teams in place. The hotel is well-prepared for lockdowns for quarantine purposes by collaborating with local authorities. Fully alert and closely monitoring the updates on guidelines of the local health authorities in the countries they operate in, Radisson is on its toes to ensure the safety of its guests and staff.
General Facilities
10. ServiceMaster India
The enhanced sanitization routines are not entirely new to the facilities teams at SMClean, who have been emphasizing safety and hygiene as a way of life. They are equipped with a dedicated Airborne and Surface infection prevention expert team to implement Environmental Control Program. To combat the covid-19 situation, they have rolled out germicidal ultraviolet technology to prevent airborne infection. The indoor air quality is greatly improved by higher UV levels within a room, thereby creating a germ-free environment for the occupiers of a building.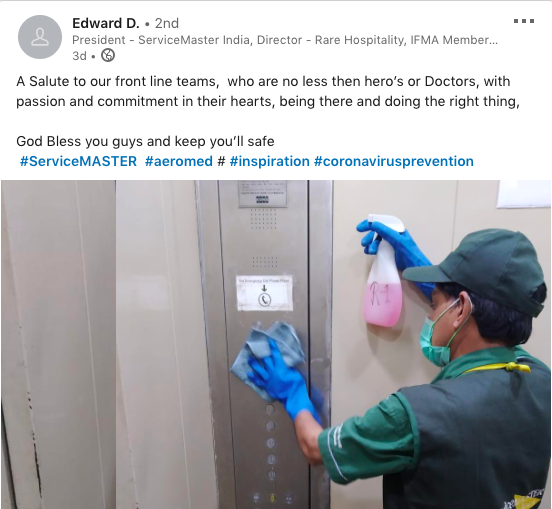 Maximizing collaboration
It's a great responsibility to rapidly mobilize resources and use technology efficiently to reduce potential transmissions in your buildings –  by strictly adhering to guidelines at all levels, diligent tracking of visitor data, and being responsive – to ensure the utmost safety to customers. Tough times as these can be ameliorated by being compassionate and sharing best practices with the community at large. We are in this together and let's put up a united fight against the global pandemic. Together we can.