Connected CMMS
PropOps leaders need a CMMS that can adapt to their processes, not the other way around—here's how to get there
What is Connected CMMS?
Connected CMMS is a reimagined approach to property operations and maintenance that meaningfully connects your systems, people, and processes. It expands the boundaries of CMMS beyond work orders and maintenance to automate processes, enable stakeholder engagement, and drive connected efficiency — all in one place.
Connected CMMS is the best way to enable a single-pane-of-glass for large property operations and maintenance teams.
Instead of forcing operations stakeholders to rely on multiple point solutions to manage jobs beyond maintenance, email for communication, spreadsheets for reporting, and more, Connected CMMS consolidates all operational workflows — from property maintenance and client engagement to vendor and workplace management to asset performance, and IoT data — in a single comprehensive platform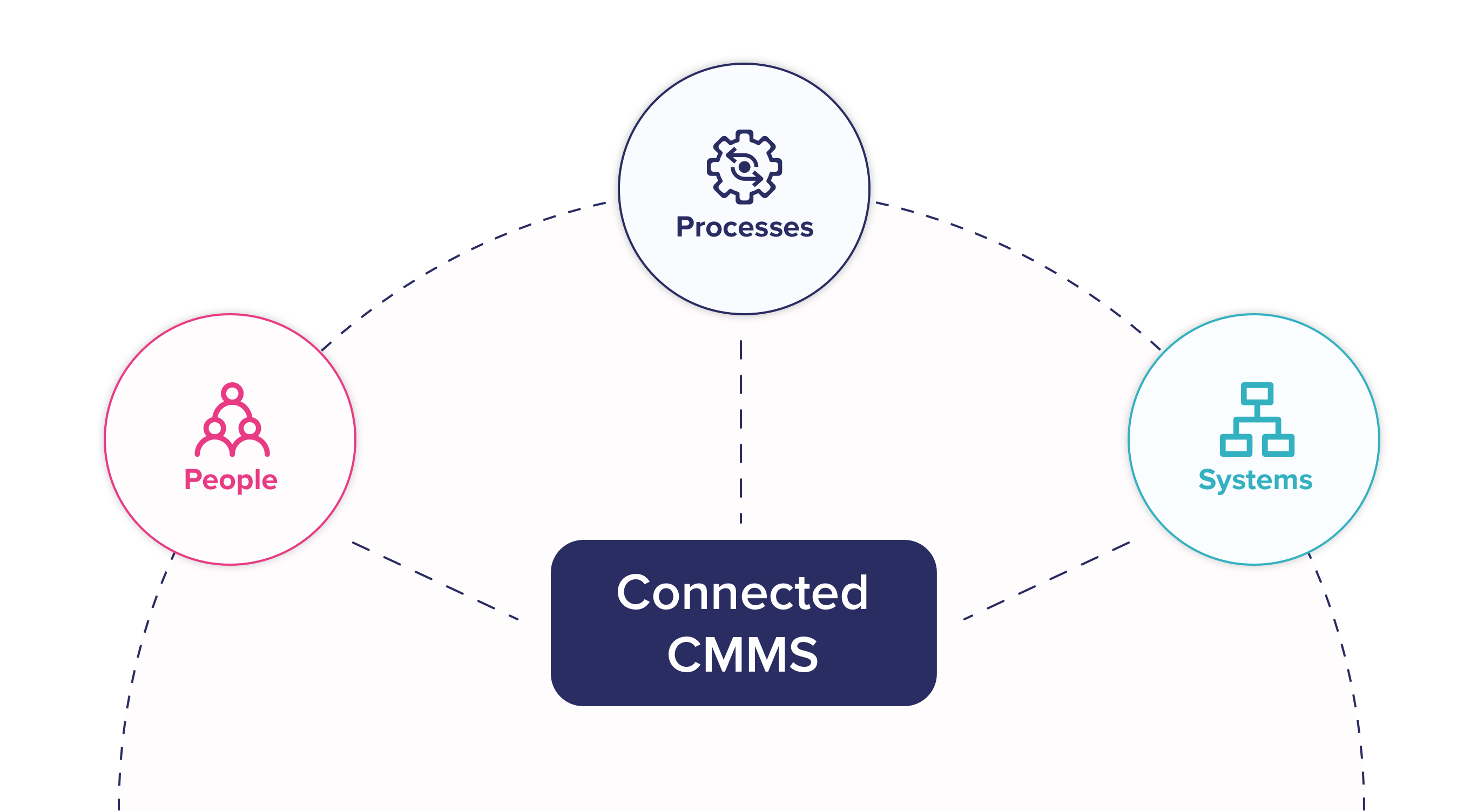 Most O&M work is completed outside of CMMS
There's a problem with how CMMS/CaFM are being built even today—as a mere system of records. They no longer match how real estate portfolios operate.
Building portfolios have evolving needs around client engagement, contractor management, spend visibility, condition-based maintenance, portfolio scale optimizations….the list goes on.
With the current CMMS model though, more gets done in emails and spreadsheets than in the CMMS. Not to mention the hassle of logging into multiple systems to service various needs. Every workflow goes through a range of tools—both digital and otherwise—becoming inefficient, unintelligent and tedious, at each consecutive step.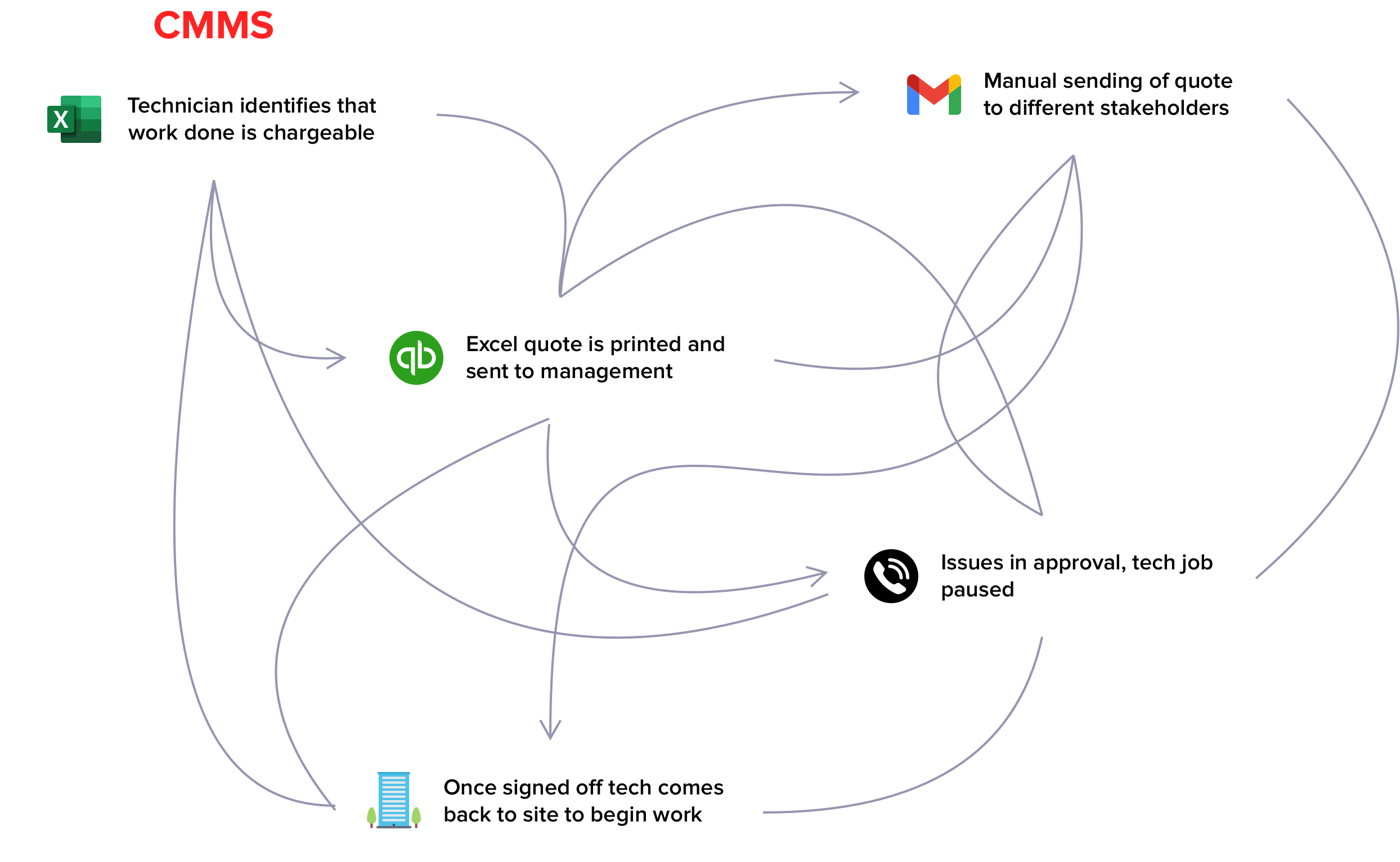 Your CMMS needs to evolve
beyond Asset & Maintenance
Management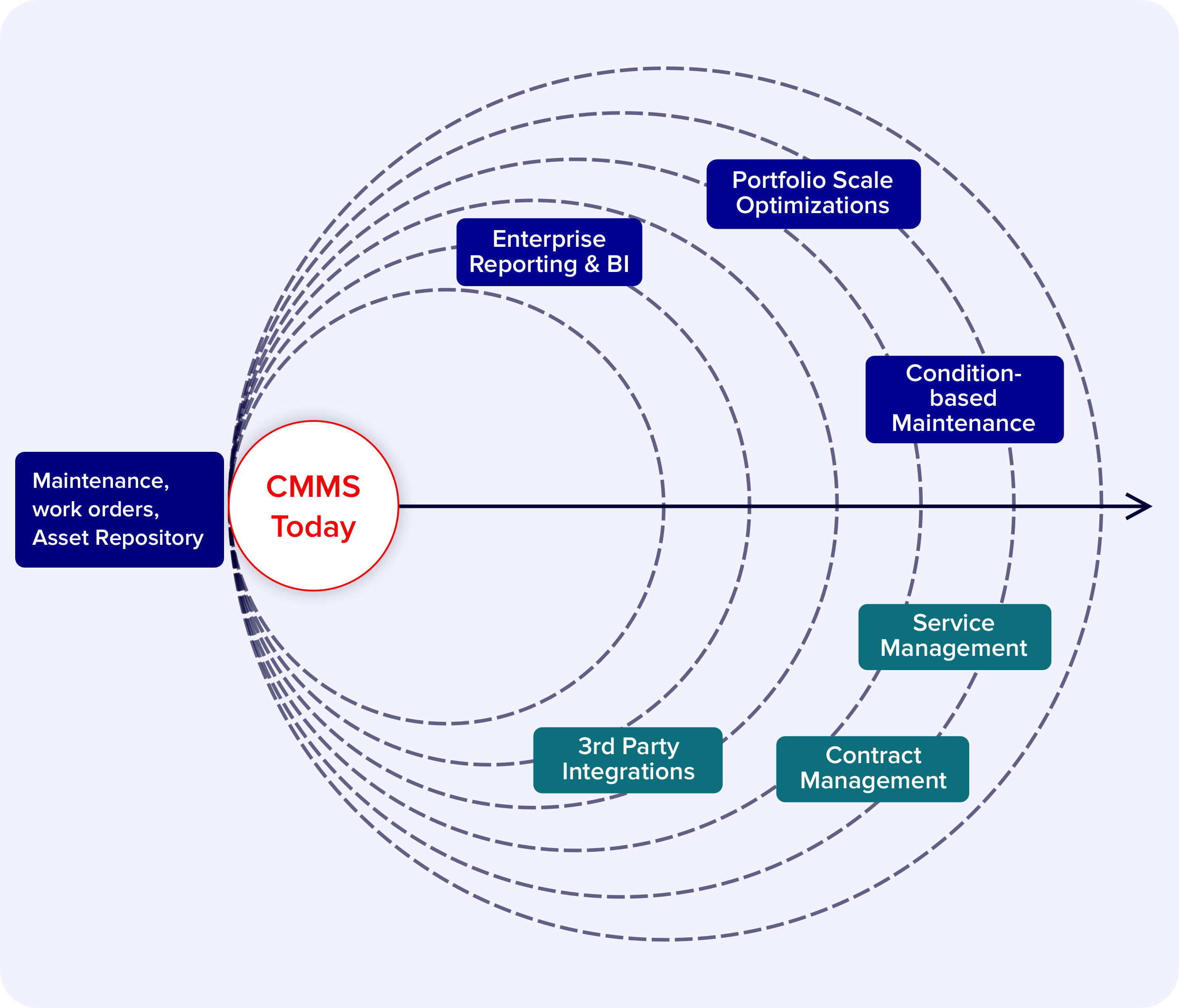 How Connected CMMS is rethinking CMMS into a modern 'system of action'
We are in an era where using enterprise software is as simple as texting—it's instant, easy to use, and powered by the latest technologies. On the contrary, 56% of O&M stakeholders have issues surrounding operations and maintenance technology and digital transformation. Current CMMS is limited with technician-only focus, little to no automation or integration with the rest of O&M tech stack.
We need to make CMMS as powerful, integrated and easy to use as the ServiceNow and Salesforce of the enterprise world
Connected CMMS improves efficiencies and changes the way user-experiences are delivered by connecting people, processes, and systems.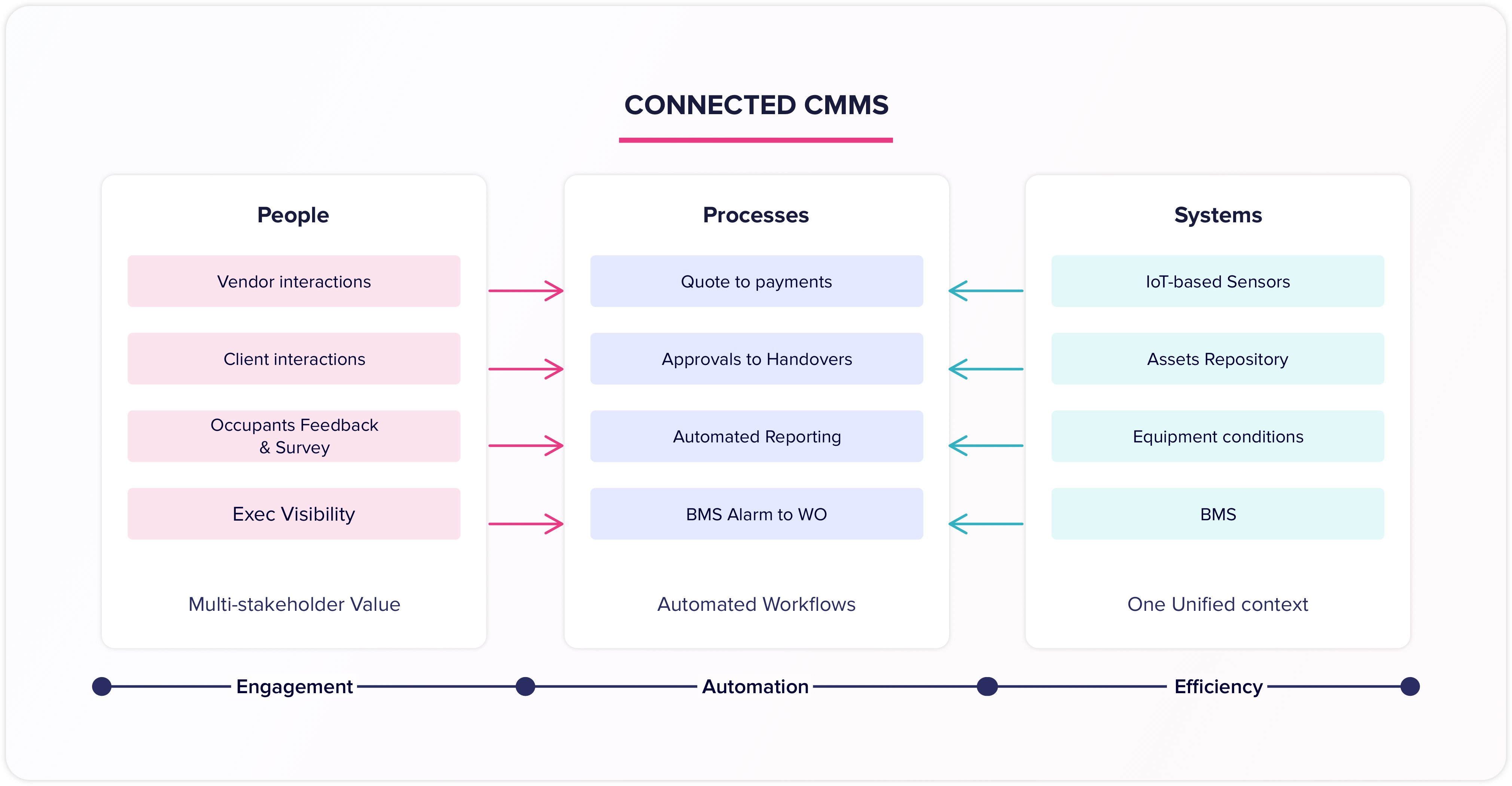 What Connected CMMS (really) needs to be and how to approach it?
The Connected CMMS approach doesn't force you to replace all of your existing tech stack and start from the scratch. On the contrary, it's intended to be interoperable with your existing enterprise operations/business software and building systems (sensors and supervisory infrastructure). It needs to be built with an API-first approach that normalizes, and democratizes data for 3rd party access. It must be purpose-built for O&M stakeholders (Owners, Operators, Tenants, Occupants) across web, mobile, or Kiosk applications. Above all, it needs to adopt a no-code SaaS platform approach instead of point solution approach to solve the common automation, customization, and integration challenges around portfolio operations & maintenance.
Connected CMMS boils down to 3 pillars/steps:
1. Automation
2. Engagement
3. Efficiency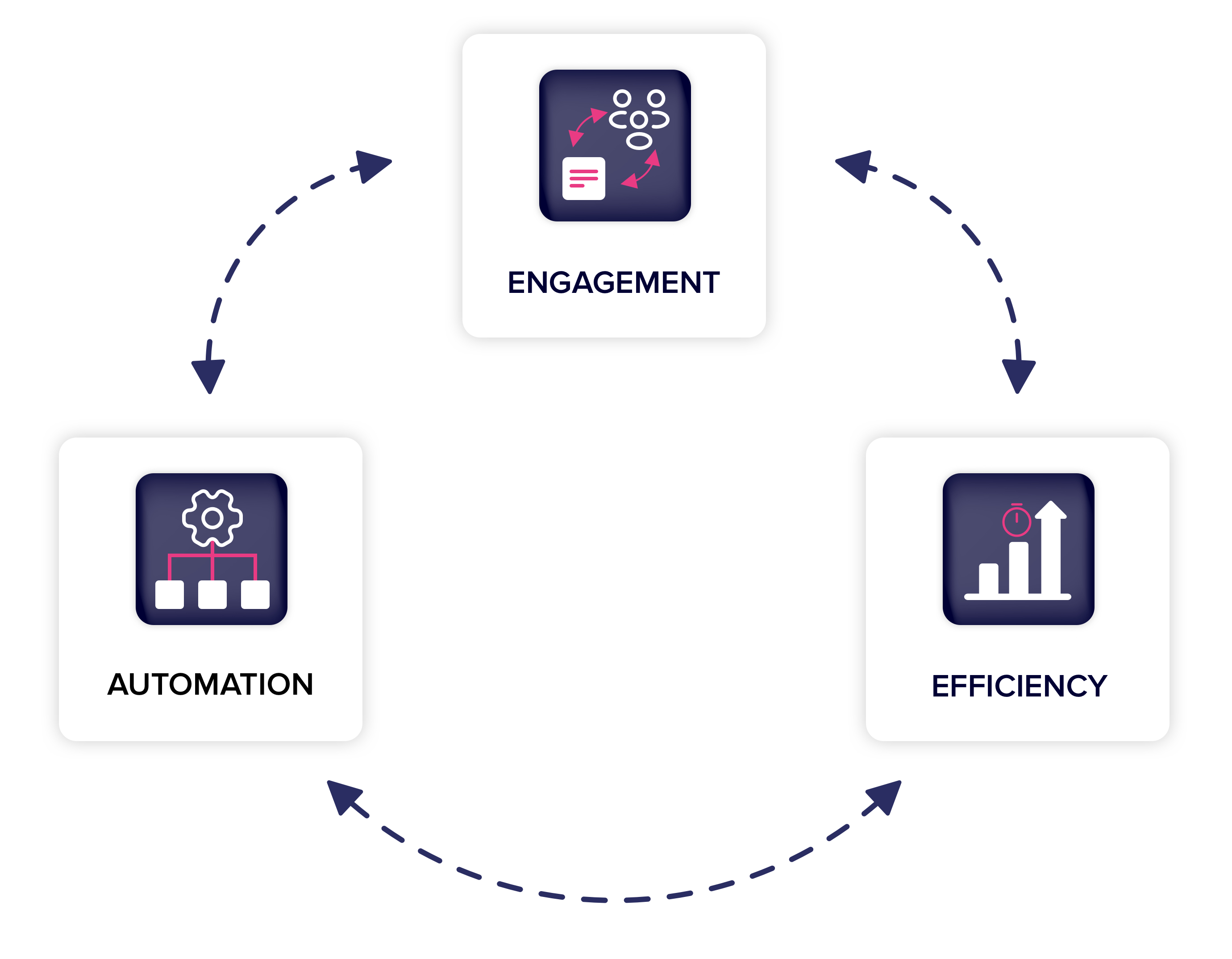 CONNECTING PROCESSES.
Step 1: Automate processes within CMMS to simplify operations and save time
Typically, today, ops teams work with multiple system of records. This means that 'information' is stored and passed on between people through a multitude of tools. In addition to this, they also make additional investments in software or build their own analytics and dashboards. As a result your core daily workflows are inefficient, confusing, full of tool switching, and difficult to keep track of. For instance, teams use emails to communicate, phone calls/chat for alerts, enterprise tools for vendor CRM and accounting, spreadsheets for reports and everything else.
To overcome this, Connected CMMS helps enterprises move from a 'system of record' to a 'system of action', using workflow automation.
It brings together processes by automating various steps along the operations lifecycle. This includes work order generation, sending alerts, notifying technicians, approvals & communication, generating reports and dashboards etc. When the mundane is handled using workflow automation, the team has time and mental energy to focus on revenue optimization, and adding value to customers.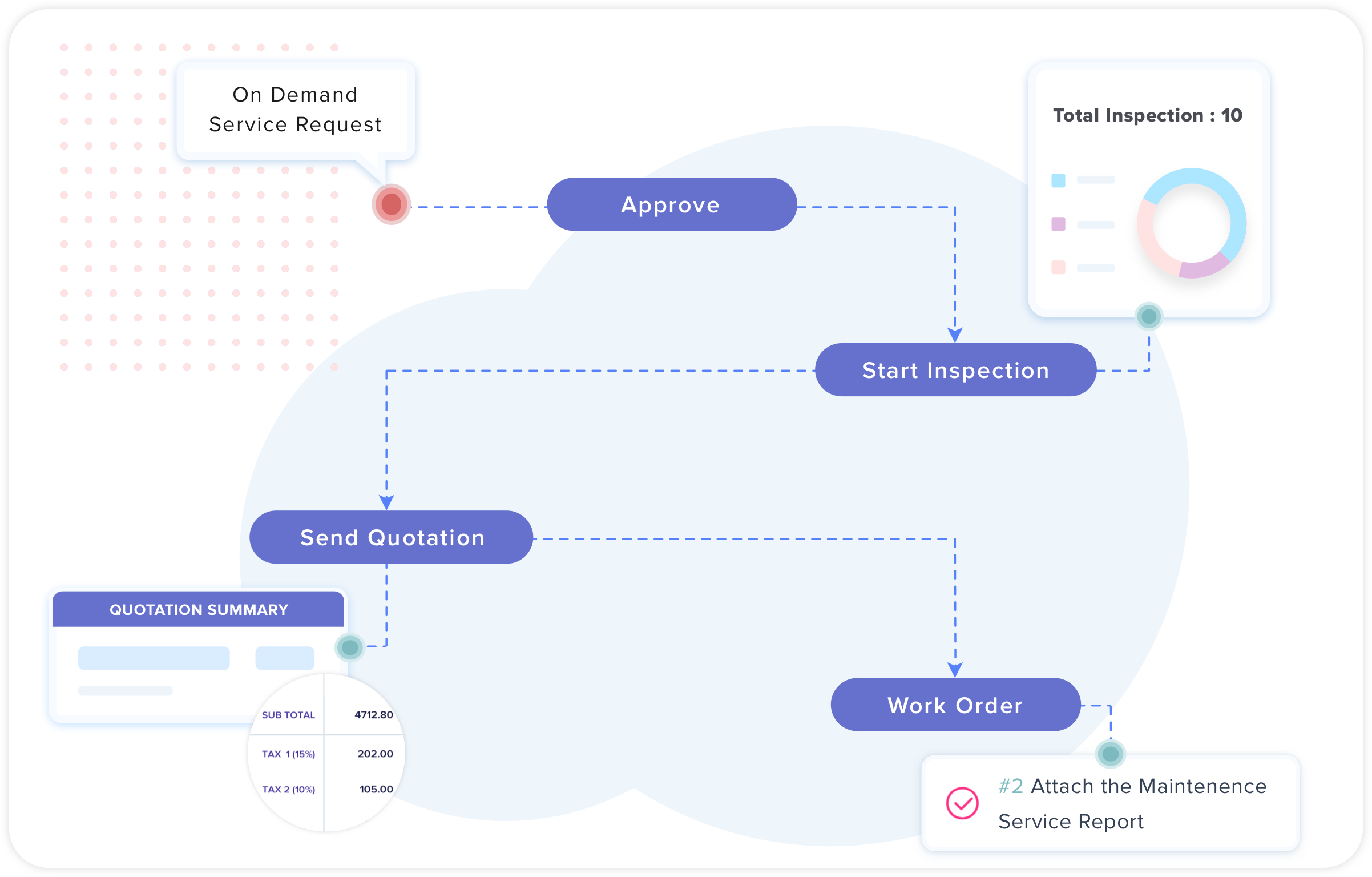 CONNECTING PEOPLE
Step 2: Engage O&M stakeholders within CMMS for visibility and enhanced value across the board
Right from scratch, your CMMS must be designed for engagement across the board, not as an afterthought. It needs to offer user interfaces for all roles integral to the property operations unit—including but not limited to field technicians, property managers, executive leadership, and management who can gain access to the information they need when they need it. And all key external stakeholders (occupants, workplace employees, tenant/customers, and contractors) must be met right where they are—through web, mobile, or Kiosk applications
Connected CMMS helps enterprises democratise information access, improve internal collaboration, and elevate end-user experiences using multi-stakeholder engagement.
From asset/financial insights to org-wide progress tracking to interactive service response and feedback, Connected CMMS caters to every single stakeholder need.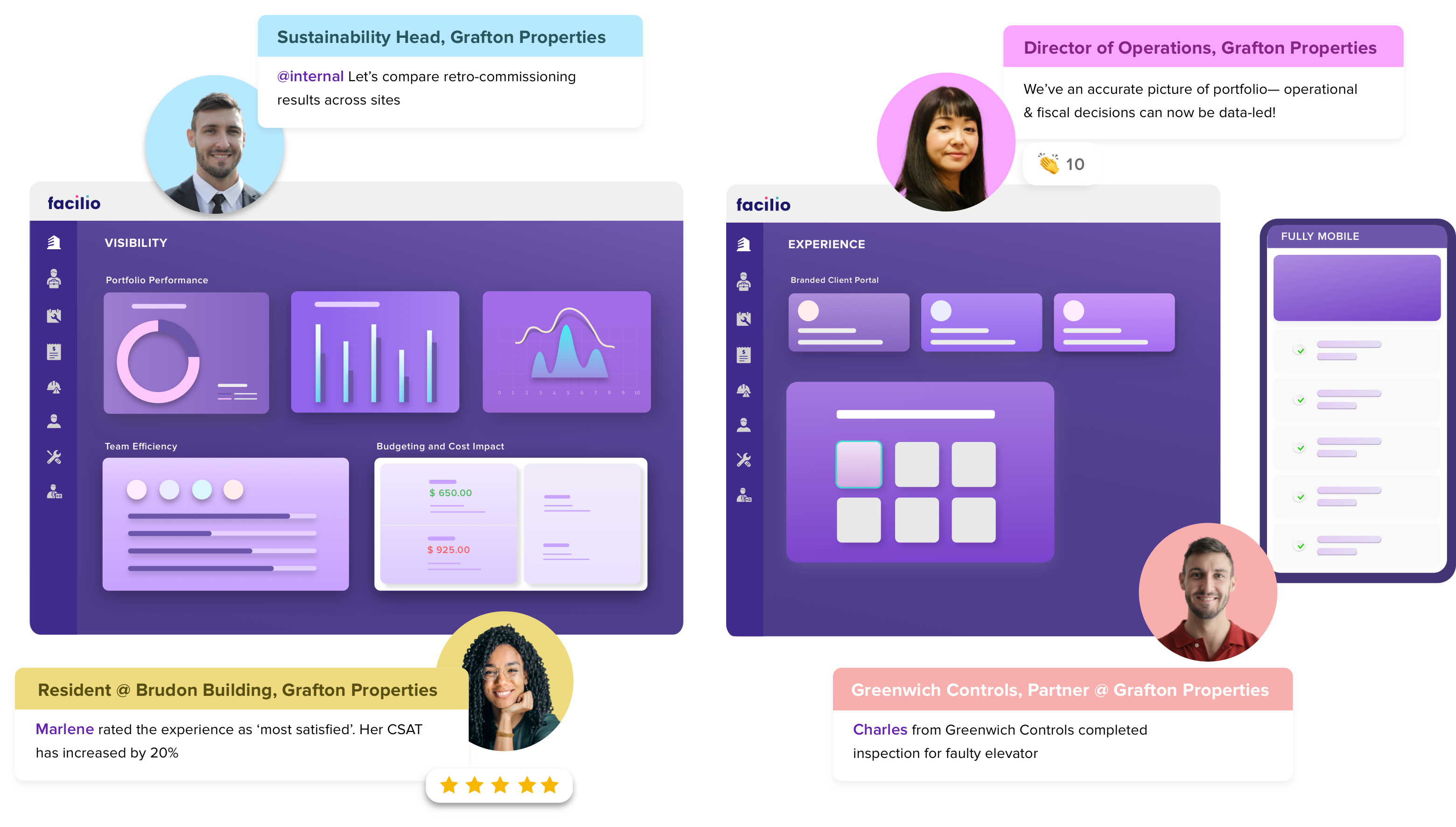 CONNECTING SYSTEMS
Step 3: Enable fully connected operations within CMMS through meaningful OT integrations
Running PPMs is no longer the singular enterprise operational need. Buildings have more needs around energy management, occupant health, and efficiency/predictive maintenance. Connecting to the building systems and gathering real-time data is key to optimizing processes around it. Besides, CMMS as an independent solution is limiting—it's important to integrate with 3rd party software and applications to unlock max enterprise O&M value.
Connected CMMS helps you create seamless, digital experiences faster using an API-first approach that offers out-of-the-box integration with BMS, sensors, BIM, and any 3rd party business software.
It enables interoperability, solving the most common integration challenges around enterprise applications. By democratizing 3rd party data access, you can now fast track portfolio scale IoT deployments without redundant site level integrations, and launch new efficiencies at scale.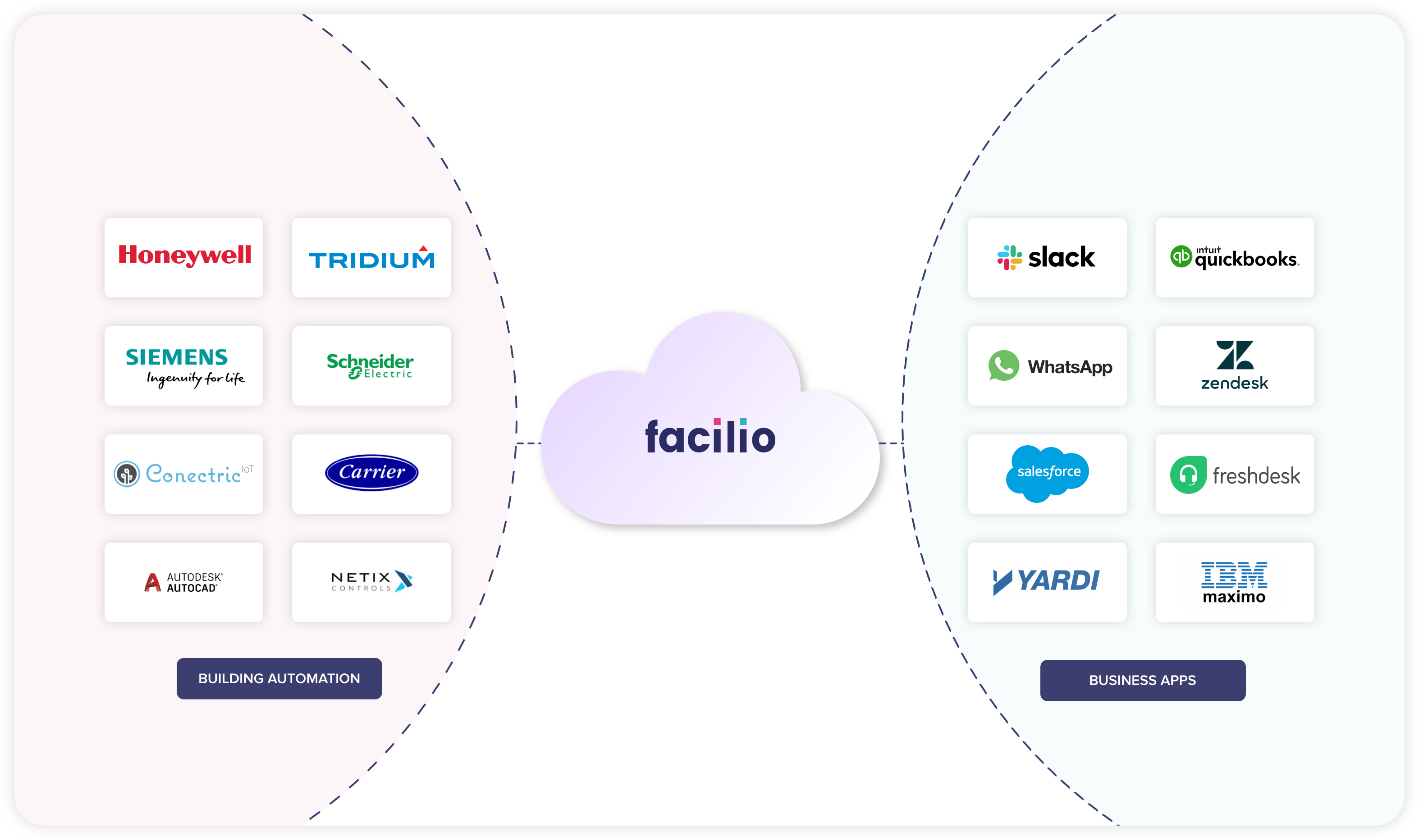 Your stand-alone CMMS software is slowing you down
What it is
I can only track work orders & asset repo
Caters for field technicians & admins only
Every workflow requires going through multiple tools/logins
No APIs or interoperability features
Web, desktop or single-user mobile access
What it should be
I can manage maintenance + client services + vendors + asset performance + 3rd party integrations in a single solution.
Catered for O&M executives, managers, occupants, and vendors
All manual workflows are automated, however unique or complex
API and IoT-based integrations with applications and building systems (ERP, CRM, BI, BMS, etc.)
Web, mobile, kiosk access for every stakeholder
Enterprise reporting & BI for actionable insights
Six Key Benefits that Connected CMMS unlocks for your enterprise
Future-proof your buildings today
Centralized data
Rapid Deployment
Contextual apps