IoT-enabled BAS Integration
What are the benefits of real-time BAS integration?
There's a problem with the way buildings have been managed for years – the never ending amount of problems / complaints at any given time, siloed tools with no effective means to track and act on those problems and the pressure for your facility team to work within restrained budgets – have set unrealistic expectations for FMs to always deliver more than what they have.
The solution?
We need to find a way to optimise facilities that can make the most of available resources. And where better to start than leveraging gold mines of data already available in your buildings?
By integrating your BAS data with your facility workflows, you can
Empower your facility team

to troubleshoot faster with real-time context right within your tickets

Make data-driven decisions

to improve your building performance in real time
Predict future problems with intelligent ML-driven analytics on past fault data and patterns

Enable maximum efficiency by optimising asset, energy and workforce performance in your buildings
We have a BMS software. Why do we need an FM software that integrates with BAS?
What happens when you rely on siloed tools to operate all your buildings? Let's try to break down what happens when there is, say an HVAC breakdown, in your building:
The first people to know are your tenants who immediately raise the complaint to your facility team
Your Facility Manager raises a ticket in your CaFM and assigns it to a technician
The technician then has to call the BMS engineer to look into the BMS software to find what went wrong in the last hour
Once the BMS engineer communicates the problem – if it was a coolant leak or improper air balance or chiller failure – the technician fixes the problem and then the facility manager closes the ticket
By then, your tenant is probably sweating hard and is annoyed for the umpteenth time this week about the discomfort at work
Avg resolution time: 3 hours
" We are surrounded by data, but starved for insights " –Jay Baer
Consider you have an FM tool that
Integrates with BAS to

get real-time data

on the system
Analyses real-time data to

predictively identify the problem

Predict future problems with intelligent ML-driven analytics on past fault data and patterns

Automates contextual tickets from alarms to fast-track troubleshooting
Now in case of an HVAC breakdown in your building,
Facility manager gets an alarm on mobile when real-time temperature data goes beyond set threshold
Facility manager assigns the automatic work order created to a technician
The technician has the recorded temperature data, alarm details and possible causes for the problem on his/her mobile work order
The technician fixes the problem and closes the work order
The tenant, happily working on his day's deadlines, does not notice anything amiss
"An ounce of prevention is worth a pound of cure"
Can I integrate Facilio with existing building automation systems. If so how?
Yes, you can. One of the biggest advantages of Facilio is that you don't have to discard your existing BAS or workflows. Facilio's enterprise-wide IoT platform is designed to seamlessly integrate with your existing building automation systems. This way you could adapt new, powerful and real-time capabilities without uprooting the existing infrastructure.
Facilio's unique IoT driver enables integration with your BMS, HVAC, Fire Safety, Lift, Security or any automation system in order to bring all data from buildings under one central platform.
With data across your portfolio centrally available on Facilio's platform, you could derive actionable insights in real-time. With our unified suite of applications on top of contextual enterprise data hub, you could now make data-driven decisions critical to your facilities on the go and be on top of what's happening with your high-value assets, anytime anywhere.
Here is how it works -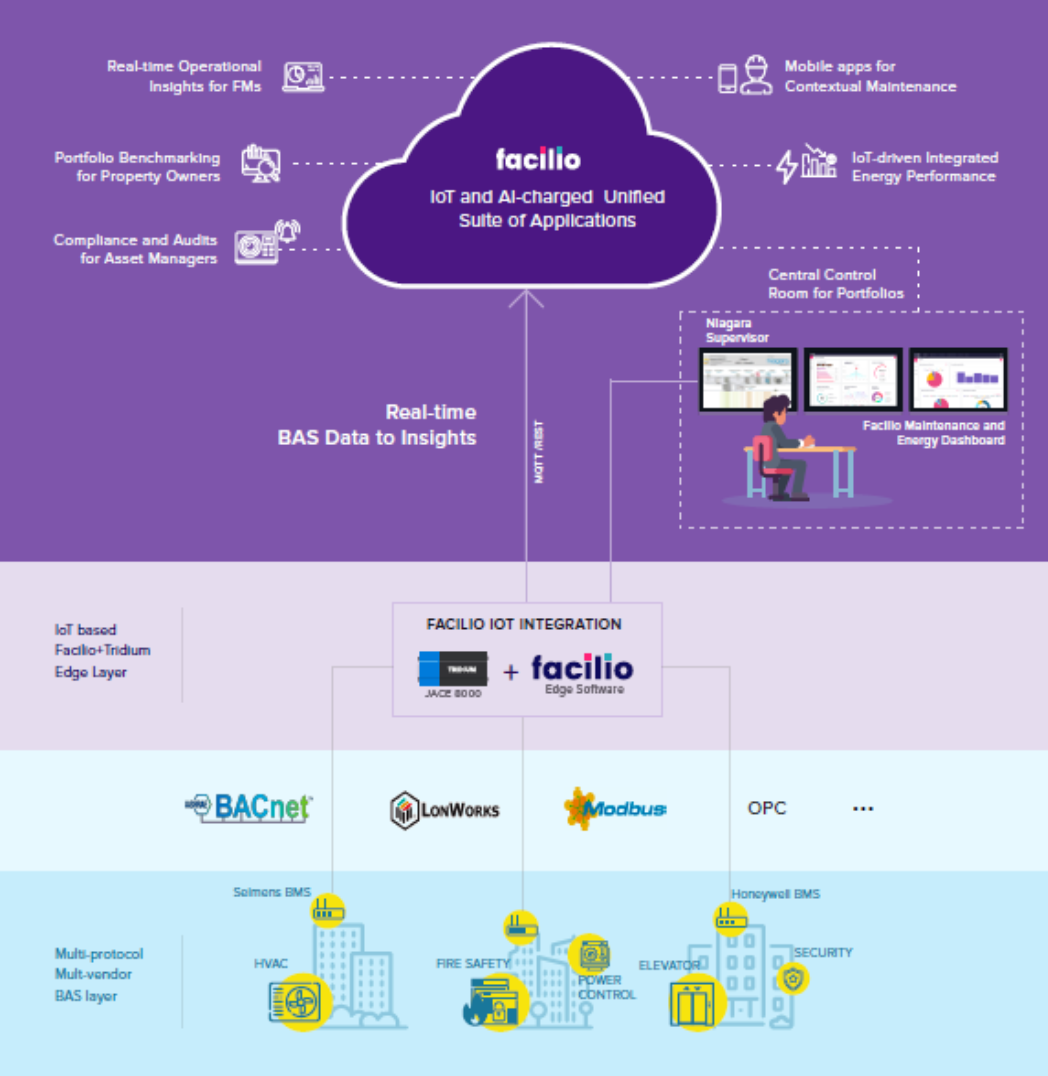 Do I need any additional hardware for IoT integration?
No. You do not need any additional hardware for IoT integration. Facilio is fully hardware agnostic and if your building/facility has basic automation/BAS that is connected to your HVAC, Fire Alarm, Security or any other system, Facilio can seamlessly integrate with the same.
In the case that your building has little to no automation, Facilio has a robust channel ecosystem across US, India and Middle East regions for setting up automation in your buildings that could enable connected facilities O&M in real time.
Is integrating with existing BAS time-consuming?
Though the scope and scale of work depends on how vast the facility is, our team has a consistent track record of integrating clients' portfolios between 4 - 5 weeks*(tentatively). With Facilio's onboarding team helping you at every step, the benefits of integrating BAS with facility workflows shall outweigh the time taken to onboard and the entire process proprietary IoT driver
Initial site survey by team Facilio: We undertake an in-depth feasibility study of the site to understand the automation infrastructure of each building and note the various possibilities available for optimisation.
Kickstarting onboarding with data sharing: Next in this process, we will share an onboarding checklist for you to furnish basic data from your end - list of sites, assets & spaces to be onboarded, BMS data points and equipment mapping, historical data, if any, for optimising prediction workflows etc.
Data Verification and Sanitisation: In order to prevent discrepancies at later critical stages, we will review and process your data for correctness and accuracy before mapping the same onto Facilio's platform.
Integration with BAS using IoT: Once, data is verified on both sides, we will develop the BAS integration strategy and push the data onto Facilio's enterprise-wide platform on cloud.
*Timeline, scope and scale of work are subject to conditions
Does your IoT integration support multiple protocols? Is there any protocol/BMS that cannot be integrated?
Facilio's unique IoT driver can connect to all standard protocols including BACNET/IP, Modbus, OPC, oBIX etc. Any additional protocol can be supported at request as we have.
Can I use Facilio if my building has little to no automation?
Yes you could. However without automation, you would only be using our Facilities Operations & Maintenance suite on cloud. To fully leverage the potential of enterprise-wide O&M and gain real-time value from Facilio, you need to integrate your O&M workflows with real-time data from buildings.
But here's the best way to scale connected buildings - At Facilio, we follow an incremental approach to optimisation. To start with, you could automate a single building in your portfolio, connect data with everyday workflows using IoT and optimise on asset, energy and maintenance cost in that building.
Once you see clear ROI on automating and optimising performance in a single building, you could then scale automation across portfolio. This way, you could plan your investment backed by proof of concept and visibly demonstrate real-time value from enterprise-wide O&M using Facilio!