August 2020
Facilio Newsletter
Will it rain tomorrow? When was AI invented? What is herd immunity?
It's fast and easy to find answers to just about any question today.
But that hasn't always been the case. Just a few decades ago, curious minds had to rely on networking, libraries, information hubs, and other resources to search for answers to their queries.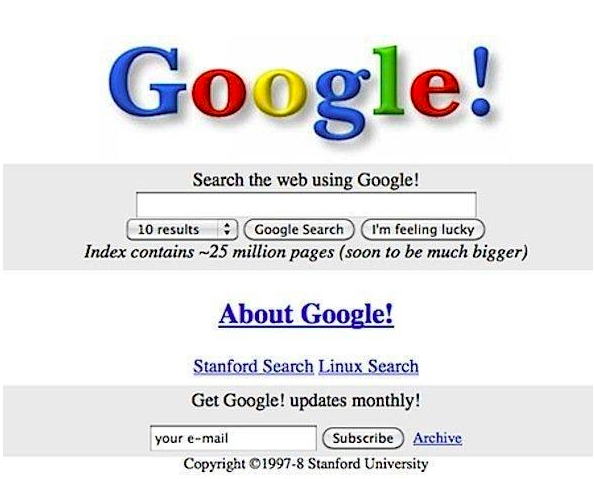 Source: First-ever home page of Google (Source: dailymail.co.uk)
Then in 1996, a search engine called BackRub was born. BackRub was rechristened as Google in 1997—a play on the word googol, which means the number 1 followed by 100 zeroes.
And the way people sought information was changed forever.
Today, when you search for a good restaurant nearby, Google returns a complete picture of what you seek—website, hours, phone number, street address, menu, guest reviews—by collating information from multiple data sources, like Google Maps, the restaurant's website, Yelp, Google ratings, and more.
All of the information you're likely to need. In one spot. Organized intuitively.
Google made it fast and easy for people to make decisions with phenomenal clarity.
In the same way, a single, accessible source of truth would make life easier for the real estate industry, too. Consolidating contextual data in one platform would make it easier for property owners and operators to get answers to hard questions, focus on what's important, and make informed decisions.
The goal of our curation this month is to help you forward on the path to unifying your own operational data so you, too, can enjoy speed, convenience, and clarity in your steps to improve operational efficiency.
---
GOOD READS

---
Market Trends

---
WHAT'S NEWS
Facilio Blog:
Meet the Facilio Partners Powering the Data-driven Building Operations Revolution