Investa, one of Australia's largest and most well-known commercial office real estate firms, develops, maintains, and owns high-performance buildings, offering possibilities for investors, businesses, and communities. AON, Deutsche Bank, State Street, Blackstone, and Pfizer are among its notable tenants.
To deliver on their promise and realize their ambitious vision, they needed a property management solution that empowers them with efficiency, scalability, and real-time insights.
"Our buildings are designed for the way people work today - and the way we want to work in the future. We think of our office buildings as communities as well as assets. Yet, our property operations were siloed and hindered the stellar customer experience we want to offer."
General Manager of Facilities Services of Investa
Challenges:
Investa's facilities management teams conducted their day-to-day operations through complicated, point solutions that functioned in silos with manual workflows and tracking. They tracked their 150+ vendors across three different databases—one each for payments, on-site safety and work orders. They relied heavily on vendors for systems and data around invoices, quotes and performance metrics.
This presented significant challenges in managing maintenance activities and concierge services at scale, such as:
Duplication of efforts and human errors resulting from functional silos
Inefficiencies in work order management from significant manual effort into even finding the right vendor
Unreliable performance data as it is owned and shared by vendors
Inability to scale, inflexibility of adding/removing properties from the portfolio
Poor portfolio-wide visibility from lack of a consolidated view of key metrics around vendor performance, compliance, and SLAs.
To overcome these challenges and set themselves up for an accelerated journey toward their goals, Investa needed a unified solution that can consolidate silos across multiple systems from over ten years of operations.
Facilio's solution: Connected CMMS for unified, automated operations
In their search for a unified Computerized Maintenance Management System (CMMS), they considered several alternatives. During the negotiation and pilots, they faced two key challenges: The product contracts were typically drawn up for 'n' buildings for 'n' years, being inflexible about adding or removing them from the portfolio; and Investa's legacy software, which did not support APIs, was difficult to integrate.
Facilio's Connected CMMS overcame these challenges and enabled integrated, scalable portfolio operations for Investa within five months of MVP. As part of our solutioning, we:
Synthesized asset repository and history
Planned management of maintenance routines, tenant requests and work orders
Integrated contractor KPIs and SLAs, inspections, incident and compliance management and financial management
Enabled user-centric apps such as tenant apps, technician apps, etc.
"The level of vendor support and collaboration we received from Facilio is nothing like we've seen on any other project. The Facilio team went above and beyond to collaborate with us and build a product that's right for us. Their willingness to work with us to future-proof the product is fantastic."
Project Manager at Investa Property Group
Here are the solution highlights:
Unified operations with integrated functions
Facilio integrates the various functions - management of assets, incidents and audits, as well as relationships with vendors, technicians and tenants - across portfolios. The Connected CMMS serves as the command center, providing complete visibility into the entire portfolio operations. With transparency in the operational workflow, from inventories to purchase orders, facilities management teams now quickly identify bottlenecks and resolve issues.
"We chose Facilio mainly because of its maintenance management capabilities, so we didn't have to rely on manual records or spreadsheets. This does two things for us."
"One, it ensures that planned maintenance is tracked, including timelines, completion ratios, benchmarking building vs. building, vendor vs. vendor, state vs. state etc. This streamlines recordkeeping. With Facilio, we no longer need to scour through emails/hardcopy etc., to find service records. Now, vendors add them to the work orders itself. It also ensures accurate payment tracking.Two, it helps perform accurate maintenance forecasts. We have clear visibility into the near-term and long-term future. As a result, we can perform predictive maintenance to avoid downtime."
General Manager of Facilities Services of Investa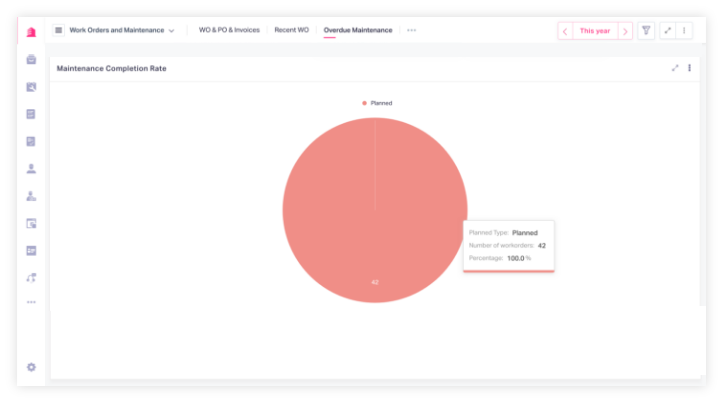 System adaptability with customized workflows
Investa had several workflows that were unique to their processes. During the evaluation stage, Facilio demo-ed custom use cases, without much coding, within 2-3 days, gaining Investa's trust. During the pilot and onboarding, we used Stateflow to capture various processes and automate them.
The Connected CMMS enabled these processes with custom workflows and flexible implementation. It also offered the flexibility to refine/change workflows throughout the implementation, based on stakeholder needs, without disrupting the larger system.
Smooth vendor management
Facilio's Connected CMMS came with out-of-the-box integration capabilities that allowed seamless data flow between modules. Investa leveraged this to integrate work order management with visitor management. This allowed Investa to track vendor entry and exit, task completion, invoicing, purchase orders, payment cycles and customer feedback all in one place.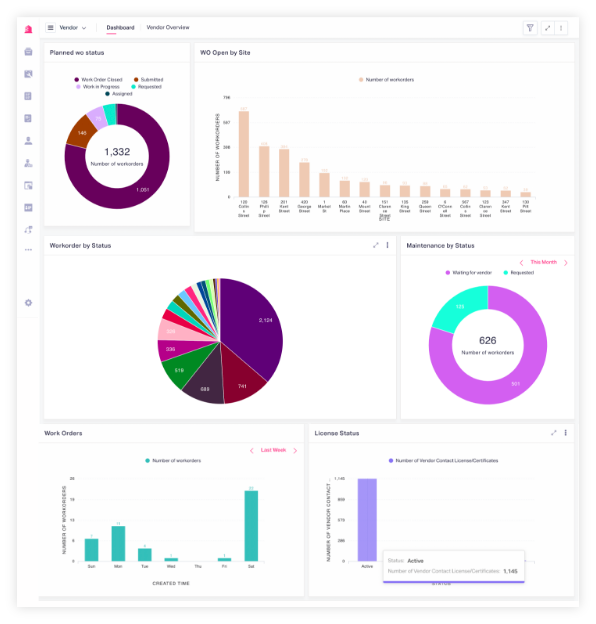 Automation of maintenance routines and digitization of processes
Facilio's Connected CMMS has automated a wide range of activities such as planned maintenance, work order assignment, vendor induction and compliance checks. This has eliminated manual effort and duplication of efforts. However, we were cautious about automation, doing so only where required. For instance, hazard inspections as per local regulations needed manual control, which was left as it was.
Flexible configuration and business model
Facilio allowed easy addition and removal of properties to their portfolio, enabling scale. Our platform approach, combined with productized customizations, allows contract term flexibility. The subscription-based model accommodates upgrades and hassle-free configuration of newer/additional functionalities as well.
Portfolio-wide visibility and real-time actionable insights
Connected CMMS offers a holistic view of portfolio-wide operations (assets, work orders, maintenance activities etc.) and performance (asset lifetime value, costs, technician response time etc).
"Our operations and leadership teams also gain immense value from Facilio's analytics. The KPI-driven dashboards are amazing. So are the self-service portals. As we can see the tenant's profile ourselves and resolve issues like resetting passwords, editing preferences, access etc., without coming to Facilio every single time."
Business Project Manager at Investa Property Group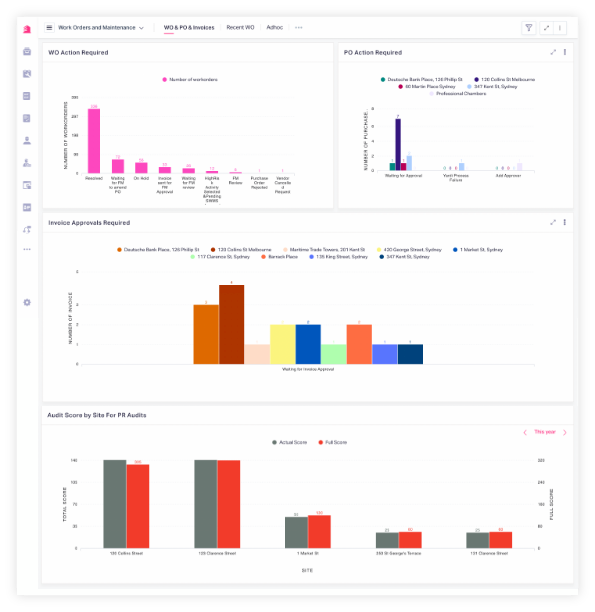 Based on this visibility, executives are making better decisions around cost optimization and operational improvements. Facilities managers and site owners negotiate better deals based on vendor-specific KPIs and SLAs.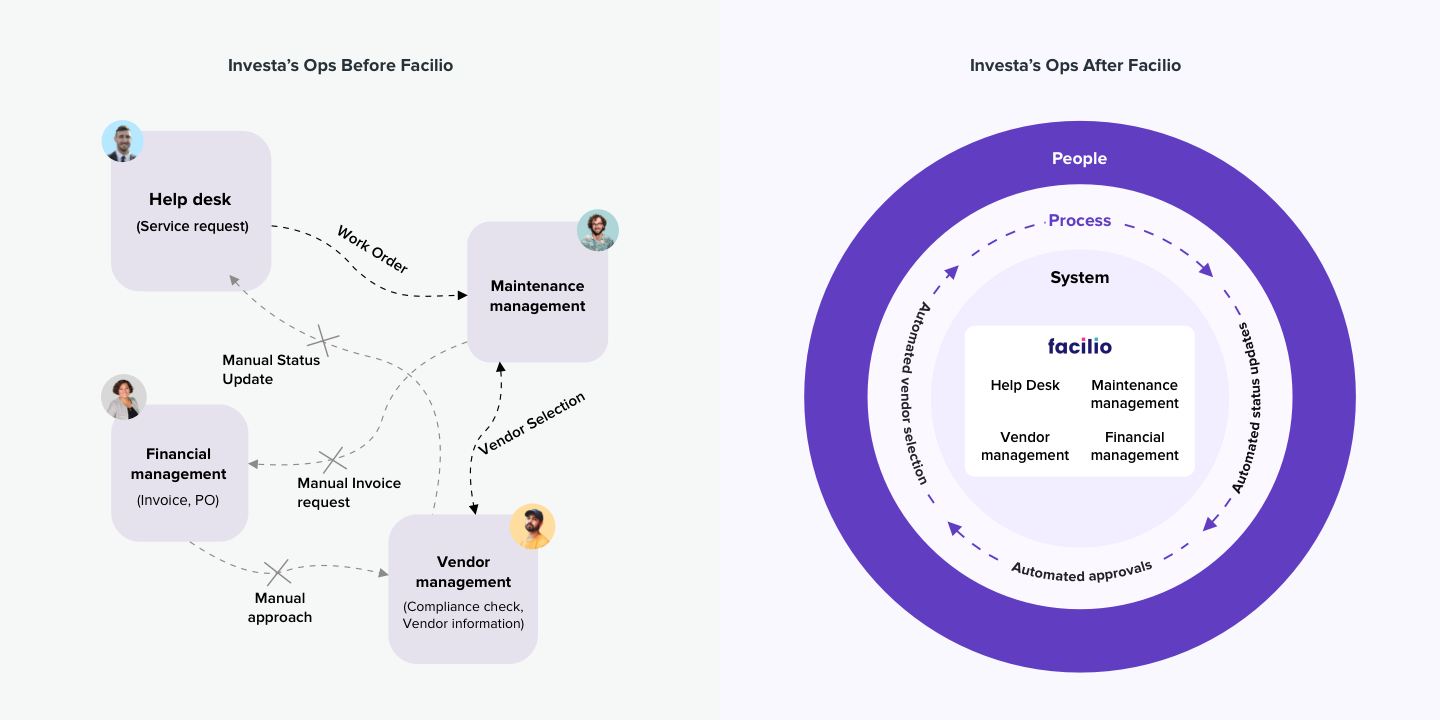 Impact
Comprehensive overview accessible
Enhanced satisfaction through superior tenant experience
Improved vendor compliance and SLA adherence
Overview of entire portfolio's performance
Reduced expenses through efficient service management