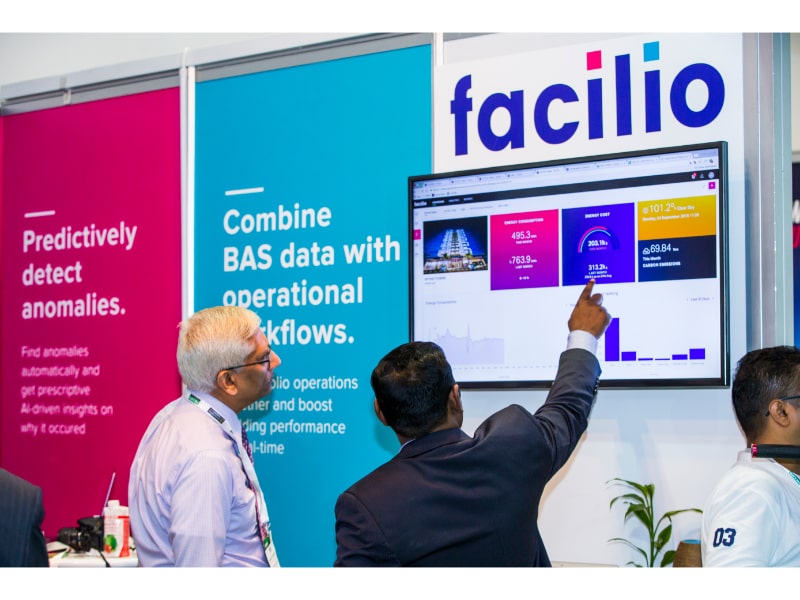 Facilio to showcase its IoT and AI-driven Facilities Optimization Suite at FM Expo Dubai
Facilio, the world's first IoT and AI-driven facilities optimization software that covers end-to-end building operations, maintenance, and sustainability management, will focus on the theme of "unifying FM operations" during its participation at the FM Expo Dubai
Personalized demos and an educational workshop will highlight how FM's can move beyond traditional CAFM and CMMS tools, and leverage IoT and AI to centrally manage their facilities and achieve portfolio-wide efficiencies
Facilio's solution is well timed as industry reports* forecast technology, innovation and automation as the key focus for future investments, with 91% of FM practitioners noting they would be using IoT and AI-driven technology & CAFM to grow their business further
Reports further predict the convergence of the two top trends, Sustainability and Operations, is where the FM industry could make its biggest gains, a niche space occupied by Facilio
Dubai, UAE, September 20th:
Facilio, an Atlanta-based FM Tech start-up, and the world's first IoT and AI-driven end-to-end facilities management SaaS solution, will be focusing on "unifying FM operations" during its participation at the FM Expo 2018, being held at the Dubai World Trade Centre from September 23rd-25th.
As part of this agenda, Facilio will showcase its IoT and AI-driven Facilities Optimization Suite including its flagship predictive fault detection and diagnostics mechanism. Product demos will highlight how the solution allows FM's to enhance operational efficiency, improve building asset lifespan and create best tenant experiences. Additionally Facilio will also be showcasing their unique native mobile app. The App is designed to further simplify facilities management and building operations by allowing facility teams to work with real-time condition-based analysis of equipment and issues, aligning maintenance activities with actual on-site conditions. This would help limit the need for multiple site-visits, reducing the number of tenant complaints, and also eliminating downtime.
"The world of facilities management has been changing drastically. And building in everyday operational efficiencies and sustainability is becoming a pressing challenge for FM's. Our objective has always been to simplify the complex layers of managing facilities and buildings, and provide FM's and CRE's with full control and portfolio-wide visibility, at their fingertips. Our IoT and AI-driven Facilities Optimization Suite, which we are showcasing at the event, will demonstrate how our solution unifies people, assets and machines for a seamless facilities experience by deriving insights from existing data. As an example, our predictive fault detection and diagnostics mechanism captures BAS data from existing systems, intelligently correlates fault alarms, triggers automated work orders to desired staff – all in real-time! We really make it that simple", says Prabhu Ramachandran, Founder and CEO, Facilio Inc.
Facilio's participation at the event promises to be full of surprises and eye-opening insights for the FM industry. From workforce productivity tools to asset lifespan improvement and sustainability savings modules, industry practitioners will be able to experience Facilio's entire software suite covering all aspects of facility operations and management, sustainability, and tenant engagement. The company will also be introducing their upgraded IoT-driven energy analytics with advanced machine learning algorithms that understand past equipment performance, and predict issues before they occur, ensuring corrective action faster. Facilio's tenant portal modules will also be on display to view and help understand utility billing parameters and also help CRE owners track tenant satisfaction.
"The FM market in the Middle East is poised for serious transformation. And technology innovations and automation are leading this transformation of the FM industry. As per the latest Middle East FM Business Confidence Monitor 2018 report by BIFM, the international professional body for facilities management, a whopping 91% of FM practitioners have noted that they would be using technology & CAFM to grow their business further. The report also cites sustainability & IoT, and their convergence, as the sweet spot FM's should be aiming for to maximize their gains. Facilio's solution integrates both these components, and more, to deliver end-to-end building maintenance, operations, sustainability, and tenant experience, across portfolio, harnessing the power of IoT and AI", adds Prabhu.
About Facilio:
Headquartered in Atlanta (US) with operations in Chennai, Facilio is a facilities optimization platform that harnesses IoT and AI to drive real-time operational efficiency across real-estate portfolios. It offers an all-in-one software suite to help facilities centrally manage maintenance, operations, sustainability, and tenant experience, in one place. Funded by Accel.com and founded by ex-Zoho veterans with over 17 years of cloud and IoT expertise, Facilio was established in May 2017, and started its operations in India, Middle East and USA in 2018. For more information please visit:
https://facilio.com/