Introduction
Facilio is a multi-site facility management enterprise platform that helps manage facilities in real-time. With Facilio, connecting to buildings, tracking performance and maintenance of assets becomes extremely easy. It is an integrated application that unites different teams, systems, and varied BMS (Building Management System) applications under one robust platform giving you the highest degree of flexibility, control, and smart building experience.
In order to create a smart-built environment, Facilio is rethinking the entire facility management landscape by creating a flexible interface that is not only easy to operate but also literally talks to the buildings. Facilio comprises various modules (Asset, Energy, Maintenance, Space, Alarms, Tenants and so on) that work together to give the facility manager a smooth and seamless experience. Any of the Facilio modules can be implemented in a building or facility individually or in tandem with each other.
Objective​
The Admin guide describes administrative tasks required to manage the operation of Facilio modules for your organization.
Audience​
The Admin guide is intended for both the facility managers and engineers who are responsible for configuring the administrator settings of Facilio modules for any organization.
Scope and Requirements​
The administrator settings page is a self-service portal that provides the administrator with a comprehensive view of all the setup-related information. The application groups similar settings corresponding to the module into individual sections. These settings allow the administrator to configure the required elements and enable or disable the available features.
The application offers a greater level of customization, which includes setting the aspects of almost all the features, adding relevant fields, and much more. To access the administrator settings you can click on the
(Settings) icon at the bottom left corner of the application. The admin modules configured/enabled as a part of the application are displayed as shown below.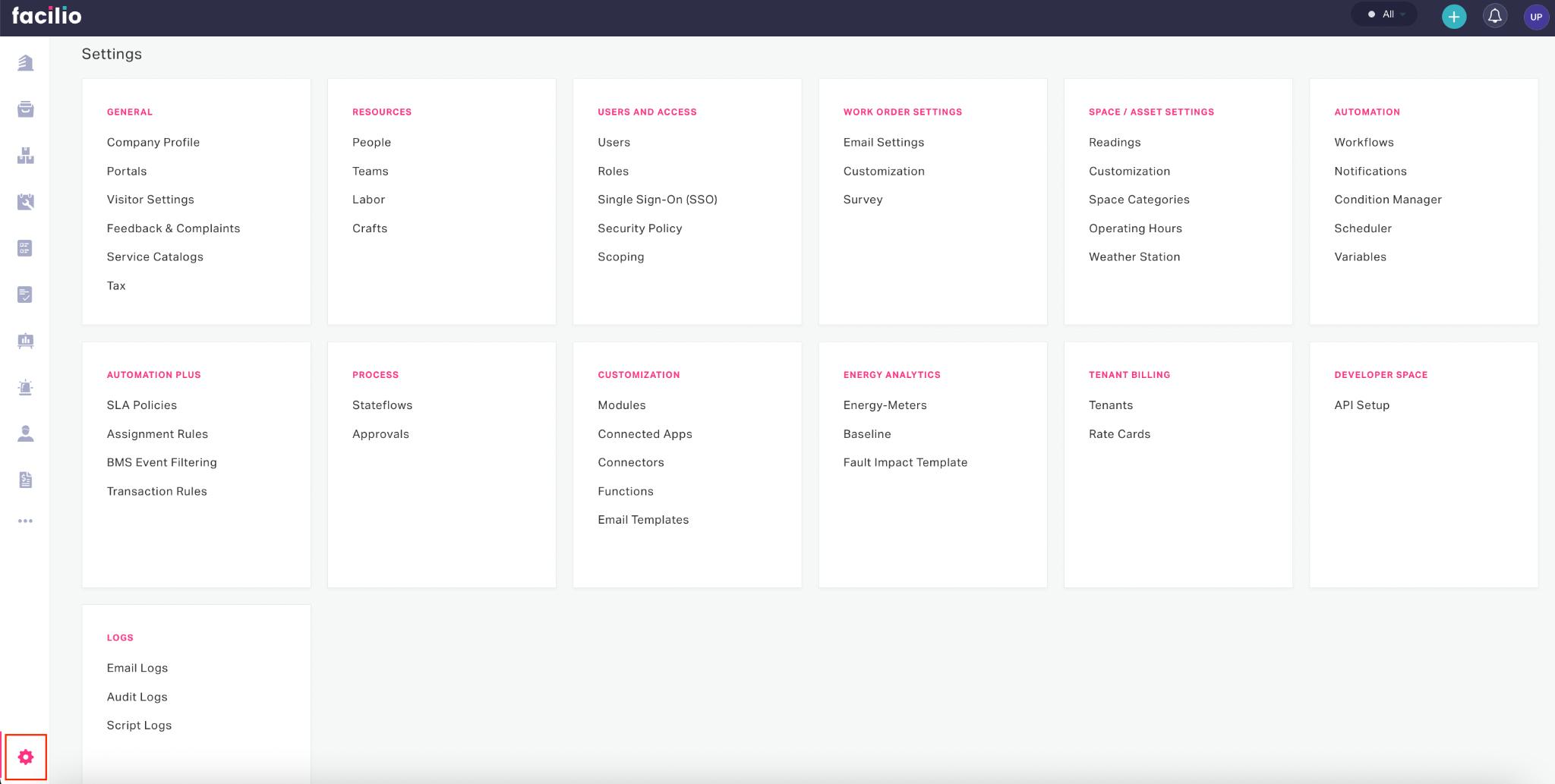 In order for a user to be able to configure the administrator settings, he must have an Administrator role assigned to him.