About
One of the largest property development and investment companies in the UK, with over £14.1 billion in assets under management, including world-leading campuses for office spaces, retail stores, and fulfillment centers.
British Land's Vision:
To transform their properties into Net-Zero, Sustainable, and Smart Buildings

British Land, committed to creating "places people prefer," has chosen Facilio's Connected Buildings solution to achieve operational efficiency and optimize energy consumption by consolidating all data into one tool and providing access to all stakeholders.
"In our ongoing efforts to reduce energy consumption at 100 Liverpool Street, our HVAC optimization strategy, implemented through British Land's BL:Connected smart building platform, has achieved remarkable results. We've reduced heating and cooling energy consumption by an impressive 50% year-over-year in our 45,000 sq ft Storey space. This achievement is due to our innovative approach, which utilizes technology such as Occupancy Sensors, Air Quality Sensors, access control entries, Lighting PIR Sensors, and meeting room bookings to automatically adjust air conditioning based on space demand. In July alone, we optimized over 300,000 minutes of air conditioning operations, all while ensuring a seamless experience for our space users."
Ian Pierce
Senior Product Manager, British Land
British Land's Challenge:
Information silos hindering portfolio-wide visibility
Although British Land had digital tools for most property functions, such as access control, energy management, HVAC, CCTV, space occupancy, maintenance, and visitor management, these tools collected data and provided minimal visibility into performance due to the following factors:
Data Silos:

Each tool existed in a silo, hindering property-level or portfolio-level visibility.

Delayed reporting:

The reliance on vendors for reporting led to a lack of real-time analytics, resulting in fault detection delays and increasing maintenance costs.

Lack of Insights:

Although they had information about their consumption, there was no contextual information, so they did not get insights into how their assets could be optimized for cost/energy savings.
Facilio's Solution:
Connected Buildings as an overlay platform to aggregate data and provide real-time insights
British Land caters to two types of buildings: Storey and Landlord
Storey is a co-working space furnished with seats and rented out to occupiers. Landlords are empty buildings that allow renters to plan and furnish their spaces. Facilio's Connected Buildings solution enables British Land to combine data from various tools across all of its spaces to offer contextual insights and achieve the desired results.
Here are the solution highlights:
Connected Operations
Facilio provides a single pane of glass to view all property operations by integrating tools for access control, CCTV, lifts, HVAC, meters (energy, water), light and fire, space occupancy (for Landlord customers), desk occupancy (for Storey customers), air quality sensor, CaFM, visitor management, permit, meeting room booker and help desk thus achieving their goal of having an overlay platform for their operations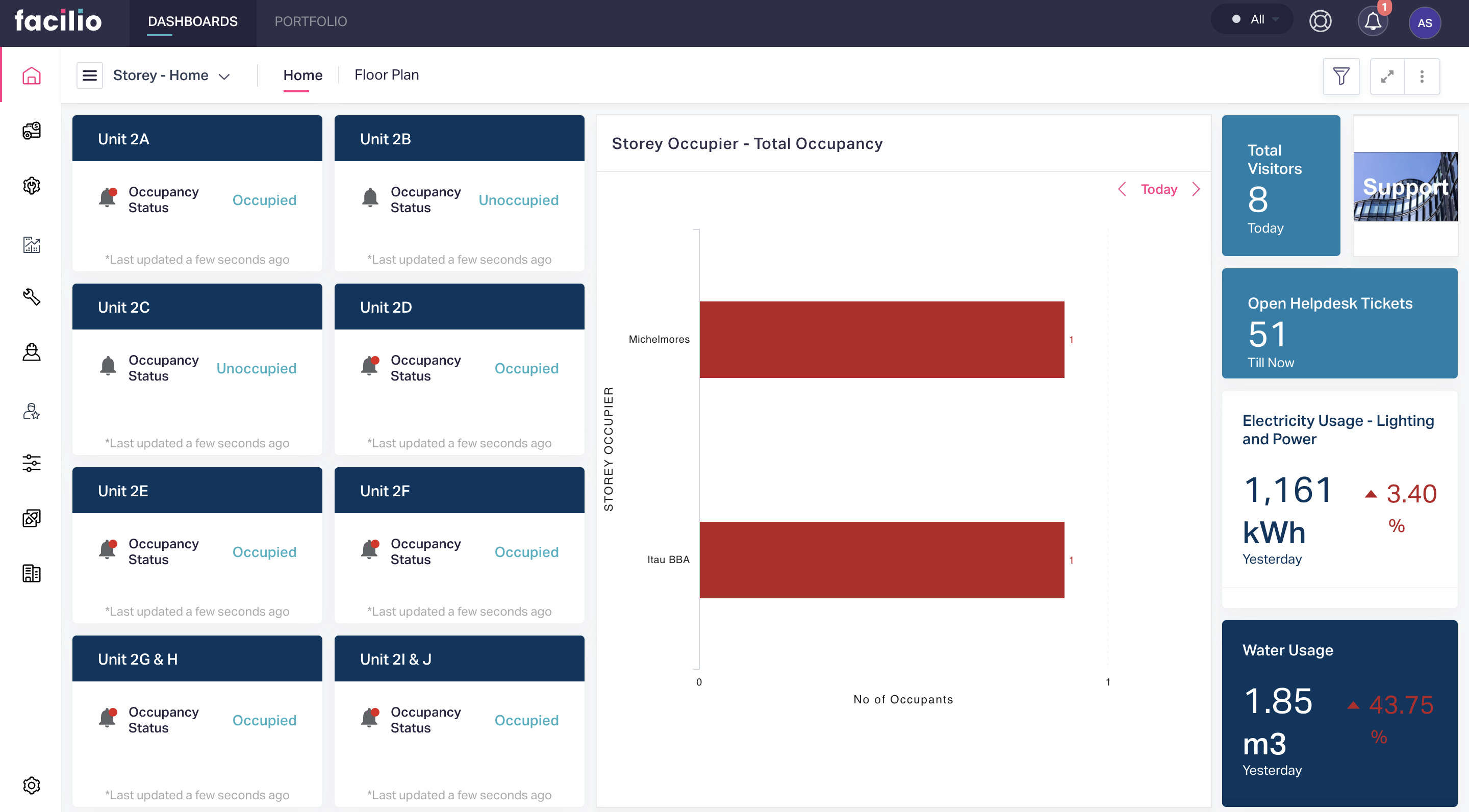 Data Correlation
Facilio helped British Land solve its problem of data correlation from different vendors by collaborating with the vendors and consolidating the data. Apart from this, Facilio also implemented other features, such as enabling reports on the impact of occupancy and footfall on indoor air quality (IAQ) and identifying rooms that were heating/cooling at total capacity even when there were no bookings for the day.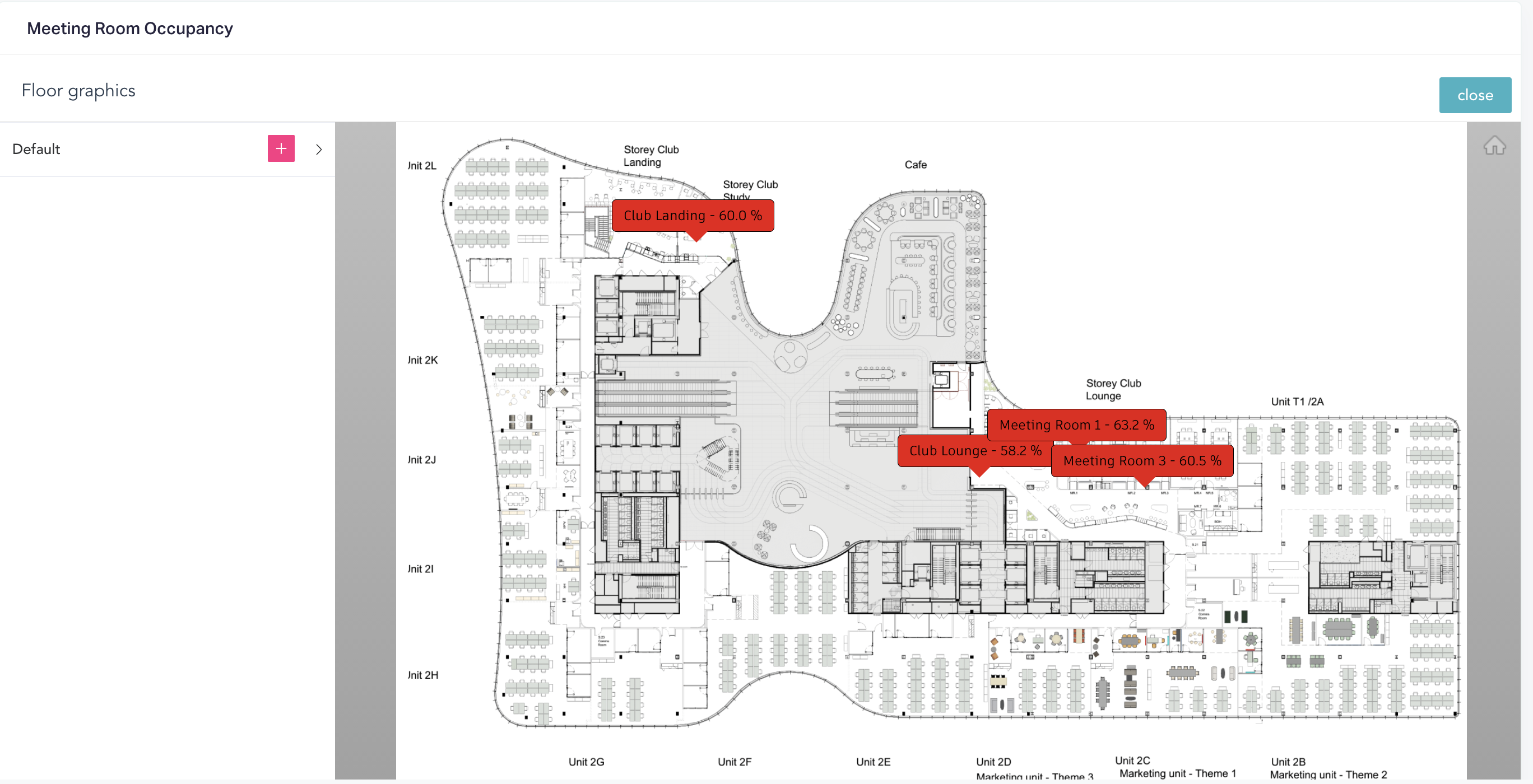 Energy Conservation and process automation
Facilio streamlined operations, automated processes, and reduced asset usage and energy consumption with open communication between systems. Some of the most impactful automation Facilio enabled are as follows.
Based on the data from lighting sensors, Facilio automatically turns off HVAC systems in unoccupied auditoriums to conserve energy.
Based on data from meeting room occupancy sensors, Facilio turns off lighting, air-conditioning, projectors, etc., when not in use.
When lights in unoccupied rooms are turned on, Facilio automatically switches them off after 20 minutes during the day and 5 minutes at night to reduce consumption.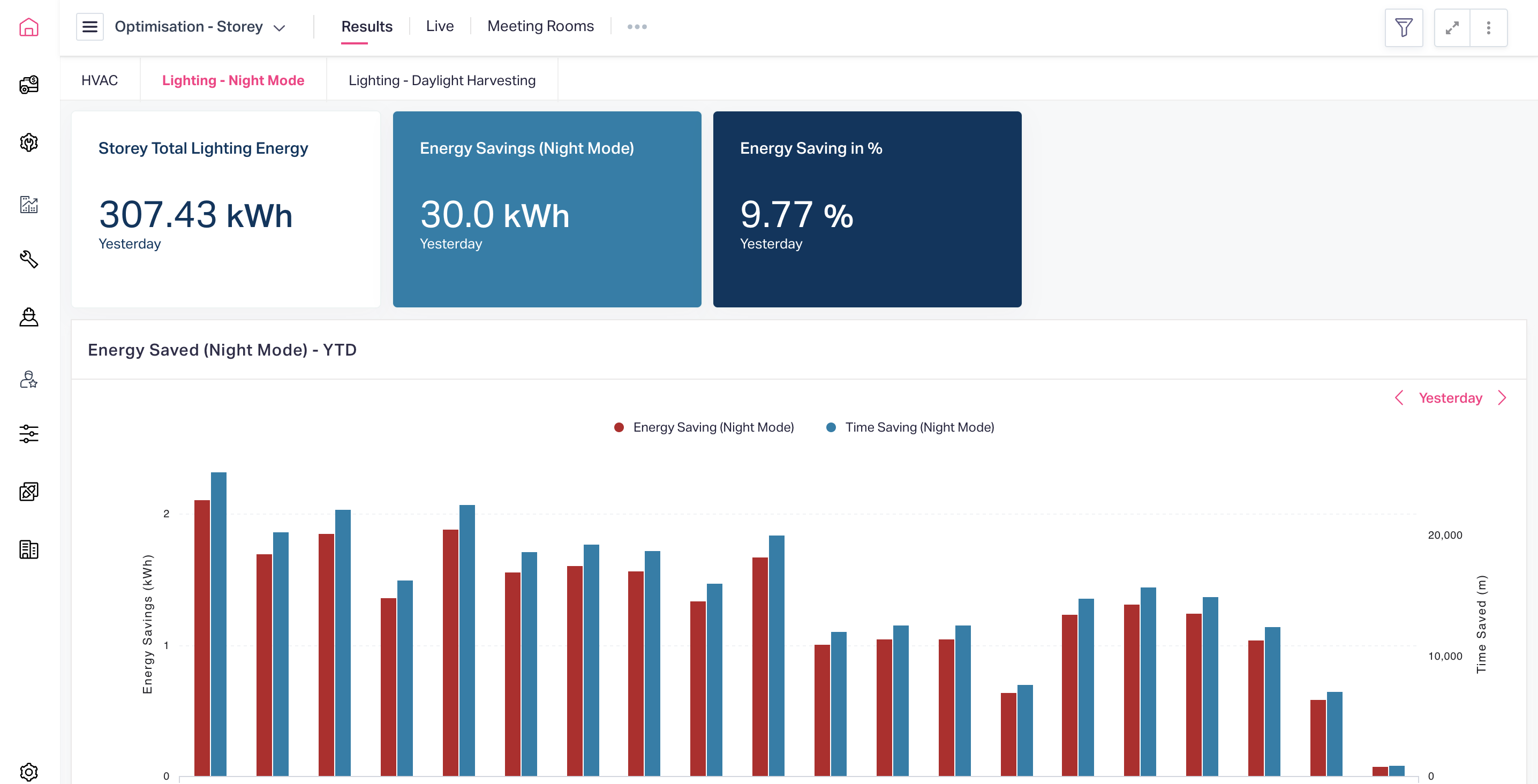 Space Insights and Planning
Facilio brought visibility into occupancy and behavior, helping British Land plan spaces better. The features implemented by Facilio include Visitor management, Behaviour tracking, conference room occupancy, and Help desk. Below is a brief description of the features mentioned:
Visitor management: Number of visitors with and without pre-booking, number of visitors who booked 48 hours before the visit, time spent by visitors inside the building, etc.
Behavior tracking: Arrival and departure times, tailgaters, sources of visitor entry, visitors who left without punching out, etc.
Conference room occupancy: Time slots of each booking, no-shows, overrun/short meetings, unbooked meetings, etc.
Help desk: Tickets raised, response time, issue resolution time, etc.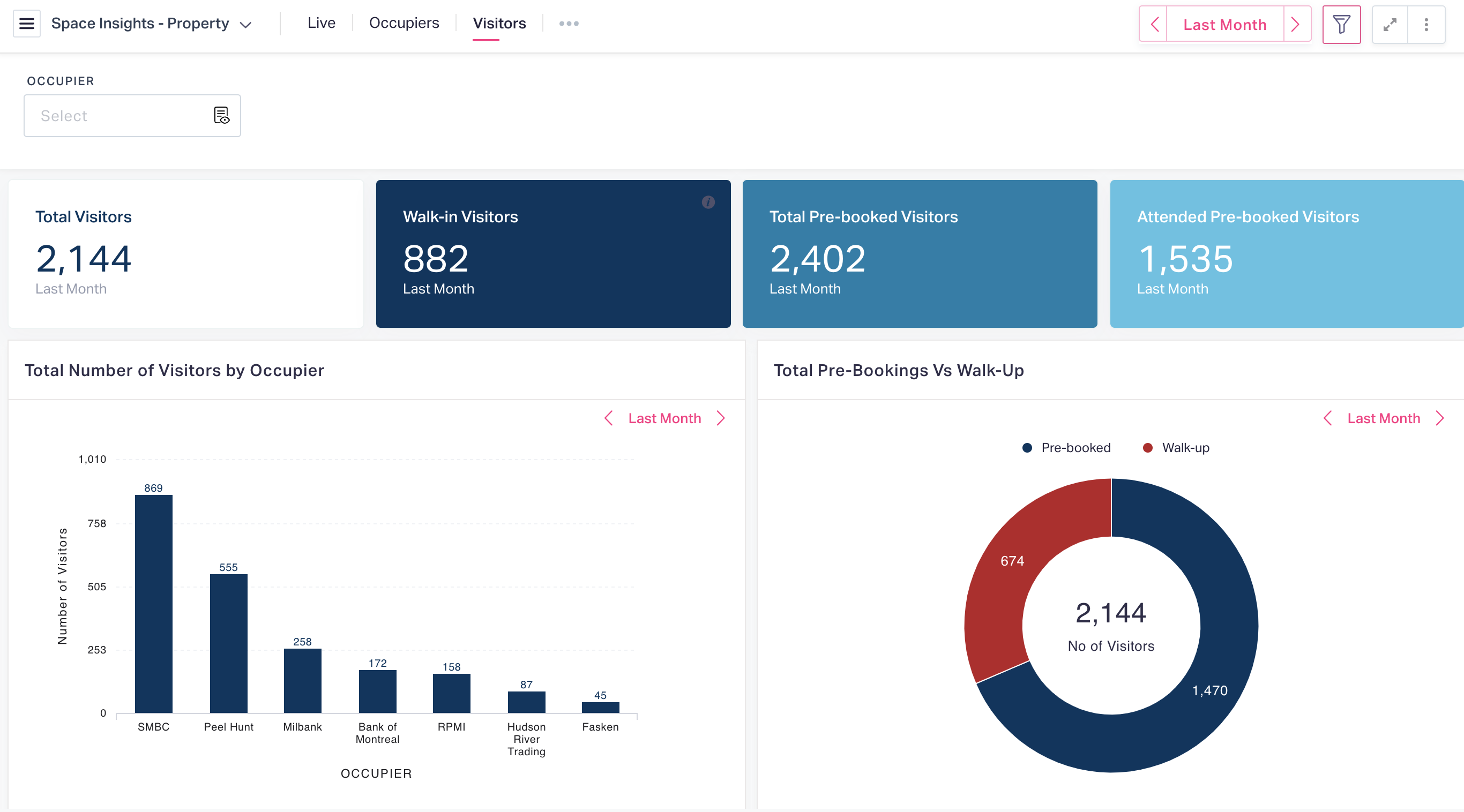 Rapid fault detection and remediation
Facilio's rapid fault detection and diagnostics empowered British Land's operations teams to quickly isolate faults and reduce mean time to repair (MTTR). Tightly configured rules for every asset in Facilio's FDD engine provided contextual error reports, identified the root cause of an issue or abnormality, and suggested remedial action.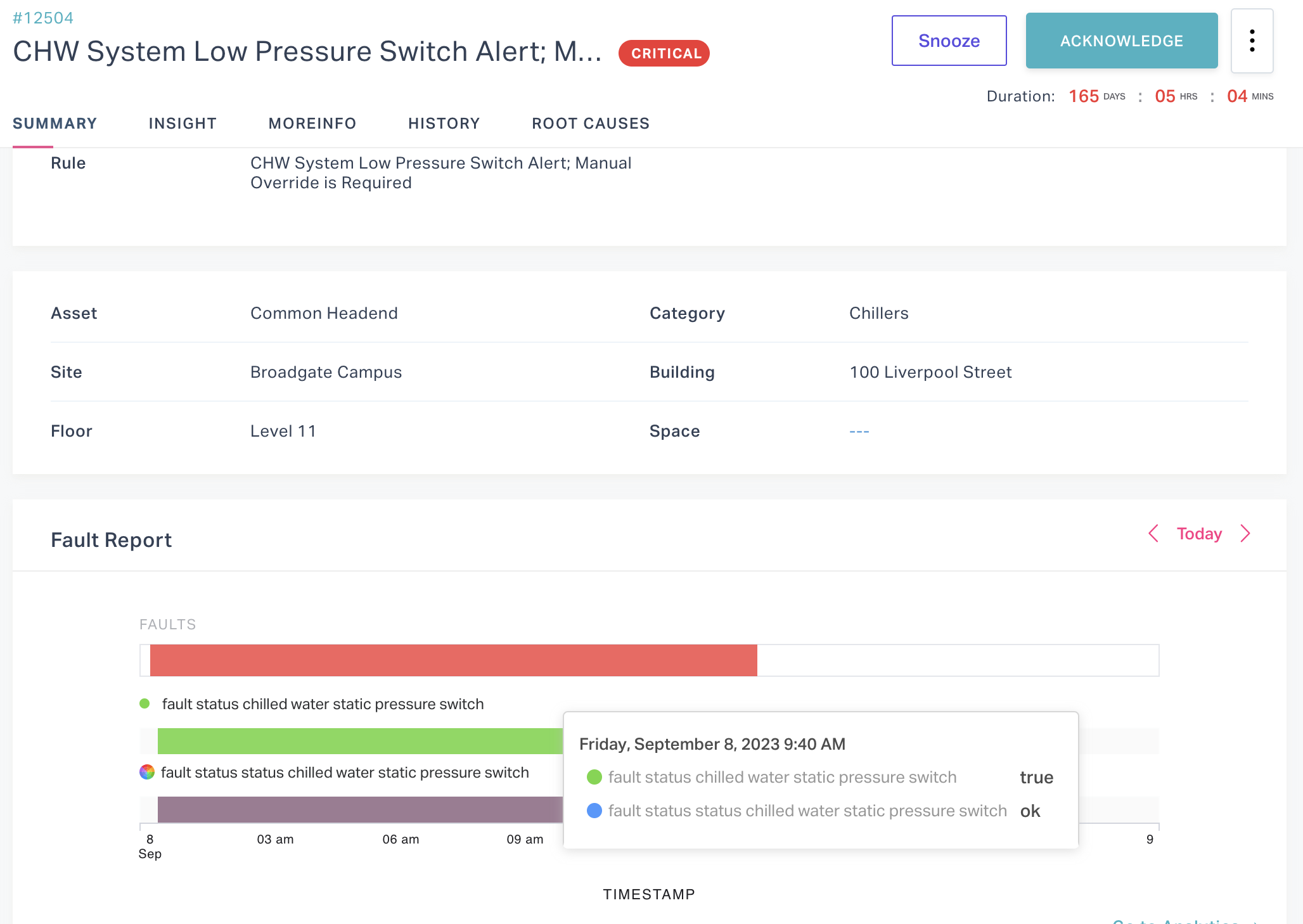 Operations management insights
Facilio enabled British Land to deliver a better occupant experience by providing real-time 360-degree visibility and predictability. For example, they were able to employ additional personnel at the reception on days when a higher number of visitors are expected and plan resources for cleaning when meeting rooms are tightly booked.

Impact
KPI-driven insights for sustainability initiatives
Efficient space planning and optimization
Customized optimization strategy across 45,000 sqft of space
Optimized over 300,000 minutes of air conditioning unit operations per month
Automated fault detection and diagnostics